Posted on
Sun, Feb 26, 2012 : 12:04 p.m.
Spoiled senior night not a concern for Michigan basketball captains Zack Novak, Stu Douglass
By Nick Baumgardner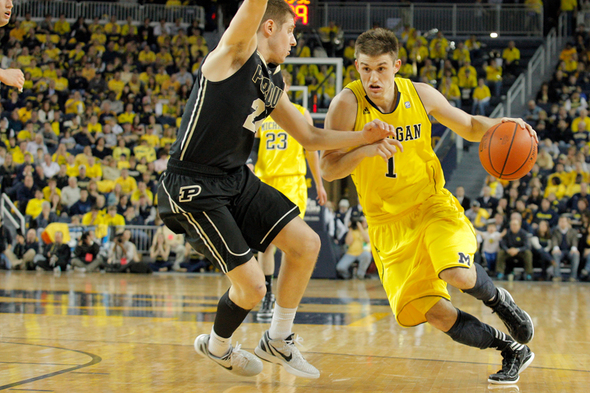 Chris Asadian | AnnArbor.com
This wasn't a fairy tale home exit for
Zack Novak
and
Stu Douglass.
There was no ceremonial kissing of the Crisler Center court, nor was there any time for a curtain call.
As for a standing ovation? Well it happened, sort of, as fans clapped with car keys in hand as they began to leave the building for the final time this season.
There was no storybook ending for the two Michigan basketball seniors who have meant so much to the program's resurgence. Then again, Novak and Douglass never expected one.
A wrecked senior night experience was the last thing on their mind Saturday after a lopsided 75-61 home loss to Purdue.
"Winning senior night wasn't one of our goals," Novak said. "I'll trade losing on senior night if we can become the team we're capable of becoming because of this."
Michigan entered Saturday 15-0 at home, one victory from scoring its first unbeaten home season in 35 years. Michigan also was poised to keep alive a shot at the program's first league title in 26 years.
Chris Asadian | AnnArbor.com
Purdue had other plans. The Boilermakers answered every Michigan run, grabbed a double-digit lead with less than four minutes to go and gave Michigan's home record one major blemish.
With 1:23 to play and his team down 16, Michigan coach John Beilein stopped the game to remove Douglass before coercing his disappointed bench to its feet to greet him.
On the next stoppage, he attempted to get Novak one final exit, but the three-time Michigan captain wasn't in the mood. He quickly walked to the bench in the midst of a media timeout.
"Maybe it'll be a good thing for us to not achieve one of our goals," Douglass said of Michigan's spoiled home record. "This can only be used as motivation. We've got to have that back-to-the-wall mentality, and, hopefully, this will put us closer to where we need to be from a mental standpoint."
Michigan dipped to 21-8, 11-5 in Big Ten play, while league-leading Michigan State slammed Nebraska two hours later to take a two-game lead on the Wolverines with just two games left.
In order for a share of the Big Ten crown to make an appearance in Ann Arbor for the first time since 1986, Michigan has to win out (at Illinois, at Penn State), and MSU has to lose out (at Indiana, vs. Ohio State).
Not all is lost for Michigan on the season.
The loss to Purdue won't go down as a bad defeat, as the Boilermakers are approaching 20 victories, and Michigan's RPI still sat at No. 13 on Sunday morning despite the setback.
A strong finish this week in Champaign and State College, coupled with a decent showing at the Big Ten Tournament will put Michigan in a spot for a favorable seed in the NCAA tournament, possibly a No. 3 or No. 4.
"We're going to keep fighting," Novak said. "Even if we were mathematically out of (the Big Ten title picture), there's still a lot left to play for.
"That's not something we can control, we need to control what we can. We've got one at Illinois coming up, we've got to win that one. Then take it one at a time."
Novak and Douglass' senior night was wrecked. But with plenty of season left, the Wolverines can still wash away the bitter memory of Saturday as fast as it came.
Novak and Douglass didn't get that one lasting home-court image to be remembered by.
"Stu told the team in the locker room, 'I didn't come to Michigan to win on senior night, I came to Michigan to win,' " Beilein said. "If you know this team, we'll hope the trend continues that when we get beat by a team that's better one night, then we get better ourselves."
Nick Baumgardner covers Michigan basketball for AnnArbor.com. He can be reached at 734-623-2514, by email at nickbaumgardner@annarbor.com and followed on Twitter @nickbaumgardner.
Want to stay connected to Wolverine basketball in your Facebook newsfeed? "Like" AnnArbor.com's Michigan Basketball News & Views.