Posted on
Sun, Jul 15, 2012 : 9:30 a.m.
Star-studded chemistry: Trey Burke and Tim Hardaway Jr. say their cohesiveness has hit its stride
By Nick Baumgardner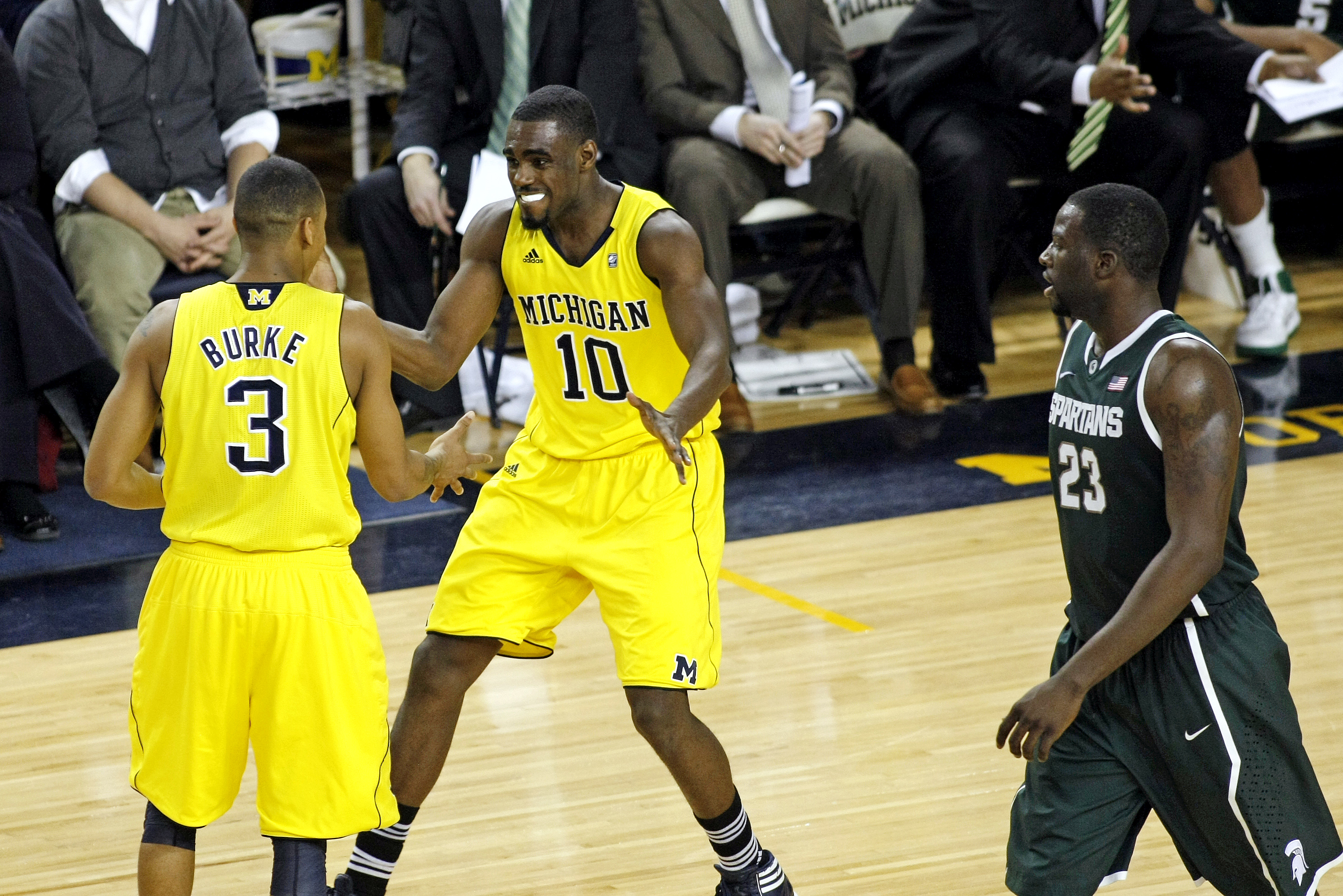 AP photo
A few eyebrows were raised last season when one half of the
Michigan basketball
team's top scoring duo said the chemistry just wasn't there.
Following a demoralizing loss at Michigan State, Tim Hardaway Jr. told reporters his on-court cohesion with point guard Trey Burke was a work in progress -- leading some to wonder if the Wolverines' top two players were on two different pages.
It sounded like a moment of frustration at first, but upon further review, Hardaway's statement was far from an over-reaction.
It was in fact an issue.
"Last year, (Burke and I) really didn't know what to expect," Hardaway said earlier this week. "I was switching point guards, I'd built that chemistry so well with Darius (Morris and then he was gone)."
At first, Hardaway's statement led some to wonder whether he and Burke got along away from the floor.
Michigan coach John Beilein quickly extinguished that thought days later, and it's something Burke says is far from the truth.
But even so, the pair really didn't know each other.
Until now, that is.
"I just had to learn him and he had to learn me," Burke said. "We've always been really cool, but this year, we've taken it to another level."
Burke and Hardaway obviously spend time with one another in Ann Arbor during drills and summer workouts, but recently, they were able to spend more one-on-one time together.
The duo both took in the LeBron James Skills Academy in Las Vegas earlier this month, an experience that helped them both improve their games as individuals.
And their overall relationship as well.
"We went to the LeBron camp, and we're around each other a lot more (now)," he said. "The chemistry looks really good, between all of us."
Burke and Hardaway will spend plenty of time next to each other on the court next season, too, as Hardaway is set to move from small forward to shooting guard in Beilein's offense.
In his new role, Hardaway could be asked to relieve Burke's ball-handling duties now and again, an area he says he's improved upon.
But more than anything, they'll have to find a way to get their respective shots within the confines of the offense.
Beilein won't allow either player to become too passive, and will encourage both to take open shots when they're available. Burke will have to improve his feel for where Hardaway is at all times, and vice versa.
Time will tell whether or not Michigan's two best players are completely in tune with one another. But so far, they say things have gotten a lot better.
"This year's going to be even better with us," Hardaway said. "We have chemistry, he knows where guys want the ball in different areas (of the floor).
"The sky's the limit."
Nick Baumgardner covers Michigan sports for AnnArbor.com. He can be reached at 734-623-2514, by email at nickbaumgardner@annarbor.com and followed on Twitter @nickbaumgardner.