Posted on
Wed, Jan 13, 2010 : 6 p.m.
Michigan basketball team enters its most brutal - and critical - stretch of the season
By Michael Rothstein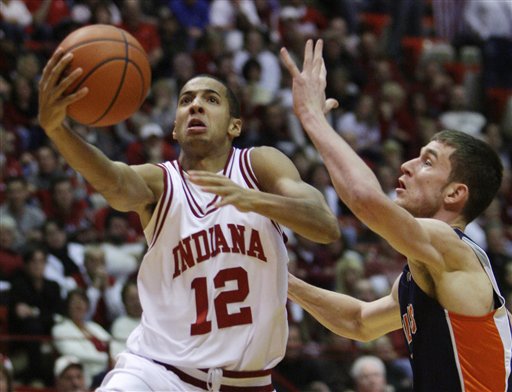 When the
Michigan basketball team
scheduled a nonconference game with Big East power Connecticut in the middle of the Big Ten season, nobody realized how tough a January stretch that would create.
Starting Thursday with at 9 p.m. home game with Indiana, the Wolverines have a run of five games in 13 days, including two on the road in perhaps the toughest environments in the Big Ten.
And it's something Michigan coach John Beilein, would like to avoid in the future. The game against Connecticut, no matter what, will help the league's RPI. So Beilein wouldn't mind the Big Ten shielding teams that play tough nonconference games.
"I think we have to address that," Beilein said. "When teams are willing to go out of the conference to play national level games, we have to look at scheduling criteria a little bit differently, and I'm pushing for that right now."
While Michigan is the only team this season to plop a big game in the middle of the conference season, both Purdue (West Virginia) and Illinois (Gonzaga) played top-level games after the new year.
What it does is make this stretch of games the most important for Michigan this season.
Four of the five games are against teams in the Top 25. The fifth, and first game of the run Thursday facing Indiana, is against a team that already beat Michigan this year.
"It's real important," junior guard Manny Harris said. "It can help us a lot or hurt us a lot. This stretch right here, everyone has to be real focused not just on the court but off the court, sleep right, eat right, everything. This stretch is real big for our season."
Some could even say it's Michigan's last chance to make a real run and put itself back into contention - or even back to where many people thought the Wolverines would be at the beginning of the year.
At least before the win-and-you're-in post-season scrum.
"You've always got a chance in the Big Ten tournament or something like that," Harris said. "I ain't going to say it's the last chance, but it's one of the best chance we're going to have."
Here are Michigan's chances of winning each game in the five-game run, from best to worst.
"Five games in 13 days, that's really difficult to deal with. Four in 10 days is really hard," Beilein said. "Five in 13, but you know what, let's just change our mindset. "Let's put something together here. Let's put something you'll always remember against some of the best teams in the country by playing your best in the next two weeks."
1. vs. Indiana, Thursday (9 p.m., ESPN): The Hoosiers (7-8 overall, 1-2 Big Ten) may have won in Bloomington on New Year's Eve, but a lot of that might have come off the emotion of losing star freshman Maurice Creek earlier in the week. Indiana is young and, talent-wise, one of the weaker teams in the league. Michigan should win unless it gets caught looking ahead.
2. at No. 6 Purdue, Jan. 23 (4 p.m., ESPN): The Boilermakers (14-2, 2-2) are one of the best teams in the country, especially on defense. But as Ohio State proved on Tuesday, it is possible to win at Mackey Arena and if you can stop Robbie Hummel, you have a chance - especially if you have a player like Evan Turner. Michigan does in Harris, who can prove himself on a national stage with a similar performance. That said, this is a difficult game by any stretch.
3. No. 15 Connecticut, Sunday (1:30 p.m., CBS): The Huskies (11-4, 2-2 Big East) are more athletic, taller and longer than the Wolverines. Overall, they are probably more talented, too, with three future NBA players in guards Jerome Dyson and Kemba Walker and forward Stanley Robinson. Beilein is 1-4 in his career against the Huskies. But with the game at Michigan and the Wolverines' last chance for a key non-conference win, there are motivational factors at play.
4. No. 7 Michigan State, Jan. 26 (7 p.m., ESPN): Rivalry games always bring out odd results and big emotions, but the Spartans, on a four-game winning streak, enter as the hot team. If this game were in East Lansing, it'd be easy to say Michigan has no shot. In Ann Arbor, there's at least a chance but seeing what Michigan State (13-3, 3-0) did to Northwestern's 1-3-1 defense gives pause to Michigan's chances.
5. at No. 13 Wisconsin, Jan. 20 (4 p.m., CBS): Ask Purdue how difficult it is to win in Madison. Yes, the Badgers (13-3, 3-1) will be without Jon Leuer, who is out indefinitely, but there's something about Bo Ryan ball at Wisconsin that makes it almost impossible to win at the Kohl Center.
Michael Rothstein covers University of Michigan sports for AnnArbor.com. He can be reached at (734) 623-2558, by e-mail at michaelrothstein@annarbor.com or follow along on Twitter @mikerothstein.