Posted on
Wed, Oct 19, 2011 : 6:17 p.m.
Still standing: Michigan's young freshmen guards surviving the early days of practice
By Nick Baumgardner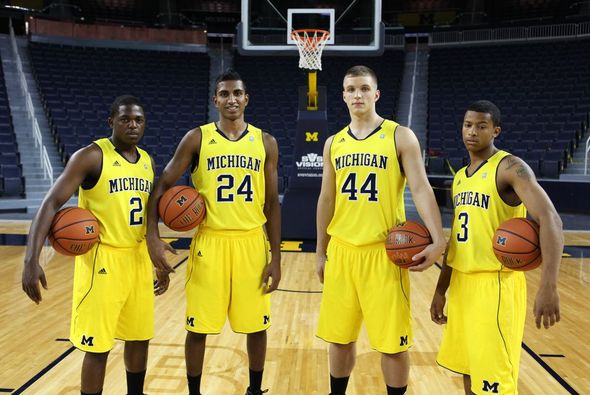 Jeff Sainlar I AnnArbor.com
Six days into the
Michigan basketball
team's preseason camp, and its most talked about newcomers are still standing.
Wolverines coach John Beilein said Wednesday that freshmen guards Trey Burke and Carlton Brundidge are adapting well to full-tilt college practices, both mentally and physically.
"I've really been impressed with the way they've been able to adapt in practice," Beilein said. "They're high-IQ. When they get on that court, their basketball IQ has been very receptive to change, which is always good."
Michigan began official team practices for the 2011-12 season Friday, and concluded what Beilein calls "Camp Wolverine" on Wednesday. Camp Wolverine consisted of six straight practice days featuring the maximum allotted practice time in each session.
Entering the season, the team's biggest question mark is with its point guards, and who would help fill the void left by NBA-departed floor leader Darius Morris.
Beilein said it's still too early to tell which players are cementing themselves within a top five, and instead, the staff is looking to see which will land in the top 10.
In other words: There is no answer to who starts at point guard yet.
One player who has been working the most with the freshmen guards is senior Stu Douglass. Douglass continues to work out at both the point and the shooting guard positions, and continues to insist that he'll play wherever Beilein puts him.
He also said both Burke and Brundidge have shown an advanced ability to handle the early moments of practice.
"They're soaking up everything that you give them," Douglass said. "I've been here three years and there's certain lingo that coach has, and I'll try to talk to Carlton that way. At first he looked confused, but now he's starting to pick it up.
"(The most impressive thing about them) is really how much they've picked up the offense and how well they've meshed so far, even in the first few days with the experienced guys."
Michigan's other two freshmen, forwards Max Bielfeldt and Sai Tummala, have also handled the first few days of practice well from both a mental and physical standpoint.
There's still a long way to go for all four, but so far, so good.
"They've looked good," Michigan senior guard/forward Zack Novak said. "They don't look dead at the end of practice, especially through this first week. Once you get into day four, five and six, a lot of freshmen start to fizzle out.
"But they've been getting better and improving."

No thoughts on redshirts

Beilein said it's still far too early to give any thought about any possible redshirt candidates for this season.
"Redshirting is always an option we think about with every freshman," he said. "Every coach will tell you he'd rather have someone play at 22 than 18, if he has the right attitude. It's something we'll consider with everybody.
"(But) I'm not thinking about any of it (right now)."
Michigan Madness?

Asked if he'd watched any Midnight Madness events across the country last week, Beilein said not "one bit."
Michigan opted out of hosting a ceremonial practice kickoff event for the second straight year after having one prior to the 2009-10 season. Beilein said he's never opposed to bringing one back, but explained how productive the first day of workouts were without such a party.
"All I know is that we got four hours of work in that day that we needed and we could not have done that if we had a midnight madness," he said. "But I'm always up for what's best for the program."

Odds and ends

Beilein said that through the early going of the team's workouts, sophomore forward Evan Smotrycz has been the group's top rebounder. Smotrycz said he put on roughly 36 pounds on his 6-foot-9 frame this offseason, up to 235 pounds. Beilein said it's Smotrycz could "probably play any position but point guard, in time, as he goes along. You just never know." ... Sophomore forward Jordan Morgan continues to expand his game after a breakout redshirt freshman campaign a year ago. Beilein said Morgan has shown "more lift" to his game athletically early on in camp. He also praised the improved athleticism of sophomore big man Jon Horford, who added 30 pounds this summer and is now up to 6-foot-9 and 250 pounds.
Nick Baumgardner covers Michigan basketball for AnnArbor.com. He can be reached at 734-623-2514, by email at nickbaumgardner@annarbor.com and followed on Twitter @nickbaumgardner.