Posted on
Fri, Jan 29, 2010 : 5:34 p.m.
Struggling Michigan basketball team will see an improved Iowa squad on Saturday
By Michael Rothstein
Michigan basketball forward DeShawn Sims crushed the Hawkeyes a year ago in the game that ended Iowa's season in the Big Ten tournament.
With a potential berth in the NCAA tournament on the line - one the Wolverines eventually secured - Sims had 27 points to help dismantle the Hawkeyes, 73-45.
Iowa coach Todd Lickliter hasn't forgotten.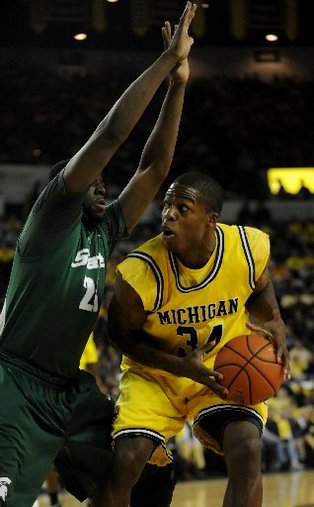 "They've got a lot of firepower, "Lickliter said Friday in advance of a 4:35 p.m. game Saturday against Michigan at Crisler Arena (Big Ten Network). "They are really good in transition as far as shooting the three in transition. Sims is a terrific post player.
"In the tournament last year, he really had his way."
Sims is one of the better players in the Big Ten of late, averaging 21 points a game over the past three games, all against ranked teams. He's also emerged as Michigan's go-to player in critical situations.
He hasn't been Michigan's issue. Instead, it has been the 3-point shooting - the same one Lickliter is concerned with in transition - that has been one of the Wolverines' largest problems of the season.
As a team, Michigan (10-10 overall, 3-5 Big Ten) is shooting 29.7 percent from the 3-point line (146-492) and just one Michigan starter, sophomore guard Laval Lucas-Perry, is shooting over 34 percent from the 3-point line. Two of Michigan's starters, and two of the players the Wolverines considered before the season to be among their better shooters, are among the team's worst.
Junior guard Manny Harris is hitting just 27.8 percent of his 3-pointers and Zack Novak is at 28.4 percent.
"To score points, we don't have a lot of other options right now. We're not the biggest team, not the quickest team. We don't have a lot of other options," Michigan coach John Beilein said. "We've been a bit more selective. But the Michigan State game, we got a bit too amped up at times but it was only four or five shots that we'd like to take back from that game. In a game that ended like that, those four or shots are really important."
The one constant, though, is DeShawn Sims - who is shooting 32.1 percent from the 3-point line and 51.1 percent overall. In the Big Ten season, he's been even better, averaging 20.6 points while shooting 55.7 percent from the field and 35.7 percent from the three-point line.
His current streak, in which Beilein called Sims "one of the premier players in the country," could very well continue Saturday.
Iowa, frankly, wasn't supposed to be very good this season. And the Hawkeyes (8-13, 2-6) haven't been terribly impressive for most of the year.
Yet the Iowa team that Michigan will see Saturday started to show signs of becoming a team that could play competitively in the Big Ten. They beat Indiana on the road, 58-43. They led No. 20 Ohio State at the half on Wednesday and held a seven-point lead with 8:18 left in the game.
Iowa has won three of its last five games with its losses coming to league leader Michigan State and Ohio State.
"I don't know that it's changed," Lickliter said. "What it appears to me is that the progress you've hoped to make because of practice and you've competed.
"… It's what you would hope for a team. We are just trying to grow into a good team."
Right now, both Michigan and Iowa can say that.
Michael Rothstein covers University of Michigan basketball for AnnArbor.com. He can be reached at (734) 623-2558, by e-mail at michaelrothstein@annarbor.com or follow along on Twitter @mikerothstein.