Posted on
Sun, Mar 20, 2011 : 7:39 p.m.
Stu Douglass quick to console Darius Morris after his last-second missed shot
By Rich Rezler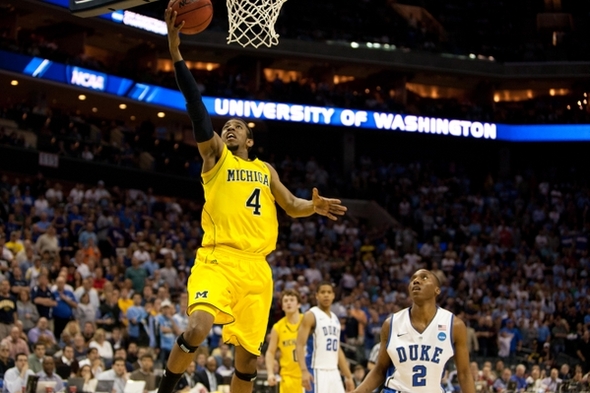 Jake Drake | Icon Sports Media
CHARLOTTE - His junior season had come to a heart-breaking end just seconds earlier, but Stu Douglass was already in team captain mode.
The Michigan basketball team finished its traditional handshake line with Duke players following the Blue Devils' 73-71 win and headed solemnly toward the tunnel at Time Warner Cable Arena floor.
Zack Novak's face was still red with effort and dejection. Right behind him walked Darius Morris, with Douglass shadowing along stride for stride, attached to his right ear.
"He was telling me to hold my head up, that 'you led us here and if it wasn't for you we wouldn't be here,'" Morris said. "He really tried to comfort me and pick me up. "
Morris had just missed a floater in the lane with 2.9 seconds remaining that could have completed the Wolverines' 15-point second-half comeback and forced overtime in the NCAA tournament third-round game.
DUKE 73, MICHIGAN 71
Instead, the shot that needed a little extra oomph to get over the outstretched arms of Duke's 6-foot-11 Ryan Kelly bounced off the back of the rim. The buzzer sounded and Michigan's season was over.
Douglass could have sulked after his second trip to the NCAA tournament ended short of a Sweet 16 trip. He could have been upset that in a seven-second blur of action following a missed Nolan Smith free throw, Morris decided to drive and shoot instead of kicking the ball outside to him for a wide open 3-point attempt.
Douglass was alone at the arc for a potential game-winning shot. Novak was, too.
Instead, Douglass - the only player in the Michigan playing rotation who has reached the wise old age of 21 - was a team leader. And a friend.
"Maybe that's me growing up a little bit," Douglass said. "Maybe I wouldn't have done that a couple years ago. But I thought it was my place."
Douglass says he told Morris he had a great game. The sophomore scored 16 points on 7-of-14 shooting with six assists and one turnover against Duke's pressure defense. He told Morris that he'd played a great season.
"He's had a breakout year for him, and I'm very proud of what he's done. He's grown so much in front of all of our eyes," Douglass said. "I was just trying to remind him that he should be proud - I know it hurts - but be proud of where we got as a team and where he led us."
Morris says if Douglass hadn't been the first player in his ear, he believes others would have been quick to do the same.
"It resembles our team unity the whole year, even when things don't go our way," he said. "We always have people on this team, 1 through 15, always giving a helping hand. That's what it's all about. That's what a team is about."
Morris eventually followed Douglass' stoic lead. When the media was allowed into the cramped Michigan locker room following a 10-minute talk with coach John Beilein, Morris was still being consoled.
But as the pack of cameras and reporters headed straight for him, cornering him between two banks of lockers, he stood tall and calmly answered every question about the game's final play.
"This is the toughest time you can imagine," he said.
What were you thinking during that final play?
"I was taking it to the hole. That's what I do best," he said. "I had a great look. You can't ask for a better look than that."
How will this impact you?
"It's not going to have a negative impact. It's going to be positive," he said. "During my workouts, I'm going to think about this moment. Think about how close we were and about the things that I could do in my control to change the outcome of this game."
Would he take that last shot again?
"Same shot. Hopefully a different outcome, but same shot," he said. "You always want to be in that position."
Rich Rezler covers sports for AnnArbor.com. Contact him at 734-623-2553 or richrezler@annarbor.com.