Posted on
Fri, Mar 16, 2012 : 11:51 a.m.
Tale of the tape: Michigan's Trey Burke vs. Ohio's D.J. Cooper in battle of point guards
By Nick Baumgardner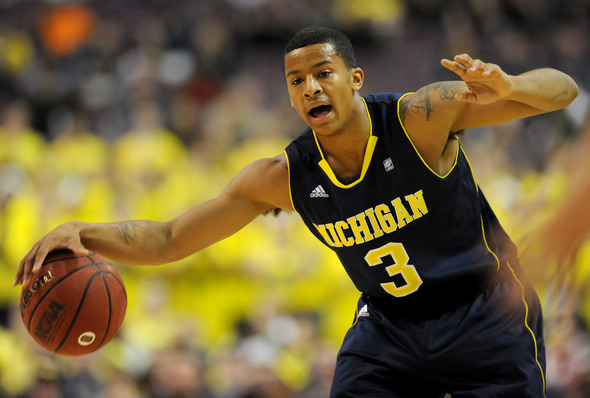 Angela J. Cesere | AnnArbor.com
NASHVILLE, Tenn. -- Michigan basketball point guard Trey Burke met D.J. Cooper once upon a time during an unofficial visit to Ohio as a high schooler.
But, apparently, the meeting wasn't memorable enough to leave an impression.
"I don't remember too much about it," the Ohio point guard said Thursday. "I don't really know."
But come 7:20 p.m. Friday (TNT) at Bridgestone Arena in Nashville, Tenn., both Burke and Cooper will be anything but strangers as they lead their respective clubs into NCAA Tournament second round action in the Midwest Regional.
The matchup between Burke and Cooper is eerily similar, as both are 5-foot-11 floor leaders with shooting ability, dribble-drive tendencies and a soft touch around the basket.
But, more importantly, both play without fear.
"He's a great player," Burke said of his counterpart. "He's similar to Tim Frazier of Penn State, left-handed shooter that's very quick.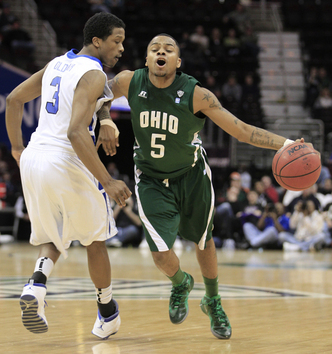 AP Photo
"He runs their team, he shoots a lot of their shots late, so I'm going to have my hands full."
Cooper, a former Mid-American Conference Freshman of the Year, was First-Team All-MAC this season, became one of eight players in Division I history a year ago to average seven assists and five rebounds in one season and seems to be the school's most celebrated player since former NBA standout Gary Trent, aka, "The Shaq of the MAC."
He averaged a bit more than 20 points per game a week ago and earned MAC Tournament MVP honors, scored the school's first-ever triple-double earlier this year and also became Ohio's all-time assist king.
So, yeah, he's pretty good.
"It should be fun," Burke said.
Burke, meanwhile, wasn't exactly a slouch this season at Michigan.
The 5-foot-11 Columbus, Ohio, native was the Big Ten co-Freshman of the Year, earned second-team all-America honors, led Michigan in scoring at 14.7 points per game, set the school's all-time freshman assist mark and set a Big Ten Tournament rookie scoring record last week with 30 points against Minnesota.
The list of credentials for the leading men in Friday's game is staggering.
And though they don't know much about each other now, they both admit they'll know plenty later this evening.
"I've watched a lot of film on him, and he's a solid guard," Cooper said. "I've got to try to keep him out of the lane, because the more he's settling, the more successful I think I'll be.
"He's a mature freshman, he's been through the battles. He's on the big stage night in and night out, I've just got to make it as tough as possible on him."

No losing streak

Plenty has been made this week about Michigan's perfect record after a loss this season.
The Wolverines are 8-0 coming off a defeat, and look to improve that streak to 9-0 Friday against Ohio, as Michigan dropped its last outing, 77-55 to Ohio State in the Big Ten Tournament.
Players say the loss to the Buckeyes served almost as a wakeup call going into the tournament and, against Ohio, they're prepared to make it nine straight rebound performances.
"A lot of that has to do with maturity," Michigan senior guard Stu Douglass said. "The film room can be a very sobering experience, you think you're playing all right, but it could be double-digits in mistakes you made, you don't even realize it.
"You've got to put pride aside and grow up a little bit and take responsibility for your own actions, and and yourself what you can do for this team, not 'woe is me, why is coach picking on me.' Maturity and the experience we've had has helped us a lot."

Brackets? What brackets?

Michigan players were asked if they filled out any NCAA Tournament brackets this week.
Douglass made quick work of that question.
"No," he said. "And I hope no one on our team does.
"There's a million reasons why that's just bad."

A few nerves never hurt

The general sentiment inside the Michigan locker room Thursday was that the team is feeling as comfortable as it has in an NCAA Tournament setting over the past four seasons.
Burke is the only player in Michigan's main rotation that hasn't seen action on this stage, and all said they understand how everything works now -- both on and off the court.
However, come tip time, senior captain Zack Novak said it's not necessarily a bad thing to be a little nervous -- because this is a big moment, and there may not be another one to follow.
"I don't think anybody, when you get into postseason play, is going to be entirely comfortable," he said. "I think that's a good thing.
"You're supposed to be a little bit nervous. You're supposed to take that extra film study, practice harder, it's win or go home. That's where we're at. You have to embrace that."
Nick Baumgardner covers Michigan basketball for AnnArbor.com. He can be reached at 734-623-2514, by email at nickbaumgardner@annarbor.com and followed on Twitter @nickbaumgardner.
Want to stay connected to Wolverine basketball in your Facebook newsfeed? "Like" AnnArbor.com's Michigan Basketball News & Views.