Posted on
Sun, Oct 23, 2011 : 5:57 a.m.
Bulked up Michigan forward Evan Smotrycz prepares to take his game to the next level
By Nick Baumgardner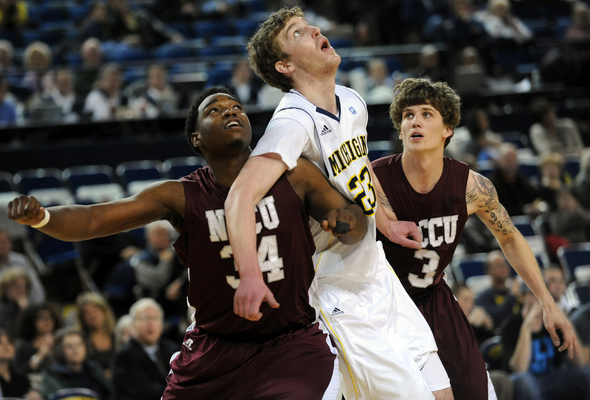 AnnArbor.com file photo
What did you do on your summer vacation?
Michigan sophomore forward Evan Smotrycz spent the majority of his in two places: The gym and his mom's kitchen.
"I put on 36 pounds, all muscle," Smotrycz said with a smile. "Well, not all muscle, but it's not all bad weight."
Tall, skinny and full of promise a year ago, the 6-foot-9 Smotrycz is hoping his work with the weights (and dining utensils) turns him into one of the Big Ten's breakout performers this season.
As a freshman last year, Smotrycz lived up to his reputation as a big man with the ability to stretch a defense. He shot 38 percent from 3-point range and averaged 6.3 points, primarily as a sixth man.
The rest of his game, though, was lacking.
Smotrycz averaged just 2.3 rebounds per game, finishing behind guards Darius Morris, Tim Hardaway Jr., Zack Novak and Stu Douglass.
And though he was dangerous from long range, he was less than average near the basket. He shot just 43 percent from inside the arc.
In other words, he was one-dimensional.
So after Michigan's season-ending loss to Duke in the NCAA Tournament, Smotrycz headed back Reading, Mass., with one eye on the workout program designed for him by Michigan basketball strength and conditioning coach Jon Sanderson, and the other on the scale.
He worked out six days a week at Athletic Evolution in Woburn, Mass., and in between, indulged on everything his mother, Charleen, offered up from the kitchen.
Smotrycz says a steak dinner with broccoli and cheese casserole was his favorite meal, followed by vanilla cake with chocolate frosting and plenty of melted chicken and cheese sandwiches.
When he left Ann Arbor for the summer, he weighed in at roughly 200 pounds. He's now listed at 235 pounds.
And the difference has already been felt.
"Our leading rebounder after three or four days has been Evan Smotrycz," Michigan coach John Beilein said earlier this week. "He's the fourth or fifth person you'd think would be that at this point and time. But he's shown an aggressiveness that comes with having a more defined body.
"There's no slowdown in it. The extra weight that he's gained has been good weight."
It's not just the rebounding that's improved either.
Michigan assistant coach Bacari Alexander, who works with the team's big men, saw something from Smotrycz in a drill earlier this offseason that he'd never seen before.
"We did a skill development workout where he drove the ball baseline, was able to take a bump and still complete the play on the other side of the basket," Alexander said. "That's something he hasn't been able to do before.
"He could be tremendous for us."
Smotrycz's weight gain hasn't just given him bulk to compete on the glass, but also an added athleticism that allows him to be more than just a dangerous outside shooter.
A possible "stat-sheet stuffer," according to Alexander, Smotrycz has now shown the ability, in practice, to be a rebounder, a back-to-the-basket scorer and a threat to finish at the rim.
"The added weight will help me get a lot more rebounds, which was probably the biggest hole in my game last year," he said. "If I can do that and defend better, it'll give me a lot more confidence and it'll translate into all areas of the game."
Smotrycz isn't the only Michigan player that's transformed his body. Fellow sophomore Jon Horford added 30 pounds over the summer, and now appears to be in line for minutes behind Jordan Morgan at the center position.
And freshman Max Beilfeldt (6-8, 240) and further growth of junior Blake McLimans (6-10, 240) and Michigan could have something it didn't a year ago: An inside threat.
"Guys are tougher," said Novak, who, at 6-foot-4, led the team with 5.8 rebounds per game a year ago. "I used to be able to go down there and push some of our big guys around.
"That's not happening anymore. ... And that should help us a lot, especially in the Big Ten. We've lacked that girth down low and now we have some more of that."
As for Smotrycz? He's put the fork down, for now.
But his heavy lifting, and heavy eating, have successfully raised the ceiling on his potential at Michigan.
He looks the part. All that's left to do now is go out and act it.
"He could play anywhere (on the floor)," Beilein said. "Evan's got some skill and could probably play any position but point guard, in time.
"You just never know."
Nick Baumgardner covers Michigan basketball for AnnArbor.com. He can be reached at 734-623-2514, by email at nickbaumgardner@annarbor.com and followed on Twitter @nickbaumgardner.