Posted on
Tue, Mar 15, 2011 : 8:39 p.m.
Tennessee presents the Michigan basketball team with familiar and unique challenges in NCAA tournament
By Rich Rezler
If the allure of the NCAA tournament is watching teams with varying styles and philosophies go head to head, Friday afternoon's game between Michigan and Tennessee is must-see TV.
Tennessee likes to play fast. Michigan is more patient. Tennessee rebounds. Michigan doesn't. Tennessee's defense can be susceptible to 3-point baskets. Michigan likes to shoot them.
As the Wolverines began full-bore preparations for Tennessee on Tuesday, coach John Beilein said his staff would place bubbles over the rims at practice so "no shot can go in and we'll just box out and box out and box out."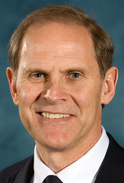 Beilein, whose team is ranked 249th in the nation in rebound margin, says that aspect of the game could be Tennessee's biggest strength. The Volunteers average 13 offensive rebounds.
"There are guys that just get there because they're tall and long. Then there's young men that have a talent for rebounding -- (John) Fields, (Brian) Williams, (Tobias) Harris all are talented rebounders," Beilein said. "It's not just about being big. They seem to have a nose for the ball. That will be difficult for us to guard against."
By this point in the season, the Wolverines are used to being undersized and at a rebounding disadvantage. What won't be as familiar is Tennessee's up-tempo style on the defensive end of the court.
Playing in the Big Ten - "not a high-turnover league," Beilein said - the Wolverines haven't seen many defenses that so aggressively attempt to step into passing lanes and turn steals into fast-break layups.
Michigan junior Zack Novak thinks the Wolverines are prepared for the battle on the boards after playing Ohio State, Minnesota, Michigan State and other Big Ten teams that put an emphasis on rebounding. But sophomore guard Darius Morris doesn't see many other comparisons between the Volunteers and the other teams on the Wolverines' regular season schedule.
"Maybe their size and length, yeah," he said. "But not in terms of the way they play with quickness and trying to get extra possessions by pushing the tempo. That's kind of unique."
JOIN OUR LIVE CHAT FRIDAY