Posted on
Thu, Mar 3, 2011 : 6:10 a.m.
The ball screen now a prevalent offense in college basketball, including at Michigan
By Michael Rothstein
Years ago, Chuck Daly held a clinic and for 90 minutes the former Detroit Pistons coach explained how to run and defend one of the fundamental plays in college basketball.
In the audience, Northwestern coach Bill Carmody sat and listened.
Daly explained nine ways to defend the pick-and-roll, from sliding under the screen to hedging the screen to different ways to force the ball-handler into a trap or away from the screen.
"After the hour-and-a-half, he said, 'And you know what? None of them work,'" Carmody recalled.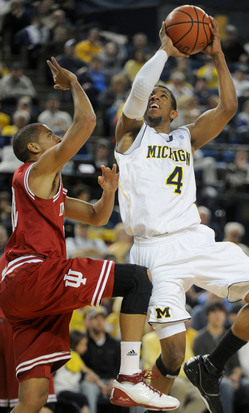 Angela J. Cesere | AnnArbor.com
At the time, he couldn't have known how much the advice Daly imparted would become one of the main truths of college basketball today.
The ball screen, or pick-and-roll, has evolved from the days of John Stockton and Karl Malone with the Utah Jazz. It has turned into an entire offensive philosophy, with multiple options for both screeners and ball handlers.
It is part of the reason why teams in college basketball are using the ball screen and the pick-and-roll-or-pop more than ever, including Michigan. They may not love the concept itself, but they use it because it is effective.
And it wins.
The evolution
When Illinois coach Bruce Weber started his coaching career as an assistant at Western Kentucky and Purdue, hardly any college teams used the pick-and-roll as a central part of their offense.
Indiana coach Bob Knight's motion offense and North Carolina coach Dean Smith's fast-break offense were the standards. Screening was still used, but more in the confines of offensive movement as part of cuts.
Then Stockton found Malone and the Utah Jazz perfected the art of the two-man game. A generation of players started wanting to run the pick-and-roll. Even as the Jazz used it to reach success in the late 1980s and early 90s, the ball screen's current incarnation didn't evolve until the past decade.
A new group of NBA players had more ball handlers and big men who could shoot from the outside.
"It all basically comes down from the NBA," Iona coach Tim Cluess said. "What you're going to see in college basketball usually happens in the NBA several years earlier and it comes down from there."
Multiple coaches pointed to Butler as the place where the ball screen started in today's college game. When Bo Ryan and Rob Jeter faced the Bulldogs, they discovered — to their frustration — a team that ran ball screens almost every possession.
Butler featured a good point guard in Thomas Jackson, post players who could make shots and roll to the basket. The change came in good guards who could shoot, including current Michigan assistant coach LaVall Jordan.
"All they did was ball screen, ball screen, ball screen," Jeter said. "I can remember how hard it was to prepare for them because it was like 'Okay, there's going to be a ball screen every trip.'
"…I remember how odd it was."
How it works
What the ball screen does — and why it is attractive to so many coaches — is it shakes up defenses while offering offenses versatility.
When a good point guard, a critical component to ball screen success, takes the ball and goes at the screen, it forces a defense to make a decision.

• Does it help off shooters potentially leaving players open for a 3-pointer?
• Does it stop the ball handler with two men, leaving the screener open for a roll to the basket or alone outside for a mid-to-long range shot?
• Does it hedge on the screener and stay with the shooters, allowing the point guard to drive into the lane, where a team will have to potentially help later?
"There are so many options in that basic basketball play," said Michigan point guard Darius Morris, "that it's kind of hard to stop all of them at that time."
The ball screen forces defenses to choose where they want to recover.
"It's tricky to defend," Notre Dame coach Mike Brey said. "It isolates stuff, it inverts, it brings a big guy out. There has been more clinic discussions in the last three years in the off-season of topics of how to defend the ball screen."
Few have figured out a good way to stop everything that the ball screen offers.
Jeter estimated it is almost 60 percent of the Milwaukee offense. Cluess uses it 25 percent of the time. Michigan coach John Beilein said he has used it more this year than he has at any time in his career.
"What's really been great for Darius is we're setting good screens, but he's got three shooters around, three shooters and a screener so the help factor is very difficult for people," Beilein said. "Because you're either going to stop Darius going to the lane and you might give up a three or you stay with the three's and he can finish."
When teams have to recover, it often causes major problems. Another reason teams use it often is post players often get lost when trying to defend the screen.
This opens up the lane for the driving guard and if run successfully, results in an open basket. Marquette coach Buzz Williams said teams play zone more now as a way to hide poor ball-screen defenders. When teams play zone, it cuts off the roll, but it will leave teams vulnerable to a flash on the wing, an open shooter or a popping-out screener.
"We've tried to run some sets with it, run it through motion," Purdue coach Matt Painter said. "But being unpredictable and giving different looks makes the defense have to make decisions and break down, and the more skill guys you can put out there really puts people in a bind.
"But I think everybody does some version of the ball screen in college basketball."
The problems
While the ball screen has become effective, coaches still don't love it because it cuts off the flow, a basketball staple since its inception.
Too often, coaches say, players not involved in a two-or-three man ball screen game stand around doing nothing. It is why coaches who have shooters stress to always be ready.
But as much as coaches try, they can't avoid the irrefutable fact that the ball screen works.
"As a guy who appreciates flow and movement on offense and I think we've done that as a pretty good model, I think it's become too prevalent," Brey said. "I think at our lower levels of basketball in the summers, we should play games, quarters in a game where you can not ball screen because it really gets teams to move and cut and play without the ball."
In early-season practices, his team runs through scrimmage sessions without ball screens because it fosters more movement. But in games, Brey admits, his team will go to ball screens when necessary.
Painter and Weber both cautioned that it could backfire if teams only use ball screens, but if there are a lot of options with the system it becomes extremely difficult to stop each possession.
The ball screen is the way of life in college basketball.
"It's become definitely an integral part of college basketball along with the NBA," Weber said. "And very, very tough to defend."
Michael Rothstein covers University of Michigan basketball for AnnArbor.com. He can be reached at (734) 623-2558, by e-mail at michaelrothstein@annarbor.com or follow along on Twitter @mikerothstein