Posted on
Thu, Nov 25, 2010 : 5:58 a.m.
Blessings and burdens part of being the son of an NBA player in the college basketball world
By Michael Rothstein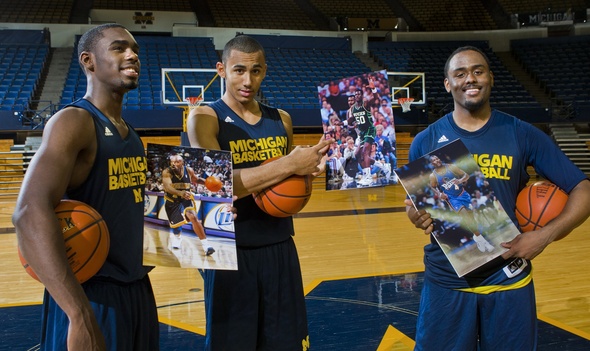 Associated Press
Juwan Howard Jr. talked as he rode in a car with his father this summer.
The conversation wasn't intended to take a certain direction, but result was an emotional, honest assessment of part of Juwan Howard Jr.'s childhood.
He loved growing up as the son of a father in the National Basketball Association and as the namesake of one of the members of the Fab Five at Michigan. With the name came expectations. That's something Howard Jr. - and other sons of NBA fathers, including three currently playing at Michigan - all deal with.
"In my younger, early years I really kind of kept it secret as to how I felt about it, how much pressure was on me," said Howard Jr., now a freshman at Western Michigan. "It took me until about this summer to finally tell him pretty much it was hard for me, that it was real hard.
"I got real emotional about it and everything. I told him how it was, just opened up and told him how much of a toll it took on me as a child."
He isn't alone.
As last generation's NBA players' children reach college age, familiar surnames pop up on Division I rosters. Nowhere is this be more prevalent than at Michigan, which has three NBA progeny:
• Sophomore guard Jordan Dumars, son of six-time NBA All-Star Joe Dumars, who played 14 seasons with the Detroit Pistons.
• Freshmen guard Tim Hardaway Jr., son of Tim Hardaway, a five-time All-Star who played 13 years in the NBA.
• Freshman forward Jon Horford, son of Tito Horford, who played two seasons with the Milwaukee Bucks and part of a third season with Washington.
Glenn Robinson III, the son of another NBA player, will join Michigan's roster in 2012.
Having the same name as a famous parent can bring on unfair perceptions, no matter the profession. When you follow the famous father's path, like Dumars, Hardaway Jr., Horford, Howard Jr. and Georgia Tech sophomore Glen Rice Jr. - who will play Legends Classic this weekend along with Michigan's Horford and Hardaway Jr. - criticism is tougher. Taunts more pointed.
And comparisons follow, as did sometimes-irrational behavior from peers and opposing fans.
"It wasn't an every day thing," Hardaway Jr. said this summer. "Just people that was, I don't know how to say it, just didn't like me because of my dad. People would say, 'They are just mad because they wish they had your life,' but I don't know."
The fathers offered similar advice. Ignore it. Be yourself. Play your own game and stick with how we raised you and what we taught you.
That's the advice Juwan Howard Sr. gave his son in the car.
"He wasn't really surprised. He said, 'Yeah, that's the thing, you just have to fight through it and let your little brothers know the things you had to go through,'" Howard Jr. said.
"Have to teach them that when you want to play this game of basketball you'll have these people who want to be negative or put so much pressure on you.
"Just give them that insight and let them know stuff is going to happen so they'll be prepared."
Rice Jr., a slasher on the basketball court, heard the comparisons to his father, one of the best shooters in Michigan and NBA history.
"He let me know it's going to happen and not to worry about what they say," Rice Jr. said. "That, of course, we're not going to be the same player. Just play my own game.
"I didn't ever feel no pressure to be a shooter. It was just play your own game and don't worry about expectations of being just like your dad, because no players are the same."
Yet there are similarities.
Howard Jr. said his rebounding ability and game intelligence comes from his father's game. Hardaway Jr. sometimes unveils a miniature "Killer Crossover" that his father crushed defenders with. Joe and Jordan Dumars are both shooters. Jon Horford and his brother, Al, have similar body types and games - and both are the sons of former NBA player Tito Horford.
Pieces aren't carbon copies. This is an important distinction the sons of NBA players stress. They know how lucky they are and want to be judged as themselves.
"It's not like I go around every day thinking, 'Oh, my dad was this, my brother was this,'" Jon Horford said. "I'm just another guy, just going out there to play.
"It's not anything special. It's different, but I don't think of myself as anything different."
The fathers don't expect preferential treatment for their kids.
Dumars, Rice Jr., Horford and Howard Jr. started their freshmen seasons on the bench. Hardaway Jr. is starting for Michigan mostly because the Wolverines are a young team.
"All the fathers are very much 'Coach, just work them hard' is their attitude," Michigan coach John Beilein said. "No one has a sense of entitlement in that whole group, just, 'Get them in shape and work them hard, do what you do.' "
The reality is none of them asked for this. They didn't pick their parents. Yet for the burdens that may occasionally surface, all agree that having a dad in the NBA is pretty cool.
"It was a fun experience, and I was around basketball a lot," Rice Jr. said. "But I can't really compare it to anything else because my dad is the only dad I've ever had, only have one day and it is the only thing I really know, to have a dad in the NBA."
Michael Rothstein covers University of Michigan basketball for AnnArbor.com. He can be reached at (734) 623-2558, by e-mail at michaelrothstein@annarbor.com or follow along on Twitter @mikerothstein