Posted on
Sun, Dec 18, 2011 : 5:58 a.m.
The evolution of Evan Smotrycz continues to pay dividends for the Michigan basketball team
By Nick Baumgardner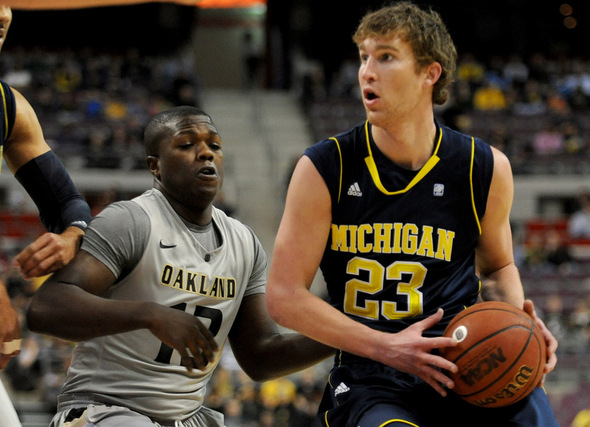 Angela J. Cesere | AnnArbor.com
There's been one story that's received most of the attention this season inside Crisler Arena: The play of freshman point guard Trey Burke.
While Burke's emergence as the Michigan basketball team's floor leader makes his praise justified, there's another youngster that's creating a tale of his own.
It's a story starting with a skinny frame and untapped capability now reading as a multi-talented big man with the potential to play three positions, and play them well.
This story belongs to Evan Smotrycz.
"It's certainly been (a story) that we've enjoyed," Michigan coach John Beilein said of Smotrycz's development.
For Smotrycz, the road to this season began in the weight room and inside his mother's kitchen, where he worked to add 36 pounds from the end of his freshman year to the beginning of his sophomore campaign.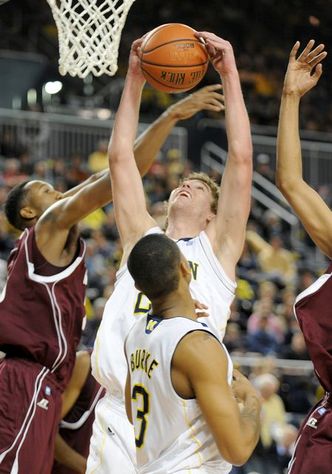 Angela J. Cesere | AnnArbor.com
A skinny 6-foot-9 forward with a shooting touch last season, Smotrycz struggled to be a consistent rebounder and inside scorer for Michigan, eventually wearing out physically down the stretch.
This season began with lots of potential when Smotrycz scored in double figures during Michigan's first two games of the season and also had a pair of eight-rebound efforts during the Maui Invitational.
But rarely was anything consistent, as constant fits with turnovers and foul trouble kept him from finding any type of serious in-game flow.
The last three outings, though, have been a different story altogether.
What's changed?
"I'm just letting the game come to me," Smotrycz says matter-of-factly.
During an 87-57 win over Alabama A&M on Saturday, Smotrycz recorded his first career double-double with 17 points and 11 rebounds.
As impressive as those numbers were, his stats over the past three games have been rather scary.
In wins over Oakland, Arkansas-Pine Bluff and Alabama A&M, Smotrycz has averaged 17.7 points and 9.3 rebounds. In those games, he's shot 15-for-19 (78.9 percent) from the floor and 10-for-12 (83.3) from 3-point range.
For the season, Smotrycz is shooting 56.2 percent from the floor (41-for-73) and 54.8 percent from 3-point range (17-for-31).
In other words, he's been borderline un-guardable.
"Open shots are just kind of finding me and sometimes the hardest ones to make are the ones where no one's near you," he said. "I've been fortunate enough to knock some of those down.
"Knock on wood."
But it's been more than the scoring and rebounding (10.9 points, 6.4 rebounds per game) that's encouraged Beilein and the rest of the coaching staff.
It's been his overall toughness, his ability to get to the rim and finish, his willingness to defend (he leads the team with 13 steals) and simply play more to his seemingly limitless potential in all areas.
"When he dove on the floor right in front of our bench in the first half (against Alabama A&M) and got us an extra possession, that did not happen last year," Beilein said. "He did not take charges last year, he was just learning how to play with a 6-9 body, learning how to use his body inside.
"I love the way he's scrapping."
His willingness to bang inside while still maintaining the ability to make people pay from deep has also opened up other areas of the Michigan offense.
Burke, who doesn't need much help, has been able to get into the lane easier at times due to teams not wanting to sag off Smotrycz on the wing.
And, with Smotrycz holding his own on the offensive and defensive glass, Michigan has been able to let senior Zack Novak play almost exclusively at the two-guard spot.
By doing so, Novak -- who is averaging 9.3 points per game -- now is able to score from the outside (he's shooting 43 percent from 3-point range) and distribute the basketball more frequently (28 assists versus seven turnovers).
"It's great to see Evan doing what he's doing," Novak said. "If he's going to play that well and that means my role shifts, I'm all for it.
"He's playing at a really high level right now."
Smotrycz is far from a finished product, though. He still turns the ball over too much (he had three against Alabama A&M) and Beilein says he still has moments where he tries to force the offense too much.
But, the fact that he still has so much room to grow is almost the scariest part of all.
He's nowhere near where he could be, but for the first time in his career, he's showing consistent glimpses of what he should be.
Smotrycz's story is far from over, but if early returns mean anything, it'll definitely be a must-read as winter pushes toward March.
Nick Baumgardner covers Michigan basketball for AnnArbor.com. He can be reached at 734-623-2514, by email at nickbaumgardner@annarbor.com and followed on Twitter @nickbaumgardner.
Want to stay connected to Wolverine basketball in your Facebook newsfeed? "Like" AnnArbor.com's Michigan Basketball News & Views.