Posted on
Thu, Feb 2, 2012 : 5:59 a.m.
The freshman wall: Will it hit Michigan basketball point guard Trey Burke?
By Nick Baumgardner
To say Trey Burke plays a lot of minutes is almost misleading.
To truly understand how much the Michigan basketball team's freshman point guard has played this season, one has to look inside the numbers.
And, upon further examination, the results show the following:
Burke plays more minutes than anyone on the Michigan roster, he plays more than any freshman in the Big Ten and he's approaching elite company in the Michigan record books for time played by a first-year player.
A lot? No. More like a ton.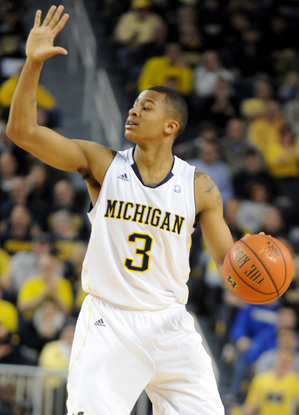 Angela J. Cesere | AnnArbor.com
But, is this a problem?
"I feel as good about him (minutes-wise as anyone)," Michigan coach John Beilein said earlier this week. "He's so athletic, and sometimes, athletic kids are so light on their feet that their legs might not take the same pounding (as others)."
As of Tuesday, with the Big Ten season at its halfway point, Burke had played at least 37 minutes 12 times this season.
Additionally, his average of 35 minutes per game is at least two minutes more than anyone on the Michigan roster, has him fourth overall in the Big Ten and is less than two minutes away from Penn State's Tim Frazier, the league-leader at 36.7 per night.
In a four-game stretch against Michigan State, Arkansas, Purdue and Ohio State, Burke played 153 of a possible 160 minutes.
And, it's out of necessity, as Michigan has yet to establish a true backup point guard to give Burke any type of extended break.
As a senior last season at Columbus Northland, Burke played 28 games. He'll pass that mark later this month at Northwestern, and will still have three regular-season games, a Big Ten Tournament and a possible NCAA Tournament run in front of him.
"I'm good," Burke said earlier this season when asked how his body was handling the rigors of the Big Ten. "I'm bruised up after some games, but our trainers and strength and conditioning coaches do a good job of keeping me healthy.
"I don't think it's been a big issue, as long as we win (I'm fine)."
Just two previous Michigan freshmen finished their first season with a higher minutes per game total than Burke currently holds. And they were both point guards.
Eric Turner averaged 36.9 per game in 1981-82, Daniel Horton played 36.1 per game in 2002-03.
To further quantify Burke's first-year workload, consider this. During the Fab Five's freshman season of 1991-92, Chris Webber, Jalen Rose, Juwan Howard, Jimmy King and Ray Jackson accounted for 68 percent of the team's overall minutes played.
Not one of them averaged more than Burke's current mark of 35 minutes per game.
The Fab Five never wore out, eventually leading Michigan to the first of two straight Final Fours. Turner and Horton? They seemed fine as well.
Turner only seemed to get stronger as time went on, putting up double-digit scoring efforts in his final 14 games of the season before ending the year with 14.7 points and 4.4 assists per game.
Horton, who led the team in scoring at 15.2 points per game in 2002-03, stayed strong despite heavy usage — putting up a season-high 31 points on the road at Purdue in late February.
Will Burke enjoy the same fate? His past suggests he just may.
"When we knew Darius (Morris) wouldn't be back (this season), we told him to prepare to start," Burke's father Benji, who also served as his AAU coach, said last week. "He really, really trained hard to have his body right and to have his conditioning right.
"We were prepared for this."
Several times earlier in the season, Beilein expressed concern about the high-level of minutes Burke had accrued.
But as time has gone on, there seems to be less and less worry.
"Particularly with freshmen, they're used to playing a 24-game season, they're used to playing every Tuesday and Friday night," Beilein said. "They're used to getting home after the game and having pizza with their family, not getting in at 3 a.m. after a trip to Nebraska or Wisconsin.
"But we talk about (taking care of your body) all the time. ... That's a fundamental concept of college basketball."
For normal first-year players, the freshman wall almost always comes calling at some point or another.
However, Burke's been anything but normal this season. He's done a lot of things people didn't think possible back in October.
Strike that. Not a lot.
A ton.
Nick Baumgardner covers Michigan basketball for AnnArbor.com. He can be reached at 734-623-2514, by email at nickbaumgardner@annarbor.com and followed on Twitter @nickbaumgardner.
Want to stay connected to Wolverine basketball in your Facebook newsfeed? "Like" AnnArbor.com's Michigan Basketball News & Views.