Posted on
Wed, Mar 10, 2010 : 8 p.m.
The Pride of Chesterton: Michigan sophomore Zack Novak a celebrity in his hometown
By Michael Rothstein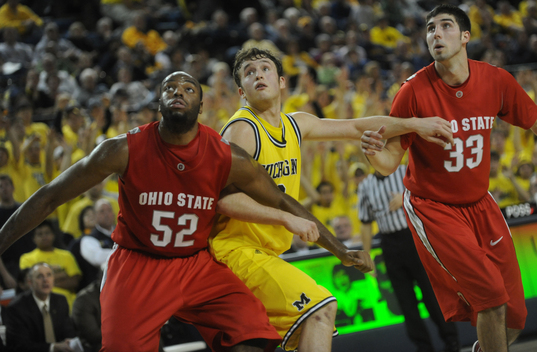 CHESTERTON,
Ind. - A singing deer is mounted on the wall and a bear's head hangs above the bar in the Village Tavern. There's a jukebox in the corner and wood paneling lines the walls.
Everything about the Village Tavern in Porter, Ind., screams small-town bar in one of the many places like this throughout the state - a neighborhood gathering place that is social hall and pub, except one thing sticks out. Instead of Indiana and Purdue paraphernalia - typical across this state - a University of Michigan poster hangs close to the singing deer.
And then there's a poster of Zack Novak, hometown boy turned Big Ten college basketball player.
The Village Tavern is on the outskirts of Chesterton - Novak's hometown - and the owners signed up for the Big Ten Network to make sure patrons could see all of Novak's games.
It doesn't hurt that Dave Novak, Zack's father, sometimes watches games there and talks to anybody curious about Zack's latest exploits.
Or when Dave Novak is at a game at Crisler Arena, like he was during the Duke game last season, he'll receive phone calls and text messages from people at the Village Tavern telling him the place is packed.
"A lot of people plan their time around when Michigan is on TV, carve that time out to watch Zack," Dave said. "Like (the Connecticut game), I'm at the game. I've got one friend who is calling me to tell me how the game is going. Well, I'm here.
"… There are a lot of people who I don't have a clue who they are coming up to me to talk about him. It's very weird."
When Dave takes a visitor to the Tavern for lunch one Tuesday in January, three men at a table by the door - in front of a framed newspaper article with the headline "Novak Leads Chesterton" on the wall - immediately start talking about Zack's game against Connecticut a couple of days earlier, saying they saw a big picture of him in one of two regional newspapers, The Times of Northwest Indiana.
Zack is one of the rare names to come out of this small town - population just over
10,000 - just off the coast of Lake Michigan. The most famous attribute of Chesterton: It is the home of the Indiana Dunes State Park.
After that, there are basketball players, well, two basketball players specifically. In Chesterton, as the secretary at the high school explained, there are two main eras: "The Nover Era" and "The Novak Era."
Matt Nover, who led Chesterton High School to a sectional championship in 1987, went on to play at Indiana and play Ricky Roe in the movie "Blue Chips."
The other is Michigan sophomore Zack Novak. They are the only two players to lead Chesterton to sectional championships and two of three to be named to the Indiana all-star team.
"Everybody knew who he was," Chesterton athletic director Garry Nallenweg said. "Zack Novak, it wasn't any arrogance about him. Zack's presence transcended athletics.
"A kid like that doesn't come around very often. … I wish we had a Zack Novak every year."
Growing up Novak
Where Novak made his name, though, was on the basketball court. It's why the community knows him, the same community that both Zack and his mother, Dana VanDenburgh, said raised him.
The Novak family moved to Chesterton when Zack was a small child and found a single-level white home at 420 Franklin. Behind the house is Hawthorne Park. It is where Zack learned to play basketball, either Dana or Dave watching him from the back of their house as he worked on his game.
Dave started a traveling basketball team of local kids when Zack was in fourth grade. In the team's second game, it lost by 30 points. Three months later, it advanced to the fourth-grade state championship.
Weekends were spent in the back of vans, listening to music and playing video games as the team traveled. Dave would routinely fib about how many games his team played in a year, usually keeping the number in the 40s.
One year, his team played 152.
It went beyond that. The entire group pitched in. Zack would go to a friend's house on a Friday. He'd leave Sunday.
"I remember, I was playing soccer and I needed gloves, goalie gloves, it was like OK, they'd just get them. It was a group effort," Zack Novak said. "We had people coaching us. (Dad) was a coach. You look at our high school team, at some point or another my dad had coached us, our point guard's dad had coached us. … A lot of people had a hand in it."
Still, Zack credits one man for creating the style of play he displays at Michigan - his father.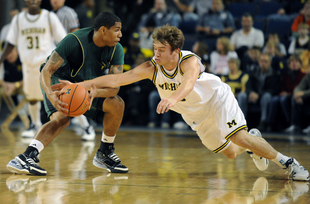 Dave forced him to have a need to grab every loose ball, every rebound. Even now, Dave jokes his son "isn't wired up right."
"The reason that I play I do today, so hard almost with that sense of desperation, where the ball is on the floor and I'm going to be the first one to get it. Because if I wasn't the first one on the floor, you didn't just get yanked, he let you know about it," Zack said. "It's fifth grade, and you're like, 'Jeez.'"
At the time, Zack didn't understand. Now, he does. Dave was trying to instill a work ethic and fundamentals into his son and their teammates.
By the time Zack reached eighth grade, he was 6-foot-2 and Chesterton coach Tom Peller realized he was looking at a four-year starter. Zack Novak left Chesterton the school's all-time leading scorer with 1,791 points.
But he almost left without a scholarship.
'I was pretty crushed'
The day is seared into the mind of Zack and his parents. It was the second day of school during Zack's senior year in 2007. Sitting with one scholarship offer from Valparaiso he received his sophomore year, he realized other scholarship offers might not arrive.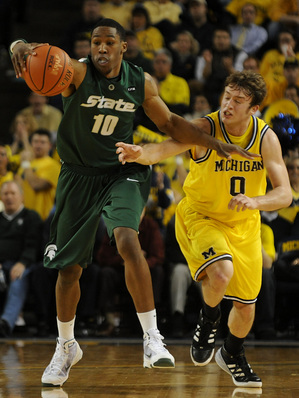 So he called Valparaiso coach
Homer Drew
, who told him to come to the school for a chat. Meanwhile, storm clouds hovered overhead as Zack drove alone - his choice - from Chesterton to Valparaiso.
As Zack was in the meeting, Dana said, a tornado touched down in Northwest Indiana. It ripped a tree out of her yard. And in the offices in Valparaiso, Zack sat in the dark discovering the scholarship offer he thought he had was no longer on the table.
He could go to Valpo for a year and walk-on. Maybe then, Zack said, a scholarship might be available. He had waited too long to accept.
"My first initial reaction was like, 'All right, I might have to walk on somewhere, walk on at IU,'" Zack said. "I don't know. I was pretty crushed."
He called his parents on the way home. Neither sensed he was upset - more that he was angry.
Motivated.
He arrived at Dana's house, walked upstairs and slammed the door. Dana brought dinner to her son in his room. He wasn't coming out.
"The next morning before school he hands me a list," Dana said. "There's a book I'm supposed to get by Michael Jordan about how to improve the jump in your game, these foods are no longer allowed to be in this house, that was that. This is what I want."
What Zack wanted was a scholarship. Having his chance at Valpo gone, he had one choice - play his senior year of high school and hope he didn't get injured.
Meanwhile Dana put together a resume for her son to send out with videotapes. Searching for a scholarship became a priority. Dave told him he needed to set people straight. The Novak family believes confusion over whether or not Zack wanted to play baseball or basketball in college, something that was never in doubt, according to Zack, kept schools away.
"I was shocked, too," Dave said. "But I didn't want to let him on. But we were back to total square one."
Zack lost weight and focused on his jump shot. Then the Post-Tribune, one of two
regional papers, picked its preseason all-region team.
Novak wasn't on it. In his eyes, this was more motivation. He had been on the postseason team for three years, thought he might be named player of the year.
When Peller came to him and told him, he thought he was joking.
"The no recruitment thing, that motivated me, but at that point I wasn't sure what recruitment was even going to bring," Zack said. "So I was kind of playing for that, but it was almost like I was playing for pride. That motivated me more than anything, not being in that five.
"I remembered it every year, every game, every time I played against one of them."
His team started 16-0. He was scoring at a crazy pace, finishing third in the state at 26.9 points a game. College offers came in. After Zack asked Peller to contact Oakland, which showed interest and tried to get him to sign in the early signing period. So did IPFW.
Zack decided to wait. He felt he could play in the Big Ten. At the time, he had no idea what was coming.
One day in study hall, Peller approached him with a phone. He said Michigan was on the line. Zack didn't believe it. Four games were left in his regular season. In many ways, he was resigned to not being able to play major college basketball.
"I was hesitant at first and I got on the phone and he's like, 'Hey, Coach Beilein, University of Michigan,'" Zack said. "I'm like, 'Dang. All right.' He was like, 'Why don't you send me some film, I'll come to a practice.'
"I sent him some film, he came to a practice and that was two hours of me trying to impress him, I guess. He came to a game."
The game was in the sectionals of the Indiana state tournament. In the game, Zack did a lot of what he does now. The team was bigger than Chesterton. He had to guard players bigger, stronger and more athletic.
He rebounded, dove for loose balls and made shots.
Michigan coach John Beilein saw something he liked, and Zack committed to the Wolverines.
"Did I know he was going to make an immediate impact in the Big Ten? No. He didn't even have a scholarship," Peller said. "Once he signed with Michigan, I think all of us said, 'Gosh, can Zack play at that level, that high of a level with the athleticism?'
"Well, he certainly has the heart and desire to, and there's a lot of things that you can't coach that he has. I think he surprised a lot of people around here with how well he'd do."
There's not much question about that anymore. Novak is in his second year starting for Michigan. He is the Wolverines' third-leading scorer (7.5 points), third-leading rebounder (4.3 a game) and their best 3-point shooter at 31.6 percent.
When Dave doesn't travel, he's often back in the Village Tavern, sometimes with 15 to 20 other people and sometimes in a packed house. He doesn't yell. He rarely claps.
He just watches.
"I still can't believe it's real," Dave said. "I feel, like some of the away games when we don't go we come up here to watch it with a group of people, I feel like I'm just with them, like I'm watching a local kid play, but not my kid."
Except it is. After almost not having any place to play, Zack Novak is one of the biggest stars to come out of his town.
Michael Rothstein covers University of Michigan basketball for AnnArbor.com. He can be reached at (734) 623-2558, by e-mail at michaelrothstein@annarbor.com or follow along on Twitter @mikerothstein.