Posted on
Fri, Apr 29, 2011 : 1:08 p.m.
The pro adventure: Where and how Michigan basketball players fared in the pros this year
By Michael Rothstein
At least 16 former Michigan basketball players played some sort of professional basketball in 2010-11, ranging from the NBA to leagues in China, Mexico and Puerto Rico.
While no one bounced around quite like Courtney Sims did last year -- this year he played on two teams and had some more stability -- there was some movement and some former Wolverines competing for league titles.
So, where are they?
Note: All non-NBA and D-League stats are from the Eurobasket website.
Josh Asselin (1998-2001) Asselin has spent the entire season in Spain, where he has played with Estudiantes, averaging 18.2 minutes and 7.3 points a game. In Eurocup play, he averaged 16.8 minutes and 10.3 points. Estudiantes is 16-15 and in 10th place in the ACB with three games to go. Former Maryland star Nik Caner-Medley is also on the roster.
File photo
LaVell Blanchard (2000-03)
Blanchard spent his season with ToPo in Finland, averaging 19.4 points and nine rebounds in 29.2 minutes in the Korisliiga, the top league in Finland. His team had its season end in the quarterfinals, losing a three-game series to Pyrinto. He finished seventh in the Korisliiga in scoring and rebounding this year.
Louis Bullock (1996-98) Bullock played this year with Cajasol in Spain's top league, averaging 12.3 points and 2.3 assists in 25.4 minutes. In 16 Eurocup games, he averaged 11.8 points in 25 minutes. Cajasol is in 11th place in the ACB at 15-16, one game behind Asselin's Estudiantes' squad, with three games to play.
Graham Brown (2003-06) Brown is in Belgium, playing for the Antwerp Giants, where he scored 8.4 points and grabbed 6.9 rebounds per game in the country's top league. Antwerp is in fifth place with five games to go. Brown also scored 9.3 points and had 5.6 rebounds in 14 EuroChallenge games. This is the same league Michigan played in its European tour when it played Charleroi, Oostende, Gent and Mons. Charleroi leads the league (22-4), Mons is third (17-9), Oostende is fourth (16-12) and Gent is in last (5-21), which signals Michigan's competition over there ended up having good seasons.
Jamal Crawford (2000) Crawford continued his NBA career, playing 76 games as the sixth man for Atlanta, scoring 14.2 points a game and making 3.2 assists in 30.2 minutes. In the first round of the playoffs against Orlando, he has averaged 24 points and 4 assists.
Manny Harris (2007-10) After going undrafted, Harris made the Cleveland Cavaliers in his rookie year and played in 54 games, starting 15 of them. He averaged 5.9 points, 2.6 rebounds and shot 37 percent from the 3-point line in 17.3 minutes.
Juwan Howard (1992-94) The only Fab Five member still playing professionally, Howard played sparingly for the Miami Heat this year, appearing in 57 games for an average of 10.4 minutes. He's averaging 2.4 points and 2.1 rebounds for the Heat, who beat Philadelphia in five games in the first round of the NBA Playoffs. Howard, by the way, is 38 years old.
Daniel Horton (2002-06) Horton was tough to find, but he is apparently on the roster of something called the DFW Warriors in a relatively unknown American basketball league called the UBA. According to the team website, Horton hasn't played a game for the Warriors.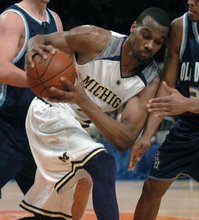 File photo
Chris Hunter (2003-06)
Hunter played in seven games with the Fort Wayne Mad Ants in the NBA D-League this year before tearing his Achilles, ending his season. He also struggled with tendonitis this year before the Achilles injury. In seven games, he averaged 14 points and 6.4 rebounds for the Ants.
Brent Petway (2004-07) Petway is in his first season with the Harlem Globetrotters, where he has been touring the world as "Thunder" Petway. He takes followers on his travels on Twitter at @The_Pet_Way.
Jevohn Shepherd (2005-09) Shepherd had a busy season, playing with the Canadian National Team at the 2010 World Championships, where he played in five games for his country. He spent his season in Germany, splitting time between Osnabrueck in Germany's second division, where he averaged 20.2 points and 6.1 rebounds in 20 games, and with Dt.Bank SKY, where he scored 4.7 points in 11.4 minutes over 10 games. His current team, the SKY, play in the German Bundesliga and are 26-8 entering the league quarterfinals.
Courtney Sims (2004-07) Sims continued his globetrotting ways this year, playing most of the season with the Iowa Energy in the D-League, where he averaged 16.7 points and 9.6 rebounds and was named the MVP of the D-League All-Star Game. He left Iowa in March to head to China and play for DongGuan, which lost to Guandong in the Chinese semifinals.
DeShawn Sims (2006-10) The D-League Rookie of the Year saw a lot of the world this season. He started off in Greece, where he played three games with PAOK Thessaloniki — one of the more well-known clubs in the country — before coming back to the United States. Once here, he became Rookie of the Year in the D-League with the Maine Red Claws, averaging 20.3 points and 7.7 rebounds while shooting 39.5 percent from the 3-point line. His American season over, Sims is now in Puerto Rico playing for Quebradillas.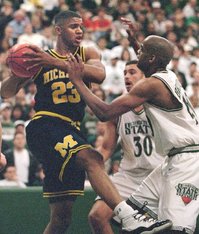 File photo
Maurice Taylor (1994-97)
Taylor is in Italy, where he has played three games for Enel Brindisi, the last place team in Serie A, the top Italian league. In 15.3 minutes, he's averaged 3.7 points and 2.7 rebounds.
Robert Traylor (1995-98) Traylor played in Mexico this season, averaging 11.6 points and 5.7 rebounds for Halcones UV Xalapa. After the Mexican season, he moved to Puerto Rico, where he has averaged nine points and seven rebounds in the first nine games of Bayamon's year.
Jerod Ward (1995-98) Ward spent his year in Spain, playing with Alcazar, averaging 21 minutes, 10.2 points and 4.8 rebounds in the Spanish second division. His team finished the year in second-to-last place at 10-24.
Chris Young (1999-2002) Young played in the top Belgian League this year, averaging 14 points and 8 rebounds a game for Aalstar. His team is in second place at 18-9 with a handful of games left in the regular season.
If you feel we missed someone — for example, there were no reliable statistics or roster moves for Dion Harris or Lester Abram — let us know in the comments or by email and we'll be glad to add them.
Michael Rothstein covers Michigan basketball for AnnArbor.com. He can be reached at (734) 623-2558, by email at michaelrothstein@annarbor.com or follow along on Twitter @mikerothstein.