Posted on
Sat, Jan 9, 2010 : 1:05 p.m.
The way Michigan basketball forward DeShawn Sims plays dictates whether Wolverines win
By Michael Rothstein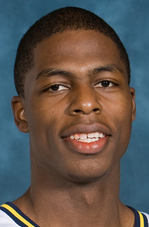 DeShawn Sims
is the barometer for the Michigan basketball team.
In Michigan's 8 wins, the senior forward from Detroit averages 21.63 points and 8.63 rebounds. In the Wolverines' 6 losses, his numbers dip to 11.5 points and 4.67 rebounds.
Yet it took the beginning of the Big Ten season - and a message from some of Michigan's support staff about how his performance dictates the success of his team - for Sims to realize it.
"The better I play, the statistics say when I do a certain amount of things in a game, we end up winning, so I'm just trying to fulfill the statistics," Sims said. "… I didn't know how valid it was until I looked at it, you know. I like to win, so I'm going to try my best to do whatever it takes to win."
Sims, who is 10 points shy of 1,300 career points and 17 rebounds away from 600, is most effective when he stays close to the basket. With the exception of his 5-for-8 3-pointer game against Houston Baptist and a 3-for-3 performance against Utah, Michigan's record is better when Sims stays inside.
He showed the ability to be effective against larger defenders when he neutralized Ohio State's Dallas Lauderdale on Sunday. In what have maybe been his two best games of the year - against Ohio State (28 points) and Penn State (25 points) - he didn't attempt a 3-pointer.
Sims and Michigan (8-6, 2-1 Big Ten) can capture their third consecutive Big Ten victory as they play host Sunday to Northwestern (11-3, 0-2) at 2:30 p.m. (Big Ten Network)
"He's understanding a lot more what he can do in this league with his back to the basket," Michigan coach John Beilein said of Sims. "He's getting double-teamed more, and he's been handling that better."
There is something else motivating Sims and will come into play against Northwestern, a team he averages just 8.2 points against in his career.
"Trying (for) a little redemption against some teams I didn't play well against in my career," Sims said.
• Big Ten Conference standings • Big Ten Conference statistics
Michael Rothstein covers University of Michigan basketball for AnnArbor.com. He can be reached at (734) 623-2558, by e-mail at michaelrothstein@annarbor.com or follow along with Twitter @mikerothstein.