Posted on
Wed, Dec 21, 2011 : 8:12 p.m.
Tim Hardaway Jr. looking to work more inside, insists he's not a 'second-half player'
By Nick Baumgardner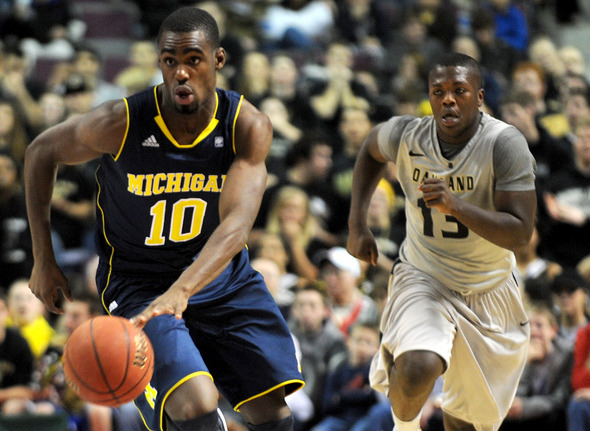 Angela J. Cesere | AnnArbor.com
Tim Hardaway Jr. will get a chance to head back home to Florida for a quick holiday vacation this weekend.
But it won't all fun in the sun for the Michigan basketball sophomore forward.
"You can never stop working on your game," said Hardaway, whose team will host Bradley on Thursday (6:30 p.m., Big Ten Network).
Through 11 games, the 6-foot-6 forward from Miami has lived up to his preseason billing as Michigan's go-to scorer.
Now fully healed from a minor back injury suffered earlier this month, Hardaway is leading Michigan with 15.4 points per game and is shooting 46 percent from the floor.
His season hasn't been perfect, though.
Hardaway struggled to muster any type of offensive impact during Michigan's second loss of the season, a 12-point setback at Virginia (scoring just five points), and he has dealt with a handful of slow first-half performances.
In a loss to Duke at the 2011 Maui Invitational, Hardaway was scoreless at halftime before posting 19 points after the break. Against Oakland earlier this year, Hardaway scored just three points in the first 20 minutes, but racked up 18 after the break.
Hardaway says he doesn't believe he's a "second-half player."
Or, at least he's not trying to be.
"I think I'm just taking what the defense gives me," Hardaway said. "In the second half, (sometimes) we're more locked in and keyed in onto what we have to do to close a game out.
"Shots are just going in for me in the second half. If it's working out, I'm going to keep on doing it."
With one more non-conference tuneup prior to Big Ten play, Hardaway says he's spending more individual time working on becoming a better one-on-one performer, hoping to further cement his status as Michigan's main offensive threat heading into conference play.
"If the shot clock is down, I'm (working) on trying to create (more) for myself and for others," Hardaway said. "Trying to get into the paint, coming off ball-screens and dribbling trying to find bigs and guys coming (open) in the corner and on the weak side."
Presently, 46 percent of Hardaway's field goal attempts have been from behind the 3-point arc. He's shooting 34.5 percent from deep, and converting 55.8 percent of his two-point attempts.
Hardaway says he doesn't necessarily have an issue with the amount of outside shots he's taken as compared to the looks he's gotten inside, but moving forward, he admits he wants to make a more concerted effort at getting to the basket for easier points.
"I feel like I could get to the paint a little bit more and create for others and for myself," Hardaway said. "The shot is always going to be there, and we have a lot of guys that can dribble and get into the paint and find (shooters).
"(But I) want to be one of those guys who can get into the paint. That's a big key I'm hoping to work on."
Beilein against Beilein

With his son Patrick (a former Michigan graduate assistant) occupying the opposing sideline Thursday as Bradley's director of basketball operations, Michigan coach John Beilein expects the Braves to have a sound scouting report on his squad.
In addition, Beilein said he's interested to get Patrick's take on how different the current Wolverine squad looks from the one Beilein inherited in 2007.
"It's been two years since Patrick was with us; he'd probably be the one that could tell you how much we've changed," Beilein said. "You go home, when you have little children, and you see them every day and you don't realize how much they change. But the grandparents come in, and (they see) a big difference.
"I'll ask (Patrick) that question, about how similar we are. ... He probably knows (us) as well as anybody."
Michigan expects happy exam results

Outside of a foot injury to sophomore forward Jon Hoford, Beilein said Michigan is in good physical health entering its final pre-holiday contest.
As far as brain health goes, though, Beilein said Michigan's recent exam week has put his team in need of mental rest.
"The economics (classes) always have the last exams, it seems, and Stu (Douglass) had one (Wednesday) and Eso (Akunne) had one today (also)," Beilein said. "We have two papers due (Wednesday) and other than that, I think we're clear. They've worked really hard.
"I think mentally (some of them are tired), but we had eight guys that were done (with exams Wednesday), so hopefully they can freshen up a little bit."
Asked if he expects all his players to collect passing final first semester grades, Beilein said yes.
"That's the hope," he said. "Coaches are surprised sometimes, but the kids have really worked hard."
Holiday break time

After playing Bradley on Thursday, the Michigan basketball team will have Dec. 23-26 off, allowing players a chance to head home.
During interviews with MGoBlue.com on Wednesday, a handful of players shared their favorite holiday traditions.
Junior forward Blake McLimans: "We used to do this all the time, and I think we'll do it again this year. We go to my uncle's house every year, and with all my cousins we watch "Home Alone." It makes me feel like a kid again, and it's something I always look forward to."
Junior guard Matt Vogrich: "My mom makes this huge brunch and my grandparents come over with my cousins and we all eat this extravagant brunch at noon. It's great. Usually there's snow on the ground, and we're all just hanging out looking outside. It's a fun time."
Freshman guard Carlton Brundidge: "Just surprising my dad, he doesn't (ever) think I'm going to get him anything for Christmas. Just surprising him and giving him a good gift."
Nick Baumgardner covers Michigan basketball for AnnArbor.com. He can be reached at 734-623-2514, by email at nickbaumgardner@annarbor.com and followed on Twitter @nickbaumgardner.
Want to stay connected to Wolverine basketball in your Facebook newsfeed? "Like" AnnArbor.com's Michigan Basketball News & Views.