Posted on
Fri, Dec 30, 2011 : 12:49 p.m.
Tim Hardaway Jr. starting to figure out what we already knew: He's really, really good
By Nick Baumgardner
After six trips down the floor, Tim Hardaway Jr. seemed to figure out what everyone else in the building already knew.
He was the best player on the court, and Penn State had no chance.
Hardaway's season-high 26 points in the No. 18 Michigan basketball team's 71-53 Big Ten-opening win Thursday over Penn State was impressive, but he's had big scoring nights before.
What made this night different was how he got there. Hardaway showed off everything, and did so emphatically.
AnnArbor.com file photo
Not yet 20-years-old, it's clear the smooth 6-foot-6 wing with the famous father is still figuring out just how high his ceiling is.
And if Thursday was any indication, he's going to need an awfully tall ladder to reach it.
His effort against Penn State began the way several games have this season, with a few catch-and-shoot 3-pointers early in the shot clock. The first two went up and never fell through.
At other times earlier in the season, a pair of early setbacks may have led to extended frustration -- eventually resulting in a pep-talk from coach John Beilein at the half, and adding more fuel to the growing notion that he's only a second-half player.
Not on this night, though.
On this night, halftime came early, with Beilein quickly subbing Hardaway out for roughly a minute to offer a message.
"Be patient and let the game come to you," Beilein said. "My point in the locker room was, 'Tim, I loved your game -- you know why? You went 1-for-7 from 3 and you still had 26 points.'
"He wouldn't have had that stat last year."
Once he re-entered, Penn State got a first-hand look at why so many analysts and coaches dub Hardaway as a future pro.
Hardaway's next touch was a catch in the corner, followed by a shot fake and a dribble into the lane before finishing with a running hook shot.
Two points.
A minute later, he blew by Trey Lewis on the perimeter before opting to launch a mid-range jumper.
Two points.
From there, Hardaway became active by moving without the ball, catching one pass from Trey Burke for a reverse layup (two points) before finishing another cut with a two-handed flush from (two points) just before the half.
The second half was more of the same. Hardaway opened with an inside layup (two points) before driving to the basket to draw a foul, earning two free throws (two points).
One trip later, another catch on the wing, and another one-dribble move to the basket resulting in a finger roll.
Two points.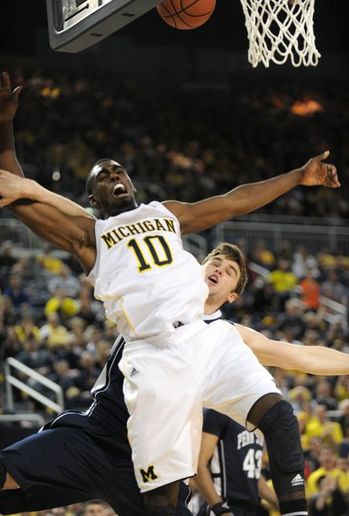 Angela J. Cesere | AnnArbor.com
And just in case he hadn't shown off everything, Hardaway then took to the post -- catching the ball with Penn State's Cammeron Woodyard on his back.
Woodyard had no chance. Two dribbles to the left, drop step, jump-hook.
Two points.
During one stretch, Hardaway scored 10 straight Michigan points. In addition, he made his first 10 two-point field goal attempts, proving that he can be the team's best and most dangerous scorer without the help of the 3-point shot.
"Those (early 3's) were good shots, but we could've gotten them later in the shot clock," he said. "I was forcing them and I felt like I was open when I really wasn't.
"I was just trying to make plays, trying to get into the lane and make things happen."
An accomplished outside shooter in high school, Hardaway's ability to consistently bury the 3 may have earned him a scholarship.
But it'll be the rest of his blossoming floor game that earns him an NBA contract some day (hopefully later, rather than sooner, if you're a Michigan fan).
"He can take his jump shot any time he wants to," Beilein said. "He did some things (Thursday) we've been working on so that he's not a one-dimensional player.
"I like the evolution we're seeing there." Presently, Michigan has enough pieces to be dangerous in the Big Ten.
Burke continues to develop into a star point guard, Zack Novak continues to made heady plays at both ends of the floor as a leader, Evan Smotrycz is becoming a serious inside-out threat and the presence of Stu Douglass and Matt Vogrich on the wing always creates an issue for opponents.
But if Hardaway continues to show off the full range of his game night in and night out, then Michigan could go from Big Ten hopeful to Big Ten contender.
The secret's out.
Tim Hardaway Jr. is an elite Big Ten player.
And once he fully realizes that, nights like Thursday won't be noteworthy any longer.
They'll simply become old hat.
Nick Baumgardner covers Michigan basketball for AnnArbor.com. He can be reached at 734-623-2514, by email at nickbaumgardner@annarbor.com and followed on Twitter @nickbaumgardner.
Want to stay connected to Wolverine basketball in your Facebook newsfeed? "Like" AnnArbor.com's Michigan Basketball News & Views.