Posted on
Wed, Feb 1, 2012 : 11:12 p.m.
Tim Hardaway Jr. struggles, but still finds a way, and more Michigan basketball notes
By Nick Baumgardner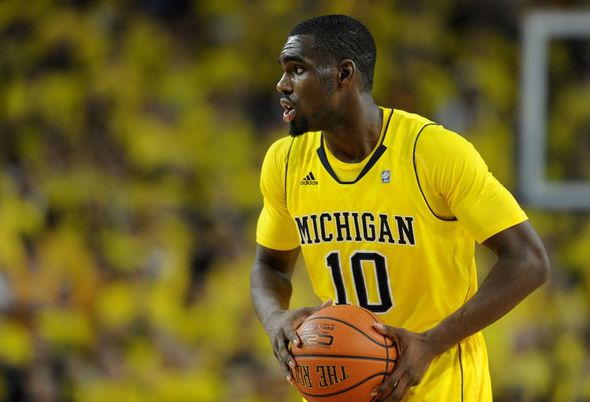 Angela J. Cesere | AnnArbor.com
It was another one of those nights for Tim Hardaway Jr.
Stuck in a shooting rut since the beginning of Big Ten play, the Michigan basketball team's leading scorer missed in just about every way imaginable Wednesday against Indiana.
He missed layups. He missed 3-pointers. He even missed a free throw.
There were a lot of misses, but also one very important make and one very big assist.
Without them, the Wolverines may have been looking at their first home defeat of the season, instead of their 14th straight victory inside Crisler Center.
"It was a walk-in 3, and as a team we try to shoot those type of balls," said Hardaway, who finished with 13 points on 4-of-14 shooting. "I was lucky enough it went in, and then Stu (Douglass) hit another one, which was the dagger."
The shots Hardaway referred to were back-to-back triples by himself and Douglass to help seal Michigan's 68-56 win over Indiana on Wednesday night.
Prior to Hardaway's final triple, he was 1-for-7 from long range, and just 3-of-13 from the floor.
Still Michigan's leading scorer at 15.1 points per game, Hardaway has been stuck in a shooting funk since the beginning of conference play.
Often criticized as a player who takes too many rushed shots from deep, the 6-foot-6 swingman is shooting just 22.2 percent from 3-point range in 10 Big Ten games, and just 38.7 percent from the floor.
But teammates say he's still one of the team's best players, and still a go-to type scorer when need be. And despite his struggles, their confidence in him isn't lacking.
"He took some tough shots and it hurts his percentages sometimes when he forces things," Douglass said. "But it's part of the maturing process for him and he's getting used to it.
"He's growing every day."
Michigan coach John Beilein has applauded Hardaway of late for his on-court attitude during the slump, and his overall demeanor in the locker room and at practice.
Still very much a possible difference-maker down the stretch, Beilein knows he'll need Hardaway if the Wolverines hope to make any type of postseason run.
So, struggles aside, he's nowhere near giving on on his high-scoring sophomore.
"He continues to learn all the time, to just let (the game come to him) and just move on," Beilein said. "I love his attitude. Does he need to improve? Yes. But what he's not doing is pointing his finger at teammates, at the refs, at the system, anything.
"He points the finger at himself and says 'I've got to do better.' I see him understanding that and I see some breakthroughs in those areas."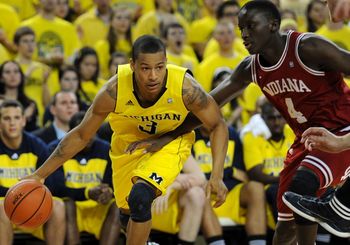 Angela J. Cesere | AnnArbor.com
Defending Burke
After Michigan freshman point guard Trey Burke dropped in 10 points during the game's first five minutes, Indiana found a way to adjust, slowing down the 5-foot-11 standout for the rest of the first half and a good chunk of the second.
The Hoosiers took point guard Jordan Hulls off Burke and proceeded to show him several different looks throughout the game -- including matchups against 6-foot-5 wing Victor Oladipo and 6-foot-9 forward Christian Watford.
Indiana coach Tom Crean wouldn't get into specifics about his gameplan for Burke, saying his team may see Michigan again down the road.
Despite the mixed defenses, though, Burke still managed to drop in a team-high 18 points.
"This young man has seen everything," Beilein said of Burke. "He's trying to read it all the time, and they're putting big guys on him and small guys on him, he's learning all the time.
"But every day he watches film and we work and work with him. And as time goes on, the light bulb will go on. Because you just don't see (these defenses) in high school or in summer basketball."

Better transition D

During Michigan's loss at Indiana last month, the Wolverines allowed the Hoosiers to shoot better than 55 percent from the floor and 63.6 percent from long range.
On Wednesday, Michigan limited Indiana to a 44.7 percent shooting night, and flustered the Hoosiers into 14 turnovers.
Beilein said the biggest reason for Michigan's improved defensive effort came in the transition game.
"Our transition (defense), we practiced it and knew the speed of it," Beilein said. "(Indiana's speed) hit our guys right in the face at Indiana, and so that was a big thing. They jumped out on us the same way we jumped out on them."

Horford dresses, doesn't play

Michigan sophomore forward Jon Horford dressed and participated in warmups with the team prior to the game Wednesday, but did not play.
Horford has now missed 14 straight games with a right foot injury, and has yet to get full-court practice clearance.
Beilein said Horford is no closer to returning to the lineup, but that he "just wanted to dress" Wednesday.

Odds and ends

Michigan has now beaten Indiana at home three consecutive times. ... Indiana entered the game as the highest-scoring offense in the Big Ten at 79.5 points per game, but were held below 60 points for just the second time this season. ... The game featured no ties and no lead changes, with Michigan holding the edge for the entire 40 minutes.
Nick Baumgardner covers Michigan basketball for AnnArbor.com. He can be reached at 734-623-2514, by email at nickbaumgardner@annarbor.com and followed on Twitter @nickbaumgardner.
Want to stay connected to Wolverine basketball in your Facebook newsfeed? "Like" AnnArbor.com's Michigan Basketball News & Views.