Posted on
Wed, Mar 10, 2010 : 11:14 a.m.
To continue its season, Michigan basketball team must win four games in four days
By Michael Rothstein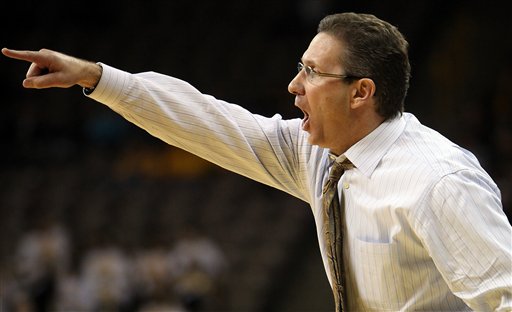 INDIANAPOLIS - Iowa basketball coach
Todd Lickliter
chuckled. For all three of his seasons with the Hawkeyes, he's met the same team in the first round of the Big Ten tournament.
Michigan.
And the Wolverines ended Iowa's season the past two years.
"It's incredible, isn't it?" Lickliter said. "Three years in a row. We haven't played well over there. Michigan has played well the previous two years.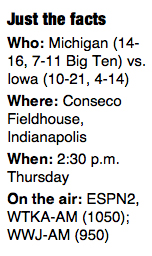 "… It is unique to play three years in a row against the same team."
If anything, it a rite of passage for Michigan in the Big Ten tournament in Conseco Fieldhouse. Of the six Big Ten tournaments in Indianapolis - including this year - Michigan has faced Iowa in its first game. The Wolverines are 3-0 in those games and will try to go 4-0 at 2:30 p.m. on Thursday (ESPN2).
No. 8-seeded Michigan (14-16, 7-11 Big Ten) swept No. 9-seeded Iowa (10-21, 4-14) in the regular season and have won four of five against the Hawkeyes.
"We've become familiar with each other," sophomore guard Zack Novak said. "It'll be a good game, I think."
That's been a question for Michigan all year. The Wolverines are one of the most inconsistent teams in the Big Ten. In some ways, it is that inconsistency Michigan is almost hoping for this week.
The players believe that every time they've had a particularly bad game this season - and a 64-48 loss to Michigan State on Sunday qualifies - they've rebounded well.
After losing to Michigan State 57-56 on Jan. 26, Michigan throttled Iowa, 60-46. After losing to Wisconsin at home, 62-44, in one of its worst performances of the season, the Wolverines won two in a row on the road for the first time under head coach John Beilein.
This time, Michigan is playing with its season hanging on a win or a loss.
"We've done it, not consistently, but we've bounced back," Beilein said. "So this is another one of those times where I hope we have our bounce back. That will be our only intention."
It is difficult to imagine Michigan winning four games in four days. The Wolverines have yet to win four games in a row this season and haven't picked up more than two in a row against Division I opponents.
Reaching the NCAA tournament likely means going through No. 9 Iowa, No. 1 Ohio State, No. 4 Wisconsin and No. 2 Purdue - the last three being Top 15 teams for most of the season.
So what gives Beilein confidence his team can go 4-for-4?
"I don't have confidence in that," Beilein said. "I have confidence that we're going to try and win one game at a time and then if we win, I'll have confidence that we'll try and go do it again.
"That's the only confidence that you have. I don't think you go just confident of an NCAA tourney bid. You go in confident that you're going to play your best every night."
If Michigan doesn't, its season will end on the floor of Conseco Fieldhouse.
Michael Rothstein covers University of Michigan basketball for AnnArbor.com. He can be reached at (734) 623-2558, by e-mail at michaelrothstein@annarbor.com or follow along on Twitter @mikerothstein.