Today's NCAA tournament game just another step in the process for Michigan basketball coach John Beilein
Posted on Sun, Mar 20, 2011 : 5:59 a.m.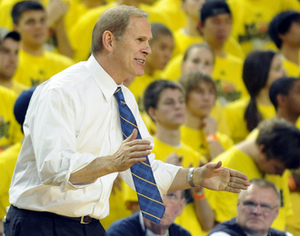 CHARLOTTE -- National relevance. That's the immeasurable concept that keeps popping up around the Michigan basketball team these days.
Can the Wolverines get back to national relevance with a win over Duke in today's NCAA tournament third-round game at Time Warner Cable Arena?
The easy answer: Yes. There's no more nationally relevant program than Duke. Beating the Blue Devils would make Michigan the talk of March Madness and assure them of face time on the "One Shining Moment" montage on April 4.
But Stu Douglass just wants to play the games and worry about their relevance later.
"You guys have asked me a lot of questions about the future," the junior guard said to the media assembled in Charlotte. "But we're really just looking for a win."
It's an understandable approach. Douglass was a freshman on the Michigan team that won a first-round NCAA game in Kansas City two years ago. At the time, everyone wondered if the Wolverines - who had qualified for the tournament for the first time since 1998 - were back on the track to national relevance.
"Freshman year, we thought it was going to be great for our learning curve, and it just didn't turn out that way the next year," Douglass said. The core players from that 2009 tournament team - including leading scorers Manny Harris and Deshawn Sims - returned to Ann Arbor and went 15-17 the following year.
Douglass and the other Michigan players have taken on the level-headed approach of their veteran coach, John Beilein, who has used the phrase "it's part of the process" more often than any other this season.
Beilein has always been honest about his assessment of this Michigan team, even on the day immediately preceding a 30-point win over Tennessee in their NCAA tournament opener.
When asked about the finding the right players for his ideal offense, Beilein said, "I don't think we're nearly quick enough right now, where we can really get things done the way we will in the future. We would love taller and longer and quicker, we would love to have those things."
For now, Beilein says his undersized, scrappy team without a single senior amongst it is simply a "true story of just taking it day by day, no expectations."
While Beilein operated without any of his own expectations, those from outside the program fluctuated throughout the season.
Picked to finish 10th or 11th in the Big Ten by nearly every prognosticator. Off to a solid 10-2 non-conference start. Demolished by Purdue in the Big Ten opener. Tantalizingly close games against powerhouses Kansas and Ohio State that ultimately were just part of a six-game losing streak.
Then the big finish: Eight wins in their final 11 regular-season games, bookended by a series sweep of Michigan State - the nationally relevant program across the state that most are convinced the Wolverines need to surpass to get to that level themselves.
Before Beilein packed up his team and headed to Charlotte, he was asked to assess the status of the program.
Sophomore Darius Morris turned into one of the best point guards in the conference. Jordan Morgan, who sat out a season developing his skills while recovering from shoulder and knee surgery, became a legitimate post presence. A 3-star freshman recruit best known for sharing his famous father's name, Tim Hardaway Jr. showed flashes of brilliance.
Said Beilein: "We do like this foundation right now. We think it has a higher ceiling than we're at, as long as we continue to grow."
Continue to grow. It's all part of the process.
Beilein believes that no matter what happens against Duke this afternoon, he has accomplished the most important step to building the Michigan program to his liking.
And it has nothing to do with grasping his motion offense or his 1-3-1 defense, or finding those taller, longer and quicker players he'd love to have in the lineup.
"Team thoughts are very hard to get everybody to buy into and really the residual effect is that everybody benefits," Beilein said. "In any program that we've had, once we got to that point - to that core value, that culture - then it's hard to break. And that takes time, it really does."
It has taken four years, and perhaps the departure of some former leading scorers, to reach that point. But Beilein thinks his Wolverines are there, from the way his star players approach the game to the way his reserves continue to work and improve.
Discussing his team's dismantling of Tennessee, Beilein mentioned two players by name: Sophomore Matt Vogrich, who scored nine points in 13 minutes off the bench in the first half, and Blake McLimans.
McLimans, who'd played a total of 19 minutes during the Wolverines' previous 13 games, put in a solid five-minute stretch while Morgan sat out with foul trouble. His only two points of the game came on his strongest post move of the season.
That move was part of the process.
"That wouldn't have happened two months ago. He's worked so hard," Beilein said. "When you're a coach and you're selling this 'Team, Team, Team' thing ... when it comes forward like that, it means a lot."