Posted on
Fri, Nov 25, 2011 : 9:43 a.m.
Trey Burke grabs the spotlight, Hardaway taking over, Morgan's foul woes and more Michigan basketball notes from Maui
By Nick Baumgardner
When the Michigan basketball team took the floor for the 2011 Maui Invitational on Monday, the majority of the NBA scouting herd in the west end of the Lahaina Civic Center was focused on sophomore Tim Hardaway Jr.
And though Hardaway had a terrific tournament, in the end, a good portion of the Michigan-centered buzz sifting through the pro talent evaluators sat with another Michigan player.
Where did this Trey Burke kid come from?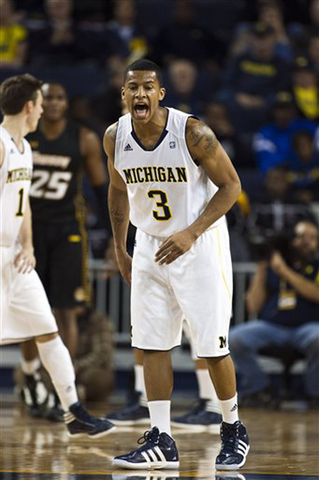 Associated Press
If college basketball enthusiasts weren't aware of the Michigan freshman entering the week, they probably deserved a hall pass.
Anyone still left in that category just wasn't paying attention.
Burke began the tournament going toe-to-toe with Memphis point guard Joe Jackson, and coming out on top, finishing with 14 points and four assists in 35 minutes as the Wolverines upset the Tigers.
Burke played with poise and pace in Michigan's first serious test of the season, and almost grabbed the attention of pro-level talent scouts.
"A number of NBA scouts are keeping a close eye on Burke," wrote ESPN NBA Draft analyst Chad Ford. "While he's not an elite draft prospect yet, the potential — thanks to a great NBA body, quickness and poise — is there."
The latter part of Ford's analysis seemed to provide the lasting impression on most scouts, though, as Burke showed a steady, calm hand while leading Michigan's offense on a national stage all week.
"He's a player," one scout said in a conversation after the tournament. "Great poise and a great fit in (Michigan's) offense.
"That team is really fun to watch."
Scouts weren't the only ones paying attention. Burke was a trending topic on Twitter in the United States at halftime of Michigan's win over UCLA on Wednesday, and following the Wolverines' final game in Maui, Burke received props from one of the game's loudest personalities.
"@Trey_Burke3 U have a gr8 future," ESPN's Dick Vitale tweeted.
Burke, as he's done all season, seemed to take the attention in stride. Calmly answering questions following his 14-point performance against Memphis, and yet again after a 17-point, nine-assist outing in a loss to Duke on Tuesday.
How he handles things from here, though, will be a key for Michigan. If there was any chance of him sneaking up on an opponent this season, it's gone.
He averaged 12 points and six assists per game during the country's best holiday tournament, and for the season, is Michigan's second-leading scorer (11 points per game) and has 10 more assists (25) than turnovers (15) in six games.
If there's a lasting impression Michigan left in Maui, it's that Burke has the potential to make folks forget about Darius Morris.
And now, it seems the question has changed from can Burke fill Morris' shoes, to will Burke fill Morris' shoes.
There's a lot left to prove, as he's yet to play a single Big Ten game yet. But the progression appears to be ahead of schedule.
The scouts see it, Dick Vitale sees it and Michigan coach John Beilein sees it as well.
"We (liked) that the freshman quarterback, so to speak, coming out and really experienced things," Beilein said. "Now I think the big thing is the learning curve will grow because we'll be able to watch tape and say, 'Here's what we mean.'
"He's getting a lot fed to him, and he's responding. So I see some development."
Hardaway finding his role
During Michigan's three-game home stretch against Ferris State, Towson and Western Illinois, Hardaway seemed, at times, hesitant to take over the offense.
In Maui, outside of a woeful first half against Duke, Hardaway looked like the player most expect to see this season.
The sophomore scored 19-second half points against the Blue Devils on Tuesday before picking up where he left off early against UCLA on Wednesday.
Rather than waiting for the game to come his way, Hardaway blasted out of the gate — getting to the foul line on Michigan's first possession of the game. Two minutes later, he worked from the inside again, getting an easy bucket on an inside cut. He would've had another a possession earlier if not for an illegal screen from Jordan Morgan.
Hardaway worked inside-out early, getting to the basket, forcing UCLA to collapse and asserting himself as Michigan's go-to scorer.
From there, the rest of his game seemed easy, as he found space for open mid-range jumpers and even nailed a long 3-pointer late.
There were few people in Maui who could guard Hardaway straight up, and once he figured it out, he had a terrific showing.
In the three-game stretch, the sophomore wing averaged 20 points (17-for-21 from the foul line) and 4.7 rebounds per game before being named to the All-Tournament team.
Recurring foul trouble for Morgan
Morgan had a breakout season as a redshirt freshman a year ago, but his main issue seemed to be foul trouble.
Morgan racked up 111 personal fouls last season, 3.2 fouls per game.
In two of the Wolverines' three outings in Maui, foul trouble found Morgan again.
The sophomore forward played just 11 minutes against Memphis on Monday after picking up two quick fouls, and suffered the same fate Wednesday against UCLA, picking up two quick fouls early and grabbing another right out of the gate to open the second half.
Sophomore forward Jon Horford bailed Morgan out in both instances, having his two best games of the young season in the process.
But showing discipline early will have to be something Morgan works on moving forward, especially once Big Ten play begins. Because, quite simply, the Wolverines aren't deep enough up front to go without Morgan for long stretches night in and night out.
Douglass getting his groove back?
After struggling to find any type of offense against Towson and Western Illinois, Michigan senior forward Stu Douglass slowly started to show signs of finding his shot in Maui.
Douglass didn't sparkle from 3-point range (4-for-12 for the week), but showed the ability to hit open shots.
More than that, though, he also showed a willingness to work inside the arc — getting to the basket off the dribble and finding a mid-range game at times as well.
Odds and ends
Michigan sophomore forward Evan Smotrycz averaged seven rebounds per game in Maui, and now leads the Wolverines with 19 rebounds in six games. ... Michigan shot .544 percent as a team in Maui and held opponents to 43 percent from the floor. Teams are shooting 41 percent from the field against Michigan this season. ... In three games against Memphis, Duke and UCLA, the Wolverines held a 33.7-26.7 rebounding advantage.
Nick Baumgardner covers Michigan basketball for AnnArbor.com. He can be reached at 734-623-2514, by email at nickbaumgardner@annarbor.com and followed on Twitter @nickbaumgardner.