Posted on
Sat, Jan 14, 2012 : 5:55 p.m.
Trey Burke's bout with early foul trouble hurts Michigan basketball team in loss at Iowa
By Nick Baumgardner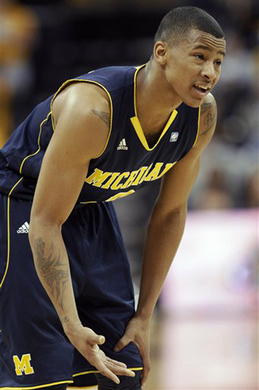 Associated Press
IOWA CITY, Iowa -- For the first time this season, the
Michigan basketball
team got a taste of what life is like without
Trey Burke.
And it wasn't exactly sweet.
Just 6:44 into the game Saturday at Iowa, Michigan's freshman point guard was whistled for a charging call near the top of the key, saddling him with two fouls and prompting coach John Beilein to sit him for the remainder of the half.
The Wolverines hadn't started strong to begin with, but without their floor leader, things got worse. Michigan made just six field goals in the final 13 minutes, 16 seconds of the first half.
"I thought I'd probably come back at the two or three-minute mark, but he wanted to just play it safe and have me come back out in the second half," Burke said following Michigan's 75-59 loss to the Hawkeyes. "Being on the road at Iowa with the crowd against you, being down 10 in the second half when they're shooting good and we're shooting terrible, it was hard to come back."
Burke finished 2-for-3 from the field with six points in the first half.
The rest of the team? It went 6-for-20 with 17 points. Michigan shot 8-for-23 from the floor, 3-for-16 from 3-point range and committed eight turnovers. And through it all, Burke was the team's leading scorer going into the break.
Asked if he thought about bringing Burke back in the game despite the early foul trouble, Beilein said not really.
"We were down five or seven, I forget what it was," Beilein said. "If (we had fell behind) double digits (maybe I'd have brought him back), but it didn't get to double digits until the buzzer.
"So we wanted to save him."
Iowa coach Fran McCaffery seemed to echo Beilein's thought process, saying if it were him, he'd have likely kept Burke on the bench until halftime as well.
"I assumed he'd be out the rest of the half when he got two," McCaffery said. "He's too valuable to that team, they couldn't risk him getting three.
"It's one of those things where you go back if you lose by a bunch (and think maybe you should have) put him back in."
When Burke did return to the game, not only was he facing a large deficit on the road, but he also seemed overly cautious defensively, concerned he may pick up a quick third foul early.
Burke admitted as much afterward, and said it was hard to find any rhythm with his teammates.
"If I'd have picked up my third, we'd have been in trouble and Coach would've took me out," Burke said. "It was tough trying to get back into the groove out there after sitting the whole first half.
"It was mentally tough sitting on the bench the whole first half and then having to go back out there and get loose again. And then trying to come back from a 10-point deficit, it was tough. They made big plays today, and we were kind of dysfunctional (with our play)."
Burke finished with a team-high 19 points, 13 coming in the final six minutes and after Michigan had fallen behind by 16 points.
He played less than 30 minutes for the first time since an 18-minute performance in the season-opener against Ferris State.
Clearly, Michigan missed Burke. But was his early foul trouble the main reason why the Wolverines fell to 0-3 on the season?
Beilein doesn't think so.
"I missed the first foul and I was taking him out because I thought he had one but he had two, we miss-communicated on the bench," Beilein said. "He got his second foul, and I think we still could've gotten out of that better.
"The eight turnovers in the first half weren't because we didn't have our point guard. We missed him. But we did not do what you have to do on the road in that half."
Hardaway's rough outing

In Michigan's three road losses this season, perhaps no one has struggled more than sophomore forward Tim Hardaway Jr.
The team's leading scorer, Hardaway is just 11-for-41 from the floor and 1-for-18 from 3-point range in the team's three road setbacks.
Hardaway didn't express any lingering concern with those numbers, though, saying he's just concerned with winning games.
"I don't really know, I don't really care (about shooting woes)," Hardaway said. "I'm just trying to get a win.
"Whatever it takes to get a win for our team, I'm there. I'm in. ... I'm just trying to get a win. I know everyone else is doing the same thing."
Smotrycz continues to slump

The questions about how much Michigan sophomore Evan Smotrycz has expanded his game this season have quickly taken on a different approach.
Smotrycz went 0-for-6 shooting against Iowa and was held scoreless for the first time this season.
In his last three games, the 6-foot-9 sophomore forward is 2-for-19 from the field.
"He didn't make field goals, he didn't make shots," Beilein said. "We've just got to keep practicing and practicing. There's no formula.
"It's like a hitter that all of a sudden is hitting the ball right at the shortstop or right at the center fielder. It happens in basketball. There's no magic formula, you've just got to work it out."
Southfield's Marble impressive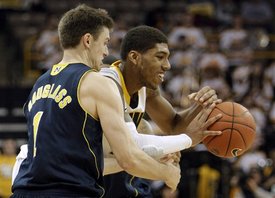 Associated Press
Earlier this week, Beilein discussed Iowa guard
Devyn Marble
, a Southfield native that the Wolverines recruited prior to the 2010-11 season.
Beilein said Michigan ultimately chose Hardaway over Marble, though explained how the Wolverines wouldn't have made a mistake if they chose to sign the 6-foot-6 Hawkeye guard.
Marble didn't take the comments as praise, though, telling the Cedar Rapids Gazette that he'd use Beilein's words as motivation.
Against Michigan on Saturday, Marble had 13 points, six rebounds and four assists.
And once again, Beilein was complimentary.
"He's a great player," Beilein said. "He's tremendous. He's really, really good. He's got a young birthday, and his best is yet to come."
Odds and ends

Michigan's loss Saturday snapped a six-game winning streak against Iowa. ... The Wolverines are 2-3 when they've been out-rebounded. ... Michigan held one lead Saturday after a Hardaway three-point play put the Wolverines up 13-12 midway through the first half. Thirty seconds later, the lead was gone, and it never returned.
Nick Baumgardner covers Michigan basketball for AnnArbor.com. He can be reached at 734-623-2514, by email at nickbaumgardner@annarbor.com and followed on Twitter @nickbaumgardner.
Want to stay connected to Wolverine basketball in your Facebook newsfeed? "Like" AnnArbor.com's Michigan Basketball News & Views.