Posted on
Thu, Dec 20, 2012 : 10:31 p.m.
Michigan women's basketball team off to best start in 11 years under first-year coach Kim Barnes Arico
By Pete Cunningham
The Michigan women's basketball team jumped out to a 27-9 lead against Valparaiso on Thursday night . It was about as good of a start as he Wolverines could have asked for en route to a 73-32 win at the Crisler Center.
But strong starts have become somewhat of a theme for the Wolverines, who at 10-2 are off to the program's best start since the 2001-02 season.
First-year coach Kim Barnes Arico has sung the praises of the situation she stepped into since she arrived in Ann Arbor: into a team coming off an NCAA Tournament bid and flush with seniors.
But even she didn't expect this kind of start.
"No, not at all," Barnes Arico said when asked if she expected to be doing so well going into the Christmas break. "I'm really happy for our kids, they work extremely hard they've bought into what we're trying to do and are just terrific young ladies. So I'm thrilled to be 10-2 going into Christmas."
Related Content: Boxscore
Maybe this should be expected from a team that made its first NCAA tournament since 2001 last season and only graduated three seniors.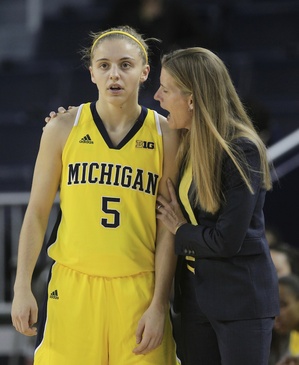 AnnArbor.com file photo
But with a new coach at least a little bit of a hiccup should be expected. And the fact that five players have torn their ACL's since Barnes Arico (she can't remember another time in her career where she's had even one player go down with the injury) arrived, make the quick start even more incredible.
But all the injuries have forced upperclassmen to be leaders. Seniors Jenny Ryan, Sam Arnold, Rachel Sheffer, Nya Jordan and Kate Thompson scored 58 of Michigan's points (79.5 percent) on Thursday and had accounted for 78 percent of the team's scoring in the games previous.
"I think coming in, our seniors, we talked about we wanted to make this year speciaI," said Ryan, who scord 13 points on Thursday. "I think the seniors have really taken advantage of the opportunities we've been given.
"When I think back on coach Arico's experience, I'm not surprised at all with where we stand right now."
The difference from last year to this has been most dramatic for senior Kate Thompson, who on Thursday put up a game-high 18 points. It was the 11th time Thompson has scored in double-digits this season, which is as many games as she scored in double-digits through 32 games last year.
"It's been awesome," said the soft spoken Thompson after Thursday's game.
Thompson is a starter for the first time in her career and her emergence under Barnes Arico is symbolic of the change in style from former coach Kevin Borseth, who preferred a more methodical (read: slow) offensive approach.
AnnArbor.com file photo
Borseth put the clamps on outside shooting, while Barnes Arico has emphasized it and given Thompson a green light. After hitting six triples against Valparaiso on Thursday, Thompson leads the country in 3-pointers made (47), which is five more than she's ever made in an entire season.
"Kate has got to be one of the best shooters in the country and we do run a ton of stuff for her," Barnes Arico said. "I feel like she's going to make it every time she takes it."
"I'm so happy for (Thompson)," Ryan said. "She puts a ton of hours in the gym. I wish America knew how much time she's spent perfecting that jump shot. And she deserves everything she's getting right now…nobody shoots as good as Kate in my opinion, and when she shoots it I expect it to go in."
But Barnes Arico won't take credit for Thompson's emergence.
"I think Kate just spent the whole offseason in this place working on her game and she's spent hour after hour, she told me she took 45,000 shots this summer. So she made sure she came in and was going to have an outstanding senior year," Barnes Arico said. "Kate would be thriving in any program in the country right now."
Barnes Arico also points to Jordan - who had 14 rebounds on Thursday - and other players like underclassmen Madison Ristovski and Nicole Elmblad, all players who have had their roles increased due to the ridiculous amount of ACL injuries, as the key to the team's early success.
Thompson was childishly giddy after Thursday night's win. She was seemingly as comfortable hitting 3-pointers from the corner as she was playing defense in her Ugg boots against Barnes Arico's son after the game or hugging stadium's game day staff in the hallway to celebrate the win.
Thompson isn't trying to pin-point the root of the success. She just hopes to build on it.
"The huge thing for us is heading into the Big Ten season 10-2," Thompson said. "That magical 20 wins in the season that seems to be the magical number to get into the tournament and that seems (realistic) for us."
Pete Cunningham covers sports for AnnArbor.com. He can be reached at petercunningham@annarbor.com. Follow him on Twitter @petcunningham.