Posted on
Thu, Dec 22, 2011 : 5:59 a.m.
Unbeaten Indiana basketball team one more sign that Big Ten is tough this season
By Nick Baumgardner
The last time the Indiana basketball team started this strong, Bob Knight had dark hair and an abundance of gaudy suit jackets, Kent Benson's hook shot was pretty cool and the ABA still existed.
Yeah, it's been a while.
At 11-0 for the first time since its unbeaten 1975-76 national championship squad, Indiana basketball doesn't only appear to be back from its recent sanction-laden slump, but it also looks to be a potential league title contender.
And the Big Ten couldn't be happier.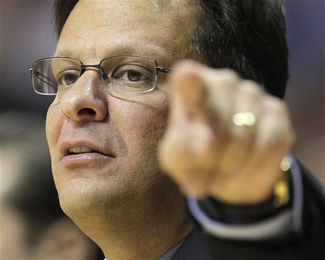 Associated Press
Indiana is, perhaps without question, the most storied basketball program in the history of the league. So, naturally, the return of a flagship-type team only bolsters a league that was supposed to be "down" this season, according to several pundits.
Well, so far, the league's not down. It's up. Way up.
Ohio State is the league's highest-ranked squad, and rightfully so. But the Hoosiers are the league's only remaining unbeaten.
Indiana's won on the road (twice), brought down a giant (Kentucky) and refused to play down to competition (it beat Howard by 57 on Tuesday).
The Hoosiers may not win the Big Ten championship this season, and they may stub their toe out of the block with back-to-back games at Michigan State and against Ohio State.
But mark it down, they will be back in the NCAA Tournament.
Indiana's good again. The Big Ten's deep again. And everything feels right again.
Should be a fun winter.

Sky High: Indiana (11-0)

See above.
Oh, I didn't pour enough man-love on Indiana for you? Well, here's more.
Cody Zeller is arguably the top-performing freshman in America through 11 games, averaging 15.3 points, 7.4 rebounds, 2.3 blocked shots and 1.6 steals per game. He's also shooting 66 percent from the floor and 75 percent from the foul line.
As a team, the Hoosiers are shooting (get ready) 51.7 percent from the field and 46.8 percent from 3-point range.
Point guard Jordan Hulls is basically shooting layups from 25 feet — hitting on 58.5 percent of his 3-point shots (24-for-41).

Rock Bottom: Penn State (7-5)

Penn State recently snapped a three-game losing streak that included home losses to Mississippi and Lafayette and a road loss to Duquesne.
As a team, the Nittany Lions are shooting 39.5 percent from the floor (300th nationally) and averaging just 63.2 points per game (274th nationally).

Last week's heavy lifter: Deshaun Thomas, Ohio State sophomore F

Who needs Jared Sullinger?
With the OSU big man missing one game due to back issues and being limited in another with a foot injury, Thomas took control of the Buckeye attack last week -- averaging 26.5 points, four rebounds and three assists in a pair of games.
He put up 30 on the road against South Carolina and shot 74.2 percent from the floor during the week.

Standout Stats

73.9
Michigan forward Jordan Morgan's field goal percentage so far this season, No. 1 in the Big Ten.
49.3
The percentage of Northwestern's total points scored this season by John Shurna (19.5 ppg) and Drew Crawford (16.6).
29.6
Free throw percentage this season for Purdue guard Terone Johnson. He was 8-for-29 on the year as of Tuesday.
12.6
Fouls per game committed by Wisconsin, the lowest of any team in the country.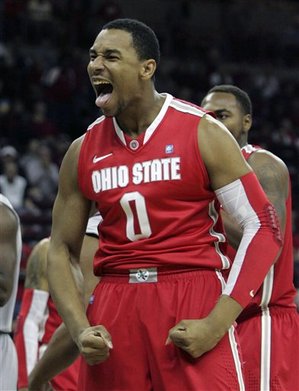 Associated Press
Quotable
"He had no problems, we just sent him to the showers."
— Ohio State Thad Matta, jokingly discussing why sophomore forward Jared Sullinger left a game against South Carolina on Saturday. Sullinger, in reality, suffered a bruised foot.

Off the cuff
Anyone still wanting to make the Jared Sullinger-Greg Oden comparisons can stop now.
The Ohio State big man injured his back during a blowout win over Duke, was rushed into a return two weeks later before leaving again with an injured foot — officially putting a scare into Buckeye nation.
How much rest did the 6-foot-9, 280-pounder need following his latest setback?
Three days.
Sullinger returned on Tuesday against Lamar and looked just fine, dropping in 18 points on 8-for-11 shooting and grabbing 11 rebounds as Ohio State whooped Lamar and honored legendary alum Bob Knight (yes, that Bob Knight) at halftime.
Conventional wisdom may have pointed to Ohio State coach Thad Matta resting Sullinger for the remainder of non-conference play, hoping to avoid any Oden-like rash of injuries throughout the season.
"I can't really sit here and wait for it to heal up," Sullinger said after the Lamar win. "By that time, I won't have my timing down on plays, defensively or offensively. I had to get back as soon as possible."
He's back.
Good luck, Big Ten.
Nick Baumgardner covers Michigan basketball for AnnArbor.com. He can be reached at 734-623-2514, by email at nickbaumgardner@annarbor.com and followed on Twitter @nickbaumgardner.
Want to stay connected to Wolverine basketball in your Facebook newsfeed? "Like" AnnArbor.com's Michigan Basketball News & Views.