Posted on
Thu, Feb 23, 2012 : 5:59 a.m.
Underdogs forever: Zack Novak, Stu Douglass at core of Michigan basketball resurgence
By Nick Baumgardner
Zack Novak and Stu Douglass heard every word.
As two unheralded Indiana high school basketball recruits who struggled to earn any offer, let alone a look from a Big Ten Conference team, Novak and Douglass showed up at Michigan in 2008 with plenty of questions.
Who are these guys?
Is Michigan serious?
Did anyone else even want these two?
"We heard it," Novak recalls. "How we sucked and how Michigan basketball coming back is a joke because they've got two guys they just picked up at the YMCA."
It'd been more than a decade since the Michigan basketball program had seen an NCAA Tournament, and John Beilein's first season on campus the year before came with 10 victories and 22 losses.
Long story short, the Wolverines were in need of a few saviors.
But these guys? A 6-foot-4 lefty who moonlighted as a power forward and a floppy-haired shooting guard with a baby face and a mid-major build?
Really?
"I still hear it," Douglass said. "People think I don't belong here. That's fine.
"I know what I've done, and I know what Zack's done."
The two kids from the YMCA, the guys who didn't belong and had no business playing in the Big Ten, helped take Michigan basketball off life support and turn it into a perennial NCAA Tournament contender.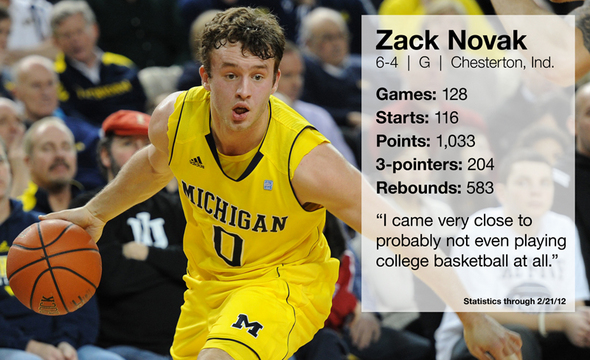 Following the same path
It started inside a gym. Where, exactly, is up for debate.
Novak thinks it might have been at Notre Dame, Douglass is rather certain it was somewhere along the Indiana AAU circuit.
Though, it could've happened earlier, as Novak said he may have met Douglass for the first time during middle school.
"I could've played him in fifth grade," he said. "We don't know."
But when and where these two met doesn't really matter. Neither do the first impressions they made upon one another.
They were both headed in the same direction, whether they knew it or not.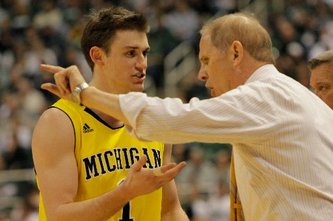 Chris Asadian | AnnArbor.com
And, at the time, the destination Novak and Douglass were both tracking toward was anything but glitzy.
Approaching the end of his prep career at Carmel High School, Douglass had his heart set on Colorado. Until, that is, Colorado changed its mind.
"They pulled (their offer), and I was devastated," Douglass said. "After that, I didn't have any expectations.
"IU, Purdue and Notre Dame pulled all their interest, after that, I lost any expectations I had of my college dreams or career."
Meantime, Novak was in an even more desperate situation. Douglass had an offer pulled, but at least there was interest to begin with.
Novak could score, but he was buried on the bench of a talented AAU squad in the summer and starring at small-town Chesterton High School in the winter -- not an ideal situation for exposure.
"I came very close to probably not even playing college basketball at all," Novak said.
Novak and Douglass eventually crossed paths with Beilein. And, luckily for them, he wasn't worried about star-ratings, offer lists or pro potential. He didn't have time for that.
Beilein was tasked with rebuilding a program that had been buried under more than a decade of losing, disappointment and shame.
He didn't need McDonald's All-Americans. He needed workers. Workers who appreciated a chance to compete in the Big Ten.
"We just wanted two solid kids we could count on," Beilein said. "Kids that ran through the doors at Michigan because they wanted to play in the Big Ten."
Since that time, Michigan has put together three 20-victory seasons, Novak has scored more than 1,000 career points, Douglass has become one of the school's most prolific 3-point shooters and together they've re-written the book on leadership when it comes to Wolverine basketball.
Four years later, it's safe to say Beilein found what he was looking for.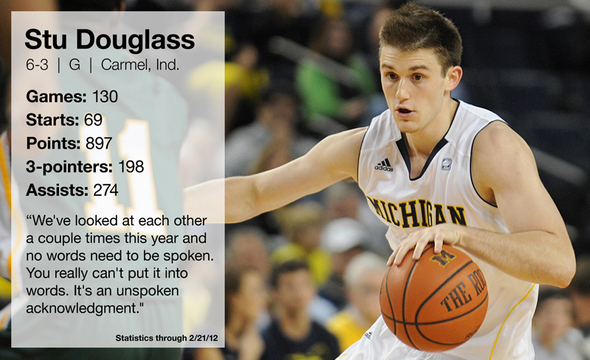 Starting over again
Novak shoulders most of the blame, and Douglass calls it the most disappointing event of his basketball career.
After making a surprising run to the NCAA Tournament as freshmen in 2008-09, the school's first trip in more than a decade, Michigan entered the 2009-10 season with lofty expectations.
The team brought back leading scorers Manny Harris and DeShawn Sims, Novak and Douglass were experienced sophomores and all signs pointed to a corner-turning point for the Michigan program.
What happened was anything but.
The Wolverines fell flat. Michigan began the year as the No. 15 team in America. It ended the season with just 15 victories.
"I've got to take some of the heat on that," said Novak, who served as a team captain despite being just a sophomore. "I was the captain of that team and I wasn't ready to handle that fully.
AP Photo
"It's tough."
The tournament run they enjoyed as freshmen was cast off as a fluke. After helping breathe life back into a program that sat dormant for so long, Novak and Douglass were going to have to start all over again.
"Zack and I's goals were to just help get everybody back to (an NCAA Tournament level)," Douglass said. "Never let that attitude (from 2009-10), the complacency, the comfort of just thinking we're good, slip back into our minds.
"If it ever creeps up, we've tried to make sure that doesn't get anywhere near (the team)."
Two years later, both have officially been successful in that mission.
Michigan entered the week rated as the 11th-best team in America, holding an RPI in the top 15 with a shot at a Big Ten regular-season title in reach and a lock on a third NCAA Tournament bid in four years.
Throughout the rebuilding process, Beilein has harped on the concept of culture. A culture of winning, and a culture of positive attitude.
Above the lockers inside the new $23.2 million William Davidson Player Development Center, Beilein has placed permanent reminders of the program's core values.
Integrity. Passion. Appreciation. Diligence.
Read between the lines and it may as well say: "Just do what Zack and Stu do."
Should everything go as planned this season, Douglass and Novak will have been to three NCAA Tournaments in four years: Diligence.
Novak is a finalist for the Lowe's Senior CLASS Award, and Douglass has twice received Michigan's Travis Conlan Sportsmanship Award: Integrity.
Douglass has never missed a game in four years, 130 straight and counting, and Novak is one of just two three-time captains in the program's history: Passion.
As for appreciation? Well, isn't that one obvious?
"I felt just lucky to even be here," Novak said. "The fact that I went from day one of my senior year with no offers to ending up at Michigan, I thought, deep down, I had already topped out where I was going to end up (as a prep player).
"I thought I'd be able to contribute and have a good career, but to do some of the things we've done and to be a part of that isn't really what I expected."
Douglass, naturally, agreed. He explained that he and Novak will be forever linked by their work to prove every other coach, school and fan in the Big Ten wrong.
"To come in with such similarities and to exceed people's expectations -- together, simultaneously -- and take this program to where it hasn't been in so many years, together (is great)," Douglass said. "We've looked at each other a couple times this year and no words need to be spoken.
"You really can't put it into words. It's an unspoken acknowledgment."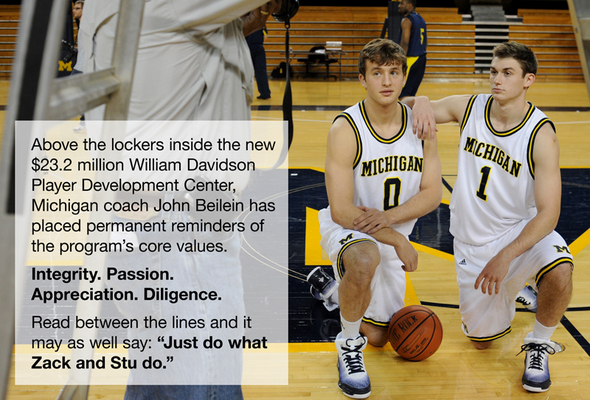 Coming to an end
When Beilein coached his son, Patrick, at West Virginia, he went through a ritual before every game of his senior season.
It was his way of remembering that precious time was running thin.
"I used to put these marbles in a jar and take them out every day," he said. "I knew (I was running out of time) to coach that group, in particular, my son.
"It's almost that type of feeling right now."
No one has to remind Novak or Douglass about the final few grains of sand that are slipping through their college basketball hourglass.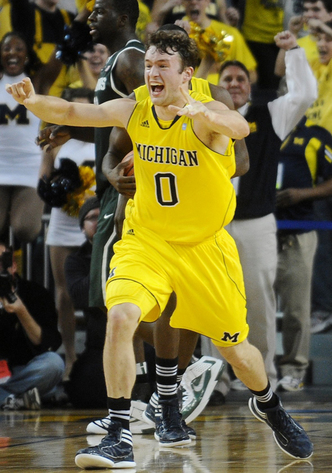 Melanie Maxwell | AnnArbor.com
But they do anyway.
"Tim (Hardaway Jr.) will say in the tunnel after practice, 'Man, you've only got two more games here,'" Douglass said prior to Michigan's victory against Ohio State last Saturday. "And I'll be like, 'Tim, shut up, I know. Relax.'
"It's hitting me."
Novak and Douglass, the unlikeliest of successful duos, will play their final home game Saturday when the 11th-ranked Wolverines host Purdue (6 p.m. BTN).
They've spent four years surprising, overcoming and winning side-by-side.
"I think I've never taken it for granted," Novak said of his time in Ann Arbor. "I've realized that this is a once-in-a-lifetime opportunity and my whole life growing up, this is what I wanted to do. I wanted to play in the Big Ten. Wherever that was.
"I wasn't a huge Michigan fan growing up, but I guess it's safe to say I am now."
In the beginning, no one wanted them.
In the middle, plenty mocked them.
In the end, few will forget them.
"I'm sure people still look at us, and especially if we get into an NCAA Tournament, and other teams will be like, 'Are you kidding me?' " Novak said. " 'Look at these guys.'
"But, it's worked out."
Not bad for two kids from the YMCA.
Nick Baumgardner covers Michigan basketball for AnnArbor.com. He can be reached at 734-623-2514, by email at nickbaumgardner@annarbor.com and followed on Twitter @nickbaumgardner.