Posted on
Wed, Apr 11, 2012 : 11:45 p.m.
University of Michigan president opposes putting 'Fab Five' banners back up in 2013
By Nick Baumgardner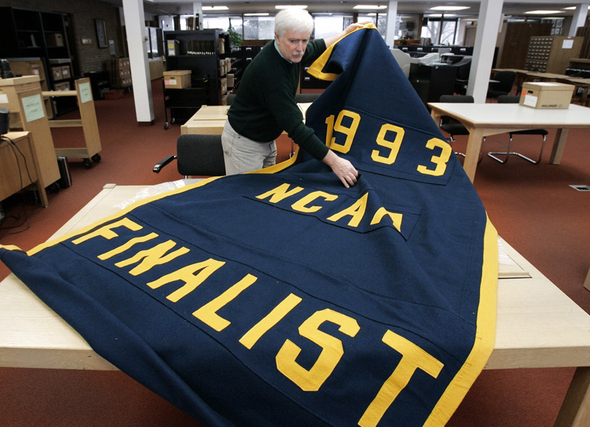 Associated Press
If Mary Sue Coleman has anything to do with it, the "Fab Five's" Final Four banners will stay in storage for some time.
During a fireside chat with students Wednesday, the University of Michigan president reaffirmed her position on keeping the removed banners out of the Crisler Center rafters.
"What happened was not good, and I don't think they'll ever go back up. I don't," Coleman said, according to the Michigan Daily. "Some day, I won't be president anymore, and maybe someone else will have a different view. But I think you have to reflect on the larger meaning and that we want to hold ourselves to a higher standard."
After the fallout from the Ed Martin Michigan basketball scandal, the university imposed several sanctions on its men's basketball program in 2002.
Among them was the removal of four banners: the 1992 and 1993 Final Four banners, a 1997 NIT championship banner and a 1998 Big Ten Tournament title banner.
In addition, the NCAA forced Michigan to disassociate itself from four players involved in the scandal -- Chris Webber, Maurice Taylor, Robert Traylor and Louis Bullock.
Webber, of course, was part of the school's famed "Fab Five" recruiting class, teaming with Jalen Rose, Jimmy King, Ray Jackson and Juwan Howard to lead Michigan to back-to-back national championship game appearances in 1992 and 1993.
Webber's 10-year disassociation period is set to end in 2013, meaning the school could replace the removed Final Four banners.
According to Coleman, that's not likely to happen any time soon.
"From my point of view, taking the banners down was the right thing to do because it was a very difficult time for the university and we were ashamed of what happened because the university has higher standards than that," Coleman told the Daily. "We're the University of Michigan -- that shouldn't happen."
Nick Baumgardner covers Michigan basketball for AnnArbor.com. He can be reached at 734-623-2514, by email at nickbaumgardner@annarbor.com and followed on Twitter @nickbaumgardner.
Want to stay connected to Wolverine basketball in your Facebook newsfeed? "Like" AnnArbor.com's Michigan Basketball News & Views.