Posted on
Tue, May 15, 2012 : 5:59 a.m.
Versatile Nik Stauskas ready to do a bit of everything for the Michigan basketball team
By Nick Baumgardner
Nik Stauskas wasn't exactly terrified, but he was far from settled.
Earlier this spring, when Michigan basketball point guard Trey Burke was pondering his future, Stauskas was suddenly faced with the prospect of adding even more to his plate next fall.
The Canadian-born 2012 signee had played the lead guard spot before.
But the Big Ten is a long way away from grade school.
"It was scary," Stauskas told AnnArbor.com on Monday. "I had so many Michigan fans and other people messaging me on Twitter and saying 'I hope you're ready to play point guard.'
"I was a little bit worried."
Stauskas' fears were eventually eased when Burke declared last month he'd be returning to Michigan for his sophomore season, giving the Wolverines their point guard back.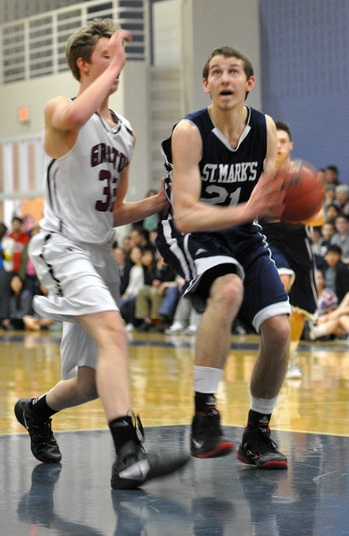 Courtesy St. Mark's School
And, at the same time, giving one of the program's hottest shooting prospects in recent memory a chance to come to Ann Arbor and simply be himself -- which, at first glance, appears to be plenty good enough.
"It was definitely a huge relief to hear Trey was coming back," says Stauskas, the four-star combo guard who is currently wrapping up his final year of prep school at St. Mark's School in Southborough, Mass. "To know that he's coming back and knowing that I get to play with him, it's just really exciting.
"I know he's a great player and I know I'll probably learn a lot from him in practice and stuff about the position."
Stauskas insists he can play the point if need be, though it doesn't take a great deal of video tape to get a grasp on his primary gift as a basketball player.
But, if one were so inclined, plenty of highlight packages can be found on his YouTube channel, which features a wide array of footage showcasing his main skill.
He can shoot. From just about anywhere. Against just about anyone.
However, there's much, much more to Stauskas' game than meets the eye.
"He's been better going to the rack than he's been a shooter his whole life," Stauskas' father, Paul Stauskas, told AnnArbor.com. "What I think will shock and pleasantly amaze everybody when he gets (to Michigan) is his ability to get to the rack.
"If you think he's a good shooter, wait till you see him go to the rack."
Last season at St. Mark's, Stauskas averaged better than 20 points per game before finishing the year as his team's most valuable player, besting prep teammate Kaleb Tarczewski, a 7-foot, five-star big man headed for Arizona.
Stauskas also earned MVP honors in the New England Preparatory School Athletic Council AA championship game after leading St. Mark's to a win over Tilton (N.H.) School, a team featuring Kentucky signee Nerlens Noel, the country's top recruit.
He wins. He shoots. He plays multiple positions.
In John Beilein's eyes, Stauskas is just about "perfect."
"We heard about Nik when he attended the NBA Camp (as a) rising junior," the Michigan coach said after Stauskas signed in November. "The more we got to know Nik, the more we realized, 'What a perfect fit for Michigan.'"
The feeling was mutual.
Michigan is the closest major Division I school to Stauskas' parents' house in Ontario, roughly three and a half hours "door to door," estimates Paul.
Beyond that, Nik's ability to shoot, pass, play all over the place and possibly contribute right away made Michigan a no-brainer.
"It was a match made in heaven," Paul said. "(Beilein) is a great person, he's got a great staff, obviously the reputation of the school speaks for itself.
"And, as it turned out, there was a hole at the two. According to John, they needed someone that could spread the floor, to shoot the (3-pointer). The stars aligned, and it couldn't be better."
Once he arrives on campus in late June, Stauskas says he'll likely begin working out primarily at the two-guard position. Michigan coaches have said he could also be asked to spell Burke from time to time at the point, while also dabbling at the small forward spot.
He says he's spent a great deal of time in the weight room this spring, and hopes to weigh roughly 210 pounds by the time the 2012-13 season rolls around.
And, perhaps more than anything, he's been working plenty on his ball-handling (which, by the way, will likely the subject of his next YouTube video) and overall decision-making skills.
"I think one thing that I really tried to work on this year was to make more of a conscious effort to make better decisions on the floor," he said. "I talked with coach Beilein a lot and he said one thing that he really wants is for his players not to commit a lot of turnovers.
"I felt like a lot of times I'd be making silly errors and just turning over the ball when I really shouldn't have turned it over. That was something I really focused on, just making smart decisions."
As far as his role next season, Stauskas says he's fine with whatever he's asked to do. Shooting guard? Sure. Backup point? That's fine. Small forward? That'll work, too.
Playing on a serious title contender?
Even better.
"I saw that ESPN had us fifth in the country, that's exciting," he said. "It's overwhelming, but I'm just really excited to get in there and get to work. I know there's going to be a lot of eyes on us, but this is something I've been dreaming about since I was 7 or 8 years old.
"So there's no way I'm going to shy away from the challenge."
Nick Baumgardner covers Michigan basketball for AnnArbor.com. He can be reached at 734-623-2514, by email at nickbaumgardner@annarbor.com and followed on Twitter @nickbaumgardner.
Want to stay connected to Wolverine basketball in your Facebook newsfeed? "Like" AnnArbor.com's Michigan Basketball News & Views.