Posted on
Tue, Nov 29, 2011 : 9:52 p.m.
Virginia pulls away from Michigan in second half of 70-58 Big Ten/ACC Challenge victory
By Nick Baumgardner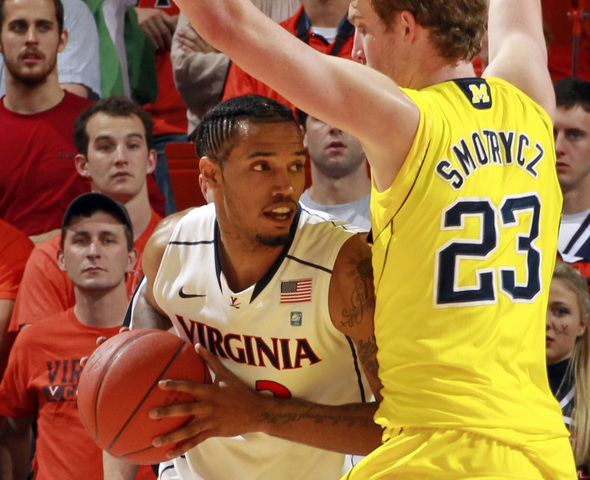 AP Photo
Updated 9:52 p.m.
CHARLOTTESVILLE, Va. -- The Michigan basketball team played most of the first half Tuesday without its leading scorer, and somehow survived.
The Wolverines couldn't shoot or defend in the second half, though, and never recovered.
Host Virginia shot an even 50 percent after halftime and used a 15-0 second-half run to hand No. 14 Michigan a 70-58 loss in the Big Ten/ACC Challenge at John Paul Jones Arena.
VIRGINIA 70, MICHIGAN 58

Nick Baumgardner's recap of Tuesday night's Big Ten/ACC Challenge game:
BIG SHOTS
Virginia struggled to find any offense during the first half, shooting just 30.4 percent from the floor, but thanks to some weak Michigan second-half defense, the Cavaliers exploded. Virginia rattled off a 15-0 second-half run -- a spurt that featured three 3-pointers -- to build a double-digit lead. Michigan never recovered.
HARDAWAY VANISHES
Tim Hardaway Jr., Michigan's leading scorer, never found his groove. The sophomore was saddled with a pair of early fouls, keeping him scoreless in the first half. The second half wasn't much better, as Hardaway finished the game with just 5 points on 2-for-9 shooting.
NO ANSWER INSIDE
Virginia senior forward Mike Scott had his way in the paint all evening, finishing with 18 points and 11 rebounds. Scott finished 6-for-11 from the floor, 6-for-7 from the foul line and also handed out three assists. Virginia out-rebounded Michigan 36-26.
QUOTE
"It was a learning experience that I have to learn from. It's just like in Maui, we lost to a talented Duke team and everybody kept their head up. … We're a really good bounce-back team and I feel we'll be ready Saturday."
RELATED CONTENT
Tim Hardaway Jr. struggles to find flow in No. 14 Michigan's loss at Virginia
Boxscore
Big Ten/ACC scoreboard
— - Hardaway
"They play really, really hard on the defensive end and they didn't give us a lot of open stuff," said Michigan senior guard
Zack Novak
, who finished with a team-high 12 points. "When we look back, we're going to see that we forced some stuff on the offensive end.
"When they're making their run, that's when we've got to be extra solid. I don't think we did that today."
The game was Michigan's first true road contest of the season, and the loss drops the Wolverines to 5-2 on the year.
Michigan sophomore forward Tim Hardaway Jr., the team's leading scorer, turned in his worst performance of the season -- scoring just five points on 2-for-9 shooting. Hardaway played six minutes in the first half due to foul trouble.
Virginia, meanwhile, was led by senior forward Mike Scott, who averages a double-double. He dropped in 18 points and 11 rebounds. The Cavaliers dominated the glass for most of the night, out-rebounding Michigan, 36-26.
"That was a team that came out prepared and they did their job," Hardaway said of Virginia's effort. "I got open shots, I took them, I got the two early fouls and that was it.
"They just did their job."
Michigan trailed by just one point at halftime, and Hardaway finally got going with a 3-pointer at the 13:38 mark, capping a 12-5 Michigan run to make it 39-34 Wolverines.
The rest of the night, though, was one to forget for Michigan.
Malcolm Brogdon's 3-pointer three minutes later tied the game before Scott hit back-to-back inside buckets to make it 45-41 Virginia with 9:05 to play.
The Cavaliers didn't stop there, getting another 3-pointer from Brogdon and a baseline jumper from Scott to make it a nine-point game. The run finally ended 30 seconds later when Joe Harris buried a triple, capping a 15-0 spurt, a 19-2 run in total, to put Virginia up 53-41 with 6:36 left.
"They're good, and a lot of people get into runs, but what're you going to do?" Michigan coach John Beilein said. "You've only got so many timeouts and you've got to make a shot to stop the run.
"We didn't make a shot, they did."
Michigan got back within seven after Hardaway snapped a nearly seven-minute scoring drought with a jumper before senior guard Stu Douglass followed with a 3-pointer. The Cavaliers immediately pushed the lead back into double digits with back-to-back triples by Brogdon and Harris.
The Wolverines never recovered.
"This is the type of lesson we've got to learn," Douglass said of the road loss. "We've got to take a lot of things (from this loss).
"We'll watch this film and get a lot better."
Freshman point guard Trey Burke added 11 points, four rebounds and four assists for Michigan. Evan Smotrycz finished with 10 points and five rebounds before fouling out.
Harris finished with 18 points and seven rebounds for Virginia (6-1), while Brogdon scored 16 points on 5-for-7 shooting.
The first half was sloppy offensively for both sides.
When Hardaway went to the bench with his second foul six minutes into the game, the Wolverines' scoring punch appeared to go with him.
Michigan struggled to get into the lane without its top playmaker on the court, but effective defense forced Virginia to hit just three of its first 17 shots, giving the Wolverines a 19-14 edge after a Burke floater with 3:18 to go in the half.
The Cavaliers woke up in time for a close, though, as Brogdon's layup with 25 seconds to play capped a 10-4 spurt that gave Virginia a 24-23 lead at the break.
Virginia shot 7-for-23 in the first half, while Michigan went 8-for-20.
"As a team, (Virginia is) very high-quality," Beilein said. "We haven't been down a lot in games having to make tough shots.
"(Tonight), we didn't make them."
The Wolverines return to action at noon Saturday for a home game against Iowa State.
Nick Baumgardner covers Michigan basketball for AnnArbor.com. He can be reached at 734-623-2514, by email at nickbaumgardner@annarbor.com and followed on Twitter @nickbaumgardner.
Want to stay connected to Wolverine basketball in your Facebook newsfeed? "Like" AnnArbor.com's Michigan Basketball News & Views.