Posted on
Sun, Aug 22, 2010 : 6 a.m.
Michigan freshman guard Tim Hardaway Jr. has shades of his father's game
By Michael Rothstein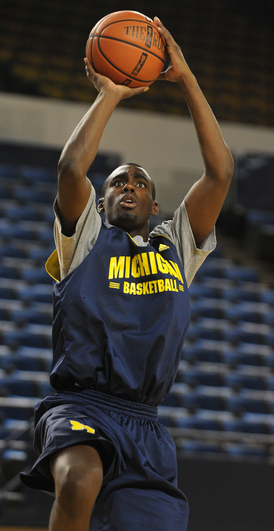 Lon Horwedel | AnnArbor.com
Middle school kids can be cruel, at least that's how Tim Hardaway Jr. sees it now. You're growing up, emotions and hormones run wild and jealousy sets in.
When your father is an NBA All-Star, one of the better point guards in the history of basketball and the inventor of a move alternatively called the 'UTEP Two-Step' and 'Killer Crossover,' you almost have to brace yourself for that.
That father, NBA All-Star Tim Hardaway, told him not to worry about it. Told him to focus on his game, his life. When you're 12 or 13, it isn't that easy.
Even if it is kind of cool to have a dad like that.
"It was a great experience," Hardaway Jr. said. "But it was also hard because I had to go through people saying 'Hey, you're not that good. ... You're going to be horrible, you're going to be garbage.' That's just criticism you have to take.
"I really didn't take it that well when I was little."
Eventually, he learned. He spent his freshman year of high school at Palmer Trinity, a private school in Palmetto Bay, Fla., before heading to Palmetto High School, a public school, for his sophomore year.
He fit in at Palmer. Classmates didn't look at him as the son of Tim Hardaway. When he transferred to Palmetto, he didn't know what to expect -- especially when it came to basketball.
Then he ran in the humid 85-degree heat with his new teammates, trying to break a 5-minute mile, and they understood. They embraced him.
Tim Hardaway Jr. wasn't going to try to be his father's son. He was going to create his own game.
Growing up around The League Still, it is easy to see where the pedigree comes from. He is, after all, a Hardaway. He grew up around the game, his father and other NBA players constantly offering advice or even a chance to run in pick-up games.
His father told him to try things. If the moves worked, great. If not, he'd be there to correct them. It's a tutelage that helped him average 31.7 points a game as a high school senior and, once he arrived at Michigan this summer, made an instant, eye-opening impact.
"He came in and was doing, just skill work, kind of, the way he was finishing around the basket, stuff that we've been working on," junior forward Zack Novak said. "He's probably better at some of the things than us already."
Novak is a junior and the unquestioned leader of this year's Michigan team. Novak and many of Hardaway's new teammates say the same thing -- he's good and more advanced than they were as freshmen.
Part of that has to do with his upbringing. Part of it has to do with his body.
The last time he was in Ann Arbor prior to his arrival for summer school, Hardaway Jr. was 6-foot-3. By the time he arrived, he was 6-5, his arms grew longer and he was faster and more athletic than any of the Wolverines remembered.
"I thought he was like a two-guard and he gets here and has the same reach as Blake (McLimans, a 6-foot-10 forward)," junior guard Stu Douglass said. "So yeah, I definitely underestimated that. He's very assertive and very confident in himself."
The confidence is something Hardaway knew he'd have before he came on campus. He said earlier this year he thought the first week would be difficult, the conditioning would be unlike anything he'd gone through before.
When he was in Florida, he also worried about the intricacies of John Beilein's offense.
Those fears disappeared by the fifth practice in preparation for Michigan's trip to Europe.
"I thought I was going to be a little fatigued," Hardaway Jr. said. "I thought it was going to take me like three weeks to get the offense down pat and how everybody was talking about how hard the offense was going to be.
"I took that to be a competition to know that I could get past that and it worked out."
An understanding of the game
This isn't to say everything has gone well for Hardaway Jr. The first thing he said after finishing Michigan's last practice before Belgium was how tired he was.
He's shown prodigious skill, but Beilein said he's trying to be a bit too perfect.
During a free-flowing scrimmage last Sunday, Hardaway drove the lane with the ball, laid it in and the whistle blew. Called for a charge, his face read exasperation. He couldn't believe it. Beilein wasn't concerned. It is part of what he likes about Hardaway Jr.
He's focused. He has passion and energy.
The fourth-year Michigan coach wasn't sure exactly what to expect when Hardaway Jr. arrived -- save for the rare John Wall or Carmelo Anthony-type player, coaches never really know -- but so far, he's been pleased.
"He really has an understanding for the game," Beilein said. "I wouldn't say it's rare but it's typical of freshmen who have success early. ... He seems to be coming on the court with a knowledge that is a real healthy knowledge for playing time.
"He just has it."
The 'it' will almost certainly place him in Michigan's rotation in the fall. He spent the majority of the Wolverines' pre-Europe practices running with sure-fire starters Darius Morris, Douglass and Novak.
There were times he looked like Michigan's best player even though he's 18 years old. The Wolverines need him, too. Losing its top two scorers in DeShawn Sims and Manny Harris, offense needs to come from somewhere.
And while the Wolverines have a lot of good passers and players who can shoot, an obvious hole is someone who can create and take over a game like Harris.
In Hardaway Jr., they might have it.
"He has the game like a Manny Harris," Tim Hardaway Sr. said earlier this year. "Get into the lane, make things happen, shoot the ball. But he's just a proven, unselfish, understands how to play the game ballplayer and he does whatever it takes to win.
"Rebound the ball, playing defense, assists, scoring, whatever it takes. You tell him to go out there and I want you to penetrate 18 times in a row, he'll do it and try to get his teammates involved in the game. That's what you want from a kid."
There is one other thing he has, too.
"He's got that crossover," Novak said. "He kind of hesitates and then pulls up over somebody.
"That's his dad's move."
Michael Rothstein covers University of Michigan basketball for AnnArbor.com. He can be reached at (734) 623-2558, by e-mail at michaelrothstein@annarbor.com or follow along on Twitter @mikerothstein