Posted on
Wed, Feb 23, 2011 : 11:02 p.m.
Wisconsin's Josh Gasser tops Michigan basketball team with a buzzer-beater, 53-52
By Michael Rothstein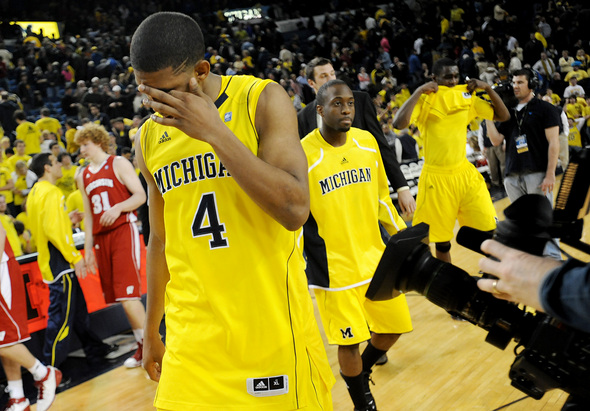 Melanie Maxwell | AnnArbor.com
Updated 11:02 p.m.
They walked dejectedly off the floor, up the Crisler Arena tunnel and filed into the locker room. Hardly a word was uttered, but everything you needed to know was all over their faces.
What could members of the Michigan basketball team say?
There was certainly little they could do about a banked Josh Gasser 3-pointer at the buzzer for a 53-52 Wisconsin win at Crisler Arena on Wednesday night and perhaps the difference between an NCAA Tournament appearance and an NIT bid for the Wolverines.
Inside the locker room, players said little. Sadness and shock coursed through Michigan players and coach John Beilein entered the room faster than a typical post-game. He had to say something to pick up a team that has endured this kind of heartbreak before.
Beilein had to do damage control on a young team, telling them they couldn't sulk, that their season hadn't ended. For the moment, though, it felt like it.
RELATED CONTENT
Wednesday night's late-game heartache felt like a repeat Michigan (17-12, 7-9 Big Ten) had watched too many times.
There was Michigan State in Crisler Arena a season ago, when Michigan lost on a rimmed-out layup at the buzzer. Then Evan Turner and Ohio State ended Michigan's season with a half-court buzzer beater at the Big Ten Tournament. And last week, Michigan lost to Illinois when Stu Douglass missed an off-balance heave at the buzzer.
"Just silent, you know" sophomore guard Josh Bartelstein said of his post-game surroundings. "A little bit of shock."
ANNARBOR.COM THREE STARS
First Star: Josh Gasser, Wisconsin
The freshman guard, who had a triple-double earlier this season, didn't have his best night Wednesday, scoring five points and grabbing four rebounds. But when he needed to make a play, he did. And it was the one that won the game.

Second Star: Jordan Taylor, Wisconsin
The junior All-American candidate kept the Badgers in the game when no one else could make shots. He scored 20 points, had five assists and one turnover (right around his 4.13 assist-to-turnover ratio for the year) and made the pass through a double-team to find an open Gasser on the final play.

Third Star: Tim Hardaway Jr., Michigan
The freshman impressed Wisconsin coach Bo Ryan with his 16-point, four-rebound performance. Hardaway hit two critical 3-pointers in the second half, one to give the Wolverines a 45-42 lead and again with 3:49 left to give the Wolverines a 50-48 lead.

Readers' choice

Shock is understandable. Wisconsin's Jordan Taylor took an inbounds pass on the final Badgers' possession — the one Michigan milked from 31 seconds down to 6 by exhausting all of its fouls to prevent a set play — and read a double-team to find an open Gasser.
Gasser didn't have time to set up as he caught the ball with a single second left on the clock. He just let the ball go, a heave toward the rim.
"When it left my hand, I thought it was going to bank in," Gasser said. "And it did, so that's pretty funny."
Funny for No. 12 Wisconsin (21-6, 11-4), which marches toward the NCAA Tournament behind the play of Taylor, who scored a game-high 20 points. Devastating to Michigan, which again came tantalizingly close to beating a top 15 team after close losses to Kansas, Ohio State and Syracuse.
That's the difference in one shot, in one attempt at a tip by Douglass to deflect Taylor's pass out of the double team.
Maybe Douglass had the best clue. He's seen this type of thing happen before to Michigan, too many times for him to want to remember.
"I had a bad feeling, actually," Douglass said. "I thought I had the ball when Taylor crossed over left to right and when he went to pass it, I don't know.
"I didn't expect him to bank it, though."
No one could have. Even Wisconsin coach Bo Ryan said as Gasser let it go he knew the only way the shot had a shot was if it banked off the backboard.
A little harder or softer and Michigan would have been celebrating a tournament resume-building win. Instead, it suffered in near silence.
"Horrible," freshman forward Evan Smotrycz said. "I was talking to Matt (Vogrich) and he said 'I wish he just made it without banking it."
Some how, some way, that might have given Michigan a sliver of solace.
Instead, sophomore point guard Darius Morris, who missed the front end of a 1-and-1 foul shot on the Wolverines' last possession, stood motionless on the floor just like Michigan players did after Turner shot Michigan to the off-season last season. No one knew what to do.
One shot erased an entire night of good play against a top team. It took away a 66.7-percent first half shooting performance, a 62.5-percent second half performance from the 3-point line and a game where Michigan held Wisconsin to 36.2 percent from the field. It took away the significance of a 16-point night from freshman guard Tim Hardaway Jr.
All of that disappeared with one heave, possibly because Michigan played defense well enough to take away the back-door cut Gasser looked for before flashing out to the right wing for a 3-point attempt.
It was one shot that sucked the energy out of Crisler Arena, out of Michigan's players and out of the chance for a Top 25 win to bolster the Wolverines' NCAA Tournament hopes.
"All the excitement and all the everything, all the adrenaline that you put into the whole game," Douglass said. "Thinking for it to come down to one shot that goes in, that banks in like that.
"Excitement just rushes out of you."
Even for Beilein, who has coached for 33 seasons and played as a high school and college player before that, Wednesday was a little jarring.
"I haven't lost too many," Beilein said. "On a banked shot like that."
Michael Rothstein covers Michigan basketball for AnnArbor.com. He can be reached at (734) 623-2558, by e-mail at michaelrothstein@annarbor.com or follow along on Twitter @mikerothstein.