Posted on
Tue, Dec 20, 2011 : 5:58 a.m.
With Michigan basketball likely off to its second straight 10-2 start, here's a look inside the numbers
By Nick Baumgardner
What a difference a year makes. Or does it?
Through its first 12 non-conference games a season ago, the Michigan basketball team sat at 10-2 with a double-digit average margin of victory.
And, if all goes as expected Thursday during their final pre-Big Ten tuneup against Bradley (6:30 p.m., BTN), the Wolverines will be 10-2 with a double-digit average margin of victory.
After moving to 10-2 last season, Michigan got off to a 1-7 start in Big Ten play before rebounding down the stretch. The Wolverines open their conference slate at home against Penn State on Dec. 29.
Will history repeat itself? Time will tell.
For now, here's a look inside the numbers from where Michigan was, to where it is now: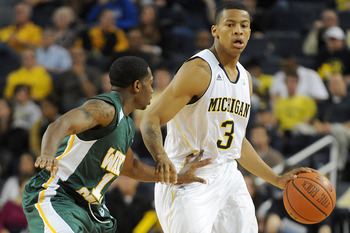 Angela J. Cesere | AnnArbor.com
What's the same
Assists

The "how does Michigan replace Darius Morris" question has truly been answered.
At least for now.
Through its first 11 games a year ago, a Morris-ran Michigan offense had 157 total assists. Through the first 11 this year, a Trey Burke-ran Michigan offense has notched 156 assists.
With 52 assists, Burke is currently 26 behind the pace Morris was on during his record-setting effort a year ago. However, Burke's teammates have more than pulled their weight to make up for the loss of 235 assists Morris racked up a season ago.
Tim Hardaway Jr. already has 30 assists, just 29 less than he did all of last year. Zack Novak's numbers are also up in this area with 28 assists, 12 more than he had last year at this point.
Senior guard Stu Douglass and sophomore forward Evan Smotrycz have also added to Michigan's ball-sharing category, collecting 21 and 13 assists, respectively.
How has Michigan replaced Darius Morris?
Burke's done an awful lot of shot distributing, but the team hasn't been too shabby, either.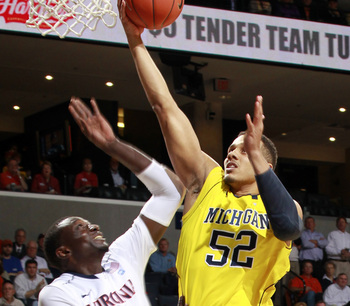 What's different
Jordan Morgan's production

Last season at this time, Jordan Morgan was well on his way to becoming one of the more notable surprises in the Big Ten.
After sitting out his entire freshman campaign, Morgan was averaging 10.1 points and 6.9 rebounds through Michigan's first 11 games.
This time around, the 6-foot-8, 250-pound redshirt sophomore forward has seen a dip in points per game (7.1) and rebounds per game (4.6). His assists (1) are also down and his turnovers (20) are up.
Morgan's numbers suffered a dip in Big Ten play, but even with that, his 9.2 points and 5.4 rebounds last season are still more than he's putting up in both categories right now.
What's the issue?
It's not health. Michigan coach John Beilein recently brushed off a question about whether Morgan was dealing with any type of injury.
A quick glance might lend one to believe foul trouble isn't an issue either. Morgan has committed nine fewer fouls through the first 11 games this season.
A deeper look tells a different story, though, as Morgan has picked up two fouls before halftime on five occasions -- virtually taking him out of the action in each instance.
So, Morgan is again struggling to stay on the floor, and when he is on the court, he's not producing with the same consistency from a year ago.
Smotrycz's improvement as an interior player has helped Michigan overcome Morgan's dip to this point, but one has to wonder how long the Wolverines can survive in the Big Ten without a true threat at the center position.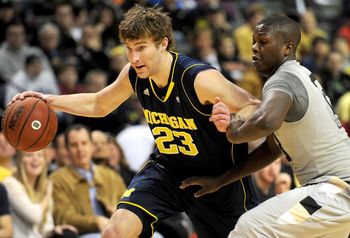 Angela J. Cesere | AnnArbor.com
What's encouraging
Shooting numbers

Michigan had its good days and bad days from both inside and outside the 3-point arc a year ago, finishing toward the middle of the Big Ten in field goal percentage and 3-point shooting.
Through 11 games last season, Michigan was at 43.7 percent overall and 31 percent from 3-point range. This season, the Wolverines are up in both categories -- shooting 49.4 percent from the floor, 38 percent from deep.
Why?
Two reasons: Michigan's been better around the basket so far this season, making 58.3 percent of its two-point field goals. And, the addition of Burke as a legitimate deep shooting threat seems to have bolstered the team's already dangerous 3-point prowess.
Morris was a 29-percent outside shooter at this point last season. As of today, Burke is hitting at 39 percent from deep.
Smotrycz is shooting a scorching 54.8 percent (17-for-31) from long range, while Novak is hitting 43.2 percent (16-for-37) of his 3-pointers. Hardaway Jr. has knocked down 20 triples (34.5 percent) and, after a sluggish start, both Douglass and Matt Vogrich have shown an improvement from the outside of late.
With both Burke and Hardaway being legitimate threats to score from the outside or off the dribble, more open looks have been created for the rest of Michigan's shooters -- resulting in a higher percentage overall.

What's troubling

Turnovers

The assists are fine. The turnovers are not.
Michigan's turnover number is up 21 from a year ago at this point, and more concerning, the Wolverines' penchant for coughing the ball up seems to be a momentum-gaining problem.
Over the past three games against Oakland, Arkansas-Pine Bluff and Alabama A&M, Michigan has averaged 17 turnovers.
No offense to the Golden Grizzlies, Golden Lions or Bulldogs, but Michigan will likely be working against much more capable defensive units from here on out.
The three main culprits have been Smotrycz, Morgan and Hardaway.
Smotrycz and Hardaway have combined to turn the ball over 19 times over the past three games, while Morgan currently has 19 more turnovers than he does assists on the year.
The general sloppiness with the basketball has allowed the likes of Towson, Iowa State and Arkansas-Pine Bluff to spoil potential blowouts this season.
So far, the turnovers haven't hurt Michigan where it hurts most.
However, if the issue continues into Big Ten play, the Wolverines won't be counting the number of times it settled for a less-impressive blowout.
Instead, they'll be counting losses.
***
A year ago, Michigan opened the season 10-2 before having to fight for its life down the stretch to advance to the NCAA Tournament.
This season, the Wolverines will likely once again enter Big Ten play with a 10-2 mark, and a national ranking to boot.
Will they continue to trend upward, or will the start be smoke and mirrors?
Conference play starts in 10 days. The answer to those questions will soon follow.
Nick Baumgardner covers Michigan basketball for AnnArbor.com. He can be reached at 734-623-2514, by email at nickbaumgardner@annarbor.com and followed on Twitter @nickbaumgardner.
Want to stay connected to Wolverine basketball in your Facebook newsfeed? "Like" AnnArbor.com's Michigan Basketball News & Views.