Posted on
Tue, Apr 17, 2012 : 5:59 a.m.
With roster mostly secure, an early look at the Michigan basketball depth chart for 2012-13
By Nick Baumgardner
We tried to do this last month, but obviously a few things changed.
The Michigan basketball program had three players opt for a transfer, added a point guard to its signing class and saw its co-Big Ten Freshman of the Year floor leader flirt with the NBA draft for roughly three weeks.
Fast forward to today and (at least for the moment) the Wolverines seem to have a firm grasp on what their 2012-13 roster will look like.
Obviously, you never say never, and the roster could still change before next season tips off. But for now, here's an early look at how John Beilein's rotation might look next season.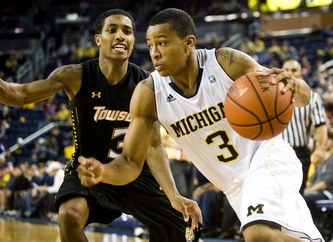 Joseph Tobianski | AnnArbor.com
Point guard
Starter: Trey Burke

Reserves: Spike Albrecht, Eso Akunne

That strong wind you're still feeling throughout every chasm of Ann Arbor is the continued, collective sigh of relief shooting out of the William Davidson Player Development Center after Trey Burke announced he'd be back last week.
With the addition of prep school point guard Spike Albrecht, the Wolverines actually appear to have better depth at their lead guard position than they did a year ago.
What a difference a few weeks makes.
Last season, Michigan entered the year with Burke as the lead candidate to start at point, with Stu Douglass and Eso Akunne serving as the primary reserves.
Douglass was never a natural point, and eventually moved exclusively to the off-guard position. Akunne really isn't a natural point either, but still provided minutes off the bench before being lost for the year due to a foot injury.
Beilein had hopes of molding Carlton Brundidge into a reliable primary ball-handler, but it never materialized, and never will -- as Brundidge announced his plans to transfer last month.
Burke played a staggering 1,227 minutes last season, the second-highest number in Michigan history. Not freshman history, but school history.
He'll likely be asked to play a ton in 2012-13, obviously. But in Albrecht, the Wolverines appear to have a true backup who can learn in a reserve role, and possibly spell Burke for five to 10 minutes per game.
If Beilein can but Burke's minutes per game from 36 to 33, or something close to that, it could pay big dividends in late February and March.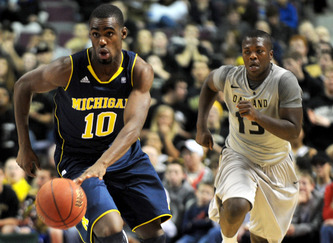 Angela J. Cesere | AnnArbor.com
Shooting guard
Starter: Tim Hardaway Jr.

Reserves: Nik Stauskas, Matt Vogrich, Glenn Robinson III

If Tim Hardaway Jr. can improve his ball-handling skills in the offseason, than this one's a no-brainer.
You move Hardaway to the two, and you let five-star wing Glenn Robinson III play a more natural role at the three.
If Hardaway isn't able to comfortably move into the backcourt next to Burke, then maybe Nik Stauskas or Robinson get an audition here -- and don't overlook Matt Vogrich, either.
At the end of the day, Michigan won't likely be hurting at this spot.
Vogrich should see more time next season by default, which will undoubtedly help him get into a better flow offensively, making his already competent outside shot even better. Stauskas is also known as a terrific knock-down shooter, and has the size to create some pretty solid mismatches.
Hardaway has the potential to be a complete player, but must improve his shot selection, on-ball defense and secondary ball-handling ability. If that happens, look out.
As for Robinson, well ...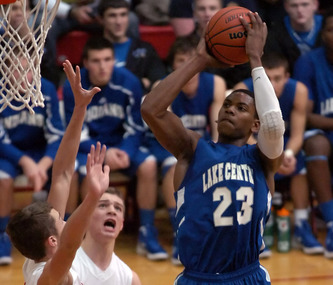 Jeffrey D. Nicholls | Post-Tribune
Small forward
Starter: Glenn Robinson III

Reserves: Tim Hardaway Jr., Nik Stauskas, Sai Tummala

Robinson didn't shoot up the recruiting charts by accident.
At 6-foot-6, and possibly still growing, Robinson is a long, athletic slasher with outstanding finishing ability at the rim and an underrated mid-range and pull-up jump shot.
Physically, he has the potential to play three -- possibly four -- different spots on the floor at the college level.
And in Beilein's system, that's basically perfect.
Don't be surprised to see Robinson get time at the two, the three and the four next season, especially if Michigan opts to go with four perimeter-based players at once -- something Beilein has routinely done throughout his coaching career.
If Beilein bucks his own trend and goes to a two-post offense, Robinson will still play plenty. He appears to have too much talent not to.
Hardaway is obviously versatile enough to play two spots, and Stauskas' size suggests he may be able to as well.
Also, Sai Tummala is an interesting case.
The 6-foot-6 forward redshirted last season, and was dubbed as potentially the best athlete on the team (according to Beilein) at one point.
We obviously haven't seen him play, so it's difficult to speculate. But, obviously, Beilen's encouraged by the preferred walk-on.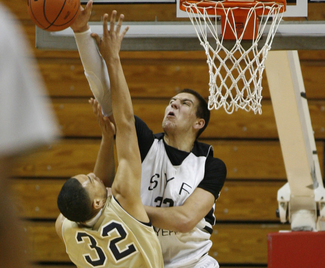 Power forward
Starter: Mitch McGary

Reserves: Jon Horford, Max Bielfeldt, Blake McLimans

Beilein has never really relied on a two-post offense before. But, given the bodies he now has up front, he just might have to give it a hard look.
Michigan ran plenty of two-post sets a year ago with Jordan Morgan and Evan Smotrycz, but Smotrycz was obviously a hybrid, and a player who was much more comfortable on the perimeter.
McGary is known as a very capable passer and a player who can knock down 10 to 12-foot jumpers with moderate consistency. However, he's not a 3-point shooter.
That said, he's 6-foot-10, 260 pounds -- and he knows how to rebound and protect the rim. Much like Robinson, he's too physically gifted not to play.
He still needs polish, something he admits. So expect his defense to be far ahead of his offense next season, but even so, his rebounding and rim defense should give Michigan a massive boost.
Expect Horford to push for more minutes, and do so with a serious edge after sitting out most of last season with a foot injury.
If McGary struggles or Beilein simply feels its best to revert back to a perimeter-based look, don't be shocked if Robinson sees time at the four.
Zack Novak made a career out of spending time at the four under Beilein, so it's far from the edge of insanity to think Robinson can't do the same.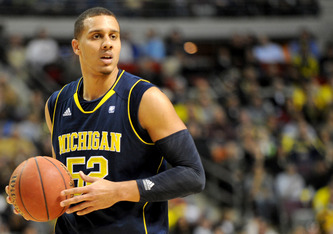 Angela J. Cesere | AnnArbor.com
Center
Starter: Jordan Morgan

Reserves: Jon Horford, Max Bielfeldt, Blake McLimans

Suddenly, Jordan Morgan has help. And a lot of it.
With the addition of McGary, the improved health of Horford and the redshirt year completion by Max Bielfeldt, Michigan shouldn't be paper thin up front next season.
Meaning, there shouldn't be an instance where Beilein is forced to trot out a 6-foot-6 player at the five-spot due to foul trouble, as he did late last season with now-departed forward Colton Christian.
Morgan's scoring numbers dipped a year ago, but plenty of that may be a result of having to adapt to a new point guard in Burke -- who, while dynamic, is a markedly different player than Darius Morris.
Expect Morgan's offensive growth to continue next season, and expect his rebounding and decision-making to also stay on the rise.
Few players in college basketball have transformed as much as Morgan has during his three-year tenure at Michigan. Last season, his rebounding average was slightly up and, more importantly, his foul numbers were way down.
He committed 34 less fouls as a sophomore than he did as a redshirt freshman, in two less games as well.
Morgan will likely be a fixture again next season, but he'll also have plenty of help from Hoford and McGary.
Bielfeldt is also a player who might really be able to push this team to the next level. If his knees are in order, his 6-foot-7, 240-pound frame could do some serious work on the glass for 10 to 12 minutes per game next season -- giving the Wolverines a legitimate four-man post rotation, with Blake McLimans also providing minutes.
Nick Baumgardner covers Michigan basketball for AnnArbor.com. He can be reached at 734-623-2514, by email at nickbaumgardner@annarbor.com and followed on Twitter @nickbaumgardner.
Want to stay connected to Wolverine basketball in your Facebook newsfeed? "Like" AnnArbor.com's Michigan Basketball News & Views.