Posted on
Thu, Nov 11, 2010 : 5:59 a.m.
With a young squad and no expectations, Michigan basketball team rebuilds
By Michael Rothstein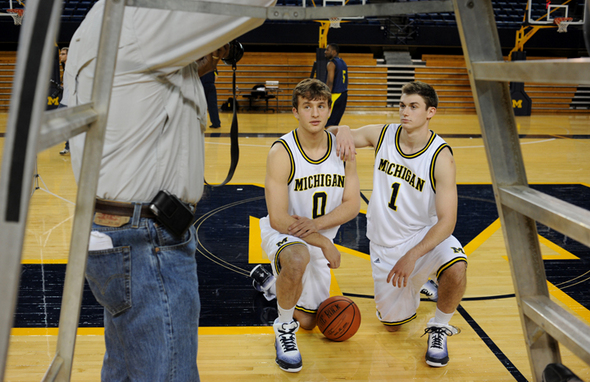 Melanie Maxwell | AnnArbor.com
At Big Ten basketball media day in Chicago last month, Michigan juniors Stu Douglass and Zack Novak sat together at a round table, visitors stopping by only occasionally.
A year ago at the same event, the Michigan basketball players in Chicago drew a crowd.
Those two players, DeShawn Sims and Manny Harris, are gone. With them went most expectations of success for the Wolverines.
Those expectations, in some ways, crushed Michigan last year. The Wolverines were coming off an NCAA tournament berth and had Sims and Harris, two of the top scorers in Michigan history returning. They were picked as high as the top 10 in the country by some publications.
And under the weight of those expectations, Michigan collapsed. It never found a rhythm, too often relied on Harris and finished 15-17.
"We were missing some intangibles that you have to have to win close games, that you have to win close games," Michigan coach John Beilein said. "There were four or five games that we lost last year, and all of them with less than two minutes to play we took the lead or tied. The year before, we won those games."
Much of that went to team chemistry and leadership. Michigan lacked some of that a season ago. Now, though, the Wolverines have those two things back.
But will Michigan be better when it opens the season Saturday with a 7 p.m. home game against South Carolina Upstate?
Probably not. Michigan has no seniors on its roster. It has just two juniors - Novak and Douglass - and the rest of the Wolverines have played college basketball for a year or less.
The Wolverines started three freshmen or redshirt freshmen, a sophomore and a junior in its exhibition win Friday over Saginaw Valley State.
They may have more height, but also have a ton of inexperience. And without that experience, Michigan is going to need to play smarter than a season ago.
"We're going to have to play pretty efficient games to be successful," Beilein said. "Very efficient."
Simply, for Michigan to be good this season, it can't shoot like it did against Saginaw Valley State - 14.3 percent from the 3-point line - and it needs to have consistent production from Novak and freshmen Tim Hardaway Jr. and Evan Smotrycz, who will be Michigan's starters to open the season with forward Jordan Morgan and point guard Darius Morris.
"We're coming in with no expectations for the season, so we're just playing loose," Douglass said after Michigan best Saginaw Valley State 68-59 on Friday. … There's a lot of stuff we have to work on, but it's early and we're a young team."
To help with that, Michigan went to Europe before the season. The four-game trip allowed a new coaching staff - the Wolverines replaced all three assistant coaches who were at the school at the start of last season - meld with a young team. It allowed younger players the chance to learn the offense and defense against older, professional competition.
Michigan lost three of four games in Europe, playing against some of the better teams in Belgium.
"I'm impressed with how we maintained what we built in Europe and we keep getting better every day," Douglass said. "It's what we did freshman year and a little bit last year, just not enough."
Michigan's success or failure this season, though, will likely depend on how fast its youth picks up what Beilein wants them to do and learn how to be college players.
"There's a new beginning," Beilein said. "We accomplished a heck of a goal in two years in getting to the NCAA tournament and winning a game. We had great expectations going into the season and there were five close games that really changed our season.
"Now we are a team that really is a young team. If this team matures over the next three years, we will be developing this program where it's not coming down."
Michael Rothstein covers University of Michigan basketball for AnnArbor.com. He can be reached at (734) 623-2558, by e-mail at michaelrothstein@annarbor.com or follow along on Twitter @mikerothstein