Michigan basketball team's defensive focus shifts to prepare for high-scoring Purdue
Posted on Fri, Jan 22, 2010 : 3 p.m.
All season, John Beilein has placed a greater emphasis on defense than he has perhaps during any other time in his tenure with the Michigan basketball team.
He has seen steady progress as his players transition from Beilein's 1-3-1 zone approach a more traditional man-to-man style the Wolverines have utilized over the first 18 games of the year.
Only three days after dealing with Wisconsin's half-court offense that forces opposing defenses to be more disciplined, the Wolverines face an entirely different challenge Saturday at No. 13 Purdue (4 p.m., ESPN).
The Boilermakers lead the Big Ten in scoring, averaging 71 points per game. As many points as Purdue is capable of scoring, though, the bigger task comes in attempting to contain its wealth of scoring options.
Three of Purdue's five starters are scoring in double figures, using an impressive inside-out tandem to keep teams off balance. Junior E'Twaun Moore leads Purdue's scoring attack with 17.4 points per game and has reached double figures in 17 straight games.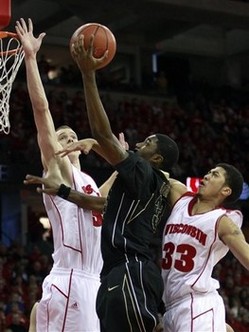 Throw in multi-dimensional forward Robbie Hummel (16.3 ppg.), and center JaJuan Johnson (13.8 ppg.) into the mix and the difficulty in shutting the Boilermakers down becomes clearly evident.
"Having that third guy for them is really important and sometimes a fourth guy," Beilein said on Friday. "We have to have one of our best defensive efforts. ... It's difficult, but when you see the best teams in this league, they do have three or four scoring threats."
Michigan (10-8, 3-3 Big Ten) is in the midst of a demanding four-game stretch, all against ranked opponents. After splitting with No. 15 Connecticut and No. 18 Wisconsin, the Wolverines face big challenges against Purdue (15-3, 3-3) before returning home to host No. 6 Michigan State on Tuesday night.
If the Wolverines have any hopes of salvaging their NCAA tournament hopes, these four games will play a major role. The quick turnaround between games doesn't give Beilein much time to make adjustments.
So rather than run the risk of trying to change too much, Beilein will stress simplicity and remaining consistent, especially on defense.
After initially struggling to make the switch to man-to-man, sophomore guard Zack Novak said his teammates have bought into what's required to make Michigan the defensive team it needs to be. There's better communication when a defensive switch is required and the Wolverines are limiting opponents to second-chance opportunities more often.
"In Madison, I thought we played pretty good defense for the most part," Novak said Friday. "At the end, there were a few miscues, but almost the whole game, we were on. If we keep doing that, we're going to be in a good position."
• Big Ten statistics