Posted on
Tue, Apr 10, 2012 : 11:52 p.m.
Zack Novak and Stu Douglass cap their Michigan basketball careers at team banquet
By Nick Baumgardner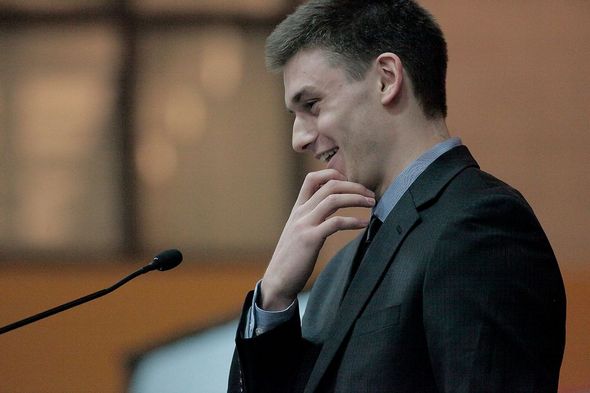 Chris Asadian | AnnArbor.com
Stu Douglass talked longer than he wanted, and Zack Novak made fun of him for it.
Douglass, a team co-captain and one of the core members of John Beilein's Michigan basketball rebuilding project, took to the podium Tuesday at the William Davidson Player Development Center hoping to keep his speech short.
Some 18 minutes later, he admittedly failed.
Seconds after that, Novak, Douglass' partner in crime for the past four seasons, complimented his fellow captain in a way both could appreciate.
"How about Stu," Novak said with a smile. "My man had a heck of a (thank you) list up here.
"I want to start off by thanking my childhood dog."
Novak and Douglass both got the opportunity to offer their final goodbyes, standing just a few feet from the school's first Big Ten regular-season championship trophy since 1986.
The duo both offered individual speeches as part of the team's season-ending banquet, following addresses from fellow seniors Ben Cronin and Corey Person.
U-M BASKETBALL BANQUET

A pair of underdogs from the start of their college career, Novak and Douglass' messages Tuesday were quite similar, even if they differed in length.
Douglass, who finished his career as the school's all-time leader in games played, thanked just about everyone who has a hand in the Wolverines' program.
From Beilein and his staff to longtime equipment manager Bob Bland. He thanked his mother and father, his brother and sister and even close friend and former player Colton Christian, who was in attendance despite his decision to transfer from the program last month.
"Recruiting's fun when you're in high school, but it can be a really stressful experience," Douglass said. "You never know who's going to offer you (or who's watching you), but Coach Beilein was there throughout the entire time. He always talked with me, he was always honest with me and words can't describe how forever grateful I am."
Douglass entertained the crowd with various stories from his lengthy Michigan career, including the first drill he ever ran in a Wolverine practice, one that he said resulted in Beilein labeling him "as soft as a Sunday ham."
Beilein would later correct Douglass, four years later, saying the expression was "as soft as a Sunday hymn."
He also told tales of his times with current teammates and former players, notably David Merritt and C.J. Lee.
And, in the end, left the stage with with memories of his current teammates.
"I've never (been part) of a team so close," he said. "The friendships I've made (here) are just amazing."
Novak, meanwhile, echoed many of Douglass' thankful sentiments, referring to his Michigan career as a "dream" several times.
"You have that day, and it comes and the day you dreamt about is yesterday and now you're only left with memories," Novak said. "I don't know how many guys in the country can have the biggest improvement of their career between their junior and senior year, it's unheard of.
"(My teammates) are awesome, they put up with me yelling at them all the time."
Novak also offered special messages to Cronin and Person, and last, but not least, Douglass.
"The one thing I've learned about Stu is that he's so comfortable and he really doesn't care what people think about him," Novak said. "The shot he hit against Michigan State last year (in East Lansing), if he doesn't make that shot, this (trophy) might not be sitting here."
After combining to play 270 games, netting 81 wins in the process, Novak and Douglass said their final goodbyes Tuesday.
They talked about their ups, downs and in-betweens.
But with his final words, Novak summed up the one thought he and his co-captain will likely always be remembered for.
"Those who stay will be champions," Novak said. "I want to thank my team for sending myself and the other seniors out the right way. We got the ring, we got the trophy.
"And Michigan basketball is back."
Nick Baumgardner covers Michigan basketball for AnnArbor.com. He can be reached at 734-623-2514, by email at nickbaumgardner@annarbor.com and followed on Twitter @nickbaumgardner.
Want to stay connected to Wolverine basketball in your Facebook newsfeed? "Like" AnnArbor.com's Michigan Basketball News & Views.