Posted on
Wed, Feb 15, 2012 : 12:47 p.m.
Zack Novak discusses his role in bringing Mitch McGary to the Michigan basketball program
By Nick Baumgardner
Michigan basketball captain Zack Novak has been a Mitch McGary fan for quite some time.
High school teammates once upon a time in Chesterton, Ind., Novak saw the potential in McGary's game long before any recruiting analyst or college scout ever did.
Back then, McGary was just a kid Novak continually kicked in the pants.
"God bless him, but I wanted to wring his neck," Novak told reporters Tuesday. "I saw a kid with so much potential and raw talent that really wasn't using it.
"Even when I (got to Michigan), I'd go home to see how he was doing, talk to him and say 'Mitch, you've really got a good shot here, you should get this going.'"
McGary, who eventually transferred from Chesterton High School to Brewster Academy in Wolfeboro, N.H., finally listened to Novak's pleas, going from a tall, skinny kid (roughly 160 pounds, by Novak's estimation) into a hulking 6-foot-11, 260-pound five-star power forward.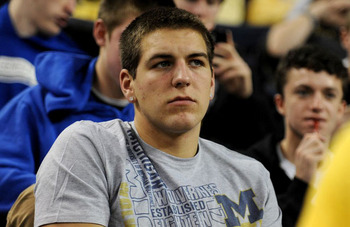 Angela J. Cesere | AnnArbor.com
And thanks to an assist from Novak, the Michigan basketball program will get to reap the benefits of that transformation.
"Thank God," Novak joked. "We finally got a good player from Chesterton."
McGary, rated as a five-star prospect by both Rivals and Scout, chose Michigan over Duke and Florida last November, giving the Wolverines their first serious big man prospect in more than a decade, and giving Novak even more reason to watch his soon-to-be alma mater next season.
"That was cool, for me, just because I've known Mitch forever and I can remember Mitch from high school," Novak said. "I had no idea he'd blow up like he has, but just to have someone else from my hometown to pass the baton to and just kind of say 'here you go, it's you now, take care of it.'"
Before Novak ever began recruiting McGary to Michigan, he first had to convince Wolverine coach John Beilein of McGary's potential.
During his sophomore season at Michigan, Novak said he urged Beilein to give McGary a look, telling him "trust me, he's not there yet, but he's going to blow up."
McGary did in fact "blow up," and Beilein eventually found himself in a national recruiting battle for the big man's services.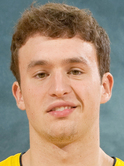 Novak stayed in McGary's ear the whole time.
"I just told him the whole time, 'look, I actively recruit for Michigan and have helped get a lot of our guys here, but we go back much further than that,'" Novak recalled. "'I'm not going to tell you to go into a bad situation, I know what's at stake, I'm not going to tell you to come here just because.'"
The push from Beilein and Novak eventually paid off, and McGary ended his highly-publicized recruiting process by giving Michigan a commitment live on ESPNU just before the signing period began.
Novak will never have the opportunity to share the Crisler Center court with his former high school teammate, but he doesn't mind. The Wolverines have another "Michigan Man" from Chesterton, Ind.
And Novak can't wait to see him play.
"It's no secret, we could use the help on the boards," Novak said. "Big guys like that are tough to guard, he's someone who's 6-foot-11 and can shoot and he's going to get wide open.
"You get a guy like that with talent in space, (and Beilein's system) will definitely benefit him."
Nick Baumgardner covers Michigan basketball for AnnArbor.com. He can be reached at 734-623-2514, by email at nickbaumgardner@annarbor.com and followed on Twitter @nickbaumgardner.
Want to stay connected to Wolverine basketball in your Facebook newsfeed? "Like" AnnArbor.com's Michigan Basketball News & Views.