Posted on
Tue, Jul 17, 2012 : 9:30 a.m.
Zack Novak gives Michigan basketball stars Trey Burke and Tim Hardaway Jr. leadership advice: 'Be yourself'
By Nick Baumgardner
Zack Novak remembers what it felt like to be told how to lead.
After taking over as captain of the Michigan basketball team as a sophomore in 2009-10, a young Novak listened to countless people inside and outside the program give him lessons on how he should lead his club.
"Everyone wanted me to be (former captains) C.J. (Lee) and David (Merritt)," Novak recalled. "They told us to be more like C.J. and Dave so much, and I don't think I ever became a good leader until I realized I didn't need to be C.J. or Dave.
"I needed to be Zack."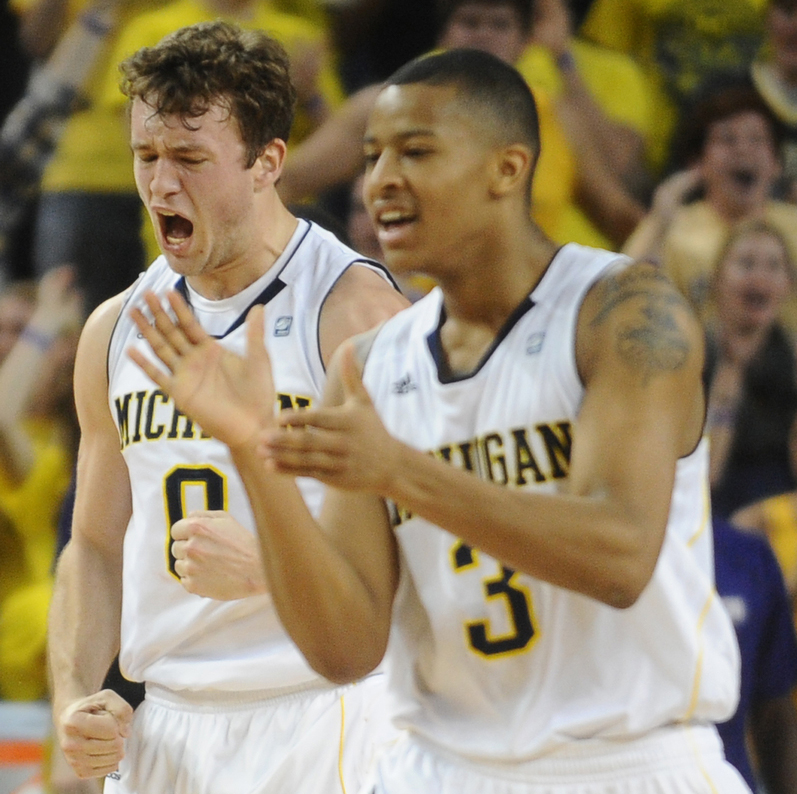 Melanie Maxwell I AnnArbor.com
Novak's realization went on to pay big dividends for the Wolverines, as his three-year reign as team captain will likely go down as one of the more memorable runs by a Michigan leader in program history.
But he's gone now, and so is fellow former captain Stu Douglass.
Michigan will enter the 2012-13 season with arguably its most talented roster in more than a decade -- but it won't have a proven leader.
Most have pointed to the team's two best players, Trey Burke and Tim Hardaway Jr., as obvious successors to the Wolverine leadership throne. But neither has any history at being a vocal general on and off the court at the college level.
Novak didn't either in 2009-10, and the result that season reflected it -- as a highly-touted Wolverines club limped to a 15-17 record.
The former Michigan captain believes Burke and Hardaway can handle their leadership roles better than he did during the early portion of his sophomore year, but they'll have to abide by the advice he wishes he'd found sooner rather than later.
"You've got to have credibility with your guys," Novak said. "If all of a sudden Trey Burke starts acting exactly like I was, everyone's going to look at him and say, 'dude, you're full of it.'
"They need to find what works for them."
Whether or not Hardaway or Burke are elected as captains next season remains to be seen. Michigan has experienced role players like Matt Vogrich and also features well-respected walk-ons Josh Bartelstein and Corey Person.
But no one on the roster will see more of the spotlight than Burke or Hardaway. And fair or not, they'll be expected to lead.
It's a responsibility both say they're more than willing to shoulder.
"It's been different (without Novak or Douglass) around," Burke said. "We relied on them so much last year to be the main leaders, and now that they're gone, I know I have to step up.
"Tim's already stepped up. Matt Vogrich, Blake (McLimans), we have a lot of good leaders and a lot of experience."
Hardaway's in the same boat as Burke, and has already shown off-court signs of maturity and growth.
He was the first player to burst into applause this spring when Burke was announced as the team's most valuable player, and he attended his backcourt mate's college return announcement in April as a sign of support to both Burke and the entire program.
Hardaway has talked about leadership almost as much as he has his on-court game this offseason, showing he's more than ready to give it a try.
How successful will he be?
That's the tricky part.
"I've turned a corner (growth-wise)," Hardaway said. "The coaches expect a lot from myself (and the veterans), and from Trey after the wonderful season he had last year.
"Everybody is (working like) their backs are against the wall right now. Everyone's trying to prepare for this season the right way, not rush anything and focus on getting better."
Nick Baumgardner covers Michigan sports for AnnArbor.com. He can be reached at 734-623-2514, by email at nickbaumgardner@annarbor.com and followed on Twitter @nickbaumgardner.