Posted on
Mon, Feb 6, 2012 : 5:59 a.m.
15 notes, quotes and oddities from the Michigan football team's signing day
By Kyle Meinke
The Michigan football team signed 25 recruits last week. A look at some fact, figures, quotes and oddities from the group and their signing day.
1. Going big on defensive linemen
Michigan signed six defensive linemen, a 32-year high. It hadn't signed that many since Bo Schembechler added seven in 1980. By comparison, the Wolverines signed a combined six defensive linemen from 2007-09.
2. Five-star trenches
Michigan nets two five-star linemen (DT Ondre Pipkins, OT Kyle Kalis) for the first time since 2006, when it signed four: offensive linemen Stephen Schilling and Justin Boren and defensive linemen Marques Slocum and Brandon Graham. Schilling and Graham went on to become two of the program's past three NFL draft picks.
3. Unique Ute
Michigan had featured only one player from the state of Utah since 1906 before adding fullback Sione Houma on Wednesday. Houma, of Salt Lake City, is the first native of that state to join the Wolverines since linebacker Jeff Holtry in 1994 (he later transferred to BYU).
4. Signing-day additions
Tailback Dennis Norfleet committed to Michigan shortly after midnight Wednesday morning, making it five consecutive years the program has landed a signing-day prospect. Most notable among them? Some guy named Denard Robinson in 2009.
5. Late add, early play?
Norfleet actually could be last to enter the class, and first to take the field. Hoke indicated the tailback could factor into the return game after Darryl Stonum's dismissal.
6. No couch potato
Offensive tackle Ben Braden said he's never watched a sporting event from start to finish, besides the Michigan games he took in on his recruiting visits. "I just have a short attention span," he said. Strange, but true.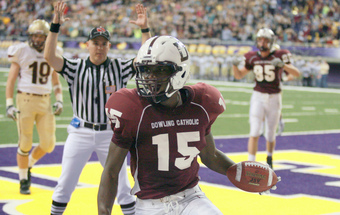 Bill Neibergall | The Des Moines Register
7. African connection
Michigan added two players who were born in Africa, believed to be a program first. Oh, and they both happen to play receiver.
Amara Darboh
was born in Sierra Leone --
amid a civil war that killed his parents
-- and
Jehu Chesson
hails from neighboring Liberia.
8. We're all good
Coach Brady Hoke, always lending a helping hand to the media: "I know none of you will ask the question, 'Is this a good class?' because it is. We don't try and recruit bad classes. But I've been asked that before, so I was hoping to save anybody an embarrassment."
9. Offensive line's future
Kyle Kalis, Ben Braden and Erik Magnuson each project to play offensive tackle. Of the three, Kalis would be most likely to move to guard, but position coach Darrell Funk said Kalis remains set on playing tackle.
10. Michigan connection
Seven of the state's top-10 players signed with Michigan. Two pledged to Michigan State (including No. 1 Aaron Burbridge, although there's concern he won't qualify academically), and one landed at Tennessee (former Michigan target Danny O'Brien). Running backs coach Fred Jackson is the Wolverines' primary recruiter in the state.
11. Funchess getting closer
Tight end Devin Funchess is a talented pass-catcher, but was considered a long-shot to see the field next year because he weighed just 205 pounds. However, Hoke said the Farmington Hills native already has put on about 15 pounds. Funchess still is less likely than classmate A.J. Williams to see the field in 2012, but he's certainly closer than originally thought.
12. Hoke goes old-school
Hoke procured a top-10 class, and apparently did it without the benefit of modern conveniences such as Facebook, Twitter -- and even email. He told AnnArbor.com that he does have a joint email account with is wife, Laura, although he doesn't know the password.
13. Love for Ohio
Top defensive line recruit Ondre Pipkins, on facing Ohio State offensive line recruit Kyle Dodson during a radio interview with WTKA: "He ran away from me. That's what they do. They run their mouth, and then when they meet up with the belly of the beast -- I call myself that because I am -- then they want run away. When it comes to reality, they want to run away." Pipkins also said another Buckeyes recruit, Tommy Schutt, "ate turf. Yeah, he ate turf the whole time."
14: Roster outlook
As the roster currently stands, Michigan has 18 scholarships for 2013, two of which have been spoken for by quarterback Shane Morris and safety Dymonte Thomas.
15: Early start
How does Michigan celebrate its 2012 class? By starting on 2013. It already has offered 30 of ESPN's top 100 players, according to Tom VanHaaren, a recruiting analyst for WolverineNation.
Kyle Meinke covers Michigan football for AnnArbor.com. He can be reached at 734-623-2588, by email at kylemeinke@annarbor.com and followed on Twitter @kmeinke.