Posted on
Fri, Nov 11, 2011 : 5:59 a.m.
65 points allowed? Michigan out to prove it plays a different brand of football in Illinois rematch
By Kyle Meinke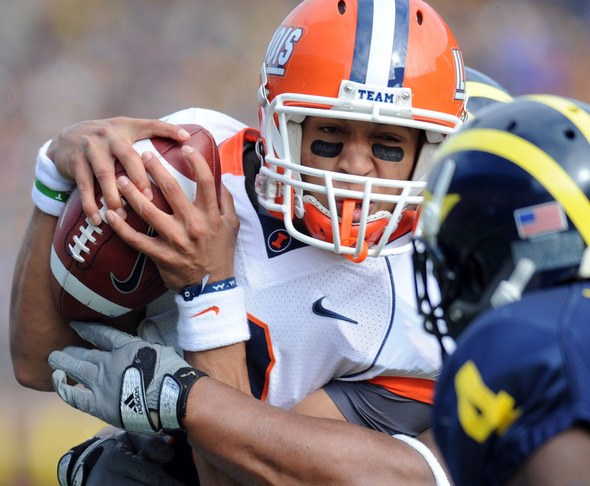 Melanie Maxwell | AnnArbor.com
Sixty-seven. Sixty-five.
Two numbers you're not likely to see this weekend — or better not see, for the safety of Michigan football players.
The Wolverines won a memorable, triple-overtime game last year by that score against the Illini — and were thrilled with the victory, considering it qualified them for their first bowl game under former coach Rich Rodriguez.
If they give up 65 points in the rematch Saturday (3:30 p.m., ABC), though, players better duck for cover.
Coach Brady Hoke and defensive coordinator Greg Mattison have renewed Michigan's dedication to defense this year, and it's paying off. The Wolverines are holding opponents to the seventh fewest points per game (15.7) in the country.
They gave up 35.2 points per game last year, a program record, and bottomed out by allowing a school-worst 65 against Illinois.
The Wolverines are trying to close the books on that one.
"We haven't really talked much about that because we know we're a new defense," senior defensive lineman Mike Martin said this week. "We have a new mindset. We, all around, are just different as a team. We know what we're capable of as a defense."
Illinois tailback Mikkel Leshoure, who scored five touchdowns after the start of the fourth quarter in last year's game, is gone. However, quarterback Nathan Scheelhaase returns after throwing for 211 yards, running for 101 more and accounting for four touchdowns.
Oh, and he's better, too. The sophomore is completing 63.9 percent of his passes this year, up from his 58.7-percent clip last year.
Scheelhaase also gets to throw to senior A.J. Jenkins, the Big Ten's top receiver at 68 receptions for 1,030 yards and seven touchdowns. Mattison said he would like to double-team him, but cannot because of personnel limitations.
"We have some things that we have in mind for him, but for me to tell you we are going to double him or take him out of the game? I wish I could say yes on that," he said.
Michigan's defense will have its hands full, but also is more equipped this year to handle such an offense.
The thing is, Illinois is a different team as well.
The Illini, who finished 48th nationally in scoring defense last year, have soared to 13th this year, tucked just behind Michigan. They allow 17.2 points per game.
They also lead the Big Ten in sacks, with their 3.44 per game average more than a half-sack better than anyone else. Whitney Mercilus has nearly twice as many sacks (11.5) as the next closest player in the league — and that player happens to be teammate Michael Buchanan.
Those two play defensive end, and figure to give Michigan's haggard offensive line fits.
"They're both very athletic ends," Hoke said. "They do a lot with them. They take advantage of what they do well."
Much of what Illinois does defensively revolves around the blitz. Left tackle Taylor Lewan said that philosophy is similar to what San Diego State did in Week 4.
"They've got a lot of coverage, a lot of different fronts," Hoke said. "A lot of different zone blitzes and man blitzes. It'll be interesting to see how they want to (attack) our offensive linemen."
Another team that liked to bring a lot of blitzes was Michigan State, and it had tremendous success against the Wolverines, who scored a season-low 14 points and allowed seven sacks in that game.
The Wolverines lost that one on the road, then lost at Iowa last week and are 1-2 on the season away from Michigan Stadium. They'll look to reverse that trend Saturday in what could become a defensive tussle.
A far cry from last year.
Kyle Meinke covers Michigan football for AnnArbor.com. He can be reached at 734-623-2588, by email at kylemeinke@annarbor.com and followed on Twitter @kmeinke.