Posted on
Wed, Feb 22, 2012 : 5:59 a.m.
8 storylines to watch at this week's NFL Combine in Indianapolis
By Kyle Meinke
The Michigan football team will be represented by three players at the NFL Combine, each of whom could rise in the draft with a stirring performance.
Or fall, with a flat one.
It should make for an interesting weekend.
The Wolverines will host a pro day March 15, but the combine will be the last chance for center David Molk, defensive tackle Mike Martin and receiver Junior Hemingway to audition for all 32 NFL teams. (Not to mention a national TV audience and several hundred credentialed media members.)
Here is a look at eight storylines we'll be tracking this week from Indianapolis:
1. The bench press

Molk and Martin aren't shy guys. So it comes as no surprise they have the aplomb to express their intent not only to out-bench everyone else, but to out-bench everyone else in the history of the combine. Oregon State's Stephen Paea set the record last year, repping 225 pounds 49 times, and parlayed the performance into a second-round pick. Molk and Martin would be satisfied with that kind of draft spot -- especially Molk, who benches Saturday. Martin, whose turn is Monday, already has posted 40 reps and that was before undergoing combine training with Mike Barwis, which he says has him in the best shape of his life. But will it be enough to get to 50?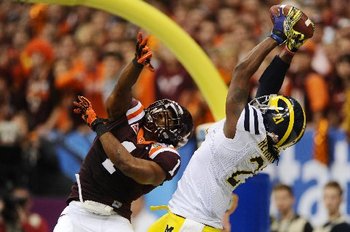 Melanie Maxwell I AnnArbor.com
2. Will Hemingway get drafted?
It raised some eyebrows when Hemingway was selected for the NFL Combine -- particularly when considering tight end Kevin Koger, a strong candidate to be taken in the later rounds, was not. (It's important to note that Hemingway didn't take a spot from Koger. The combine chooses a varying number of players for each position, not just the top 318 overall prospects). Twenty-eight receivers were taken last year, and Hemingway's most promising projections appear to be in the low 30s, pending the combine.

3. Molk's rehab progress

Molk has an interesting draft case. On the one hand, he's the nation's top college center. On the other, he's short -- which likely pigeonholes him into a zone-blocking scheme -- and injured, after having surgery Jan. 13 to repair a torn tendon in his right foot. He's now sustained four injuries to his right leg, and said he knows he will face questions about that history. The surgeon who performed Molk's latest procedure will be in Indianapolis, and could speak to teams about the center's latest injury and rehab.

4. Martin's overall combine numbers

Martin currently is ranked the 10th defensive tackle according to CBS Sports and 13th according to ESPN, but here's betting his stock gets a boost after the combine. He's poised to post monster numbers across the board, as he's already benching 505 pounds, squatting more than 700, power cleaning 430, hang cleaning 475 and runs the 40-yard dash in 4.9 seconds. He could finish in the top five of every category at his position.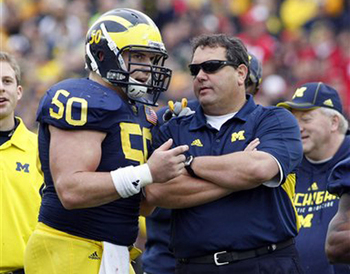 5. Big Ten is center of attention
The top three centers according to ESPN's Mel Kiper Jr. each hail from the Big Ten: Peter Konz (Wisconsin), Mike Brewster (Ohio State) and Molk. The league might not have placed a player among the past 34 top-10 selections, but it is the premier producer of centers lately. The first two taken in last year's draft also hailed from the Big Ten.

6. Hemingway's 40-yard dash

Hemingway was Michigan's biggest threat at receiver last year after finally putting together a healthy season. However, his numbers, both for last year (34 catches for 699 yards and four TDs) and his career (88 catches for 1,638 and 11 TDs), will not stack up favorably with other wideouts vying for a late-round pick. He has terrific size, and it comes at a time when teams are beginning to favor size over speed. However, Hemingway's biggest knock is a perceived lack of speed. A strong performance in the those drills would do more for his stock than anything else.

7. Can Molk overcome the Rimington curse?

OK, it's too strong to call it a curse, but it has been a bad run for winners of the Rimington Award, which is given to the nation's top center. Only one of the past seven Rimington winners was drafted before the fourth round, and only two were taken before the seventh round. In fact, more winners went undrafted (three) than were taken in the first six rounds during that stretch.

8. Around the Big Ten

The Big Ten is expected to send 45 players to the combine. They break down this way: Wisconsin 8, Penn State 7, Iowa 7, Michigan State 6, Ohio State 4, Illinois 4, Nebraska 4, Michigan 3, Northwestern 1, Purdue 1.
Kyle Meinke covers Michigan football for AnnArbor.com. He can be reached at 734-623-2588, by email at kylemeinke@annarbor.com and followed on Twitter @kmeinke.