Posted on
Sat, Nov 20, 2010 : 6:24 p.m.
A 2-3 punch: With Wisconsin star John Clay out, James White and Montee Ball dominate for the Badgers
By Michael Rothstein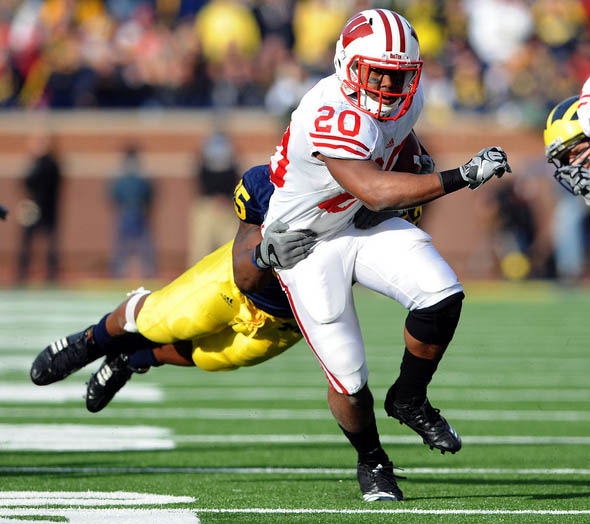 Melanie Maxwell | AnnArbor.com
When Montee Ball arrived at Wisconsin, he saw a contraption and didn't know what to make of it. It had arms, two dummies and was named "The Blaster."
Ball and Wisconsin's running backs were told to run through the dummies and the arms in an attempt to simulating breaking tackles.
On Saturday against Michigan, the sophomore Ball and freshman running back James White turned the Wolverines' defense into a 100-yard long version of the practice device.
"We just imposed our will on them," Ball said. "And the offensive line did a good job with the blocks."
Good job might be an understatement. Wisconsin ran for 357 yards in a 48-28 thrashing of Michigan - the second time this season the Wolverines have allowed more than 300 yards rushing. But how Wisconsin did it was damning.
The Badgers essentially telegraphed what was coming, at one point running the ball 28 times in a row. Michigan couldn't do anything to stop it.
Ball had 29 carries for 173 yards and four touchdowns. White had 23 carries for 181 yards and two touchdowns.
Consider, too, Wisconsin's starting running back, potential Big Ten Player of the Year John Clay, missed the game with an injury.
"It's real frustrating," Michigan linebacker Kenny Demens said. "Kind of pre-snap, 'OK, I have to do this.' But then they go for 10 yards, and you're like 'How did that happen?'
"It's frustrating. It really is."
Wisconsin's success comes from that it has run the same type of offense forever. And this year's group of backs complement each other.
Clay, who didn't play, is a bruiser. Ball is a tough runner who fights for extra yardage. White is a speed back who often beat Michigan to the edge Saturday, including once on a 61-yard touchdown run where he was untouched by a defender.
This is all helped by an experienced offensive line that runs pulling blocking schemes to free linemen to block for backs downfield.
How obvious was Wisconsin's game plan?
After the game, when asked about running 28 times in a row in the second half, Badgers coach Bret Bielema joked, "We were setting them up for play-action."
It didn't matter that Wisconsin quarterback Scott Tolzien completed 14 of his 15 passes and threw for 201 yards.
The Badgers didn't need it.
"I got on (the headset) and said 'Hey, they can't stop your run game,'" Bielema said. "Point blank. There wasn't anything they could do to slow that down."
None of this is new for Michigan. The Wolverines have allowed seven other players to run for more than 100 yards this year.
Ball and White made that number nine and gave Bielema a pretty easy recruiting pitch.
The two may be underclassmen and around for a while, but Wisconsin continues to produce good runners.
"It allows us to recruit running backs," Bielema said, smiling. "And you know what, I get excited. To see the smiles on their faces and to realize one is a true freshman and other is a sophomore.
"It's a pretty good feeling when your All-Big Ten player is sitting on the bench, it feels good."
Except if you're at Michigan.
Michael Rothstein covers University of Michigan basketball for AnnArbor.com. He can be reached at (734) 623-2558, by e-mail at michaelrothstein@annarbor.com or follow along on Twitter @mikerothstein