Posted on
Fri, Oct 1, 2010 : 9:10 a.m.
Big Ten Networks' Charissa Thompson impressed with Denard Robinson's start, Ohio State and the city of Madison
By Michael Rothstein
Charissa Thompson has been with the Big Ten Network since its first football broadcast - Appalachian State at Michigan in 2007. Since then, she's been across the league for football and basketball games.
She's also done NHL hockey on Versus, covered the World Cup for Yahoo! and is a sideline reporter for NFL games.
AnnArbor.com caught up with Thompson as she headed from Dallas to Champaign, Ill., where she'll be on the sidelines for the Ohio State-Illinois game Saturday.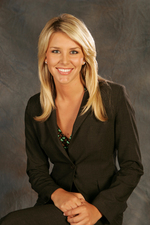 Q: What's your general impression of the Big Ten this year?
Charissa Thompson: Huge teams and huge balance. Obviously, the play of Denard Robinson, in your backyard, has been very impressive and the numbers he's been able to put up, 57-of-80 passing with four touchdowns and one interception, including the fact what he's able to do with his speed, he's been electric. The numbers he has put up and adding that spark in a year that Rich Rodriguez was definitely on the hot seat, so that's been impressive to watch. As we continue into conference play, it'll be interesting. I was talking to Eddie George, and he said Indiana will scare Michigan. I'm kind of like, 'I guess that they are both undefeated, but make your argument.' It's just kind of this unknown, but even with these performances, Iowa was supposed to be very good and then they dropped one at Arizona. So it's hit or miss. With Penn State, I think it'll be an interesting matchup with the Iowa game. Penn State, covering them last week, their inefficiency in the red zone, they had to settle for a lot of field goals. And granted, it's a true freshman quarterback for the first time in the Joe Paterno era, but at the time that field gets shorter and teams get quicker, and he didn't seem to know what to do. I'll be interested to see that matchup.
To sum it all up, my impressions so far of the Big Ten, it's been peaks and valleys. Ohio State has looked impressive with the exception of special teams, but they have lived up to the hype. Denard Robinson has lived up to the hype and we'll see going forward. Conference play starts, and that's what it's all about. The non-conference season had blowouts, but I'm looking forward to seeing conference play early separate the good from the bad as we move forward in the conference that has been highly touted this year.
Q: Who, be it a player or team, has surprised you the most this year?
CT: Denard Robinson. I say that because last year I only had a handful of Michigan games, but Tate Forcier was the guy. Denard came in on short yardage or Wildcat situations where they needed his legs or needed something to happen. But in the games I covered, it was interception, interception, interception, interception. ... I haven't sat down and talked to him or Rich Rodriguez, but I don't know where the poise, especially in the pocket, he's not a pocket guy, but the situations he is in the pocket, he stands in there. It's similar to Michael Vick in the way that even if the line doesn't have the experience, he sits there and takes it. ... He definitely has surprised me in terms of his ability this year. I saw him a couple times last year, but it wasn't in a spotlight role, that's for sure.
Q: Is Ohio State is still the clear favorite to win this league?
CT: I don't think you can go against their numbers and what you've seen so far. The proof is in the pudding is what they say, right? They haven't done anything, their performance against Miami, which was a question mark early in the season and they put that on the schedule, of course they make the schedule years in advance but that was definitely a situation to see how good they could be this year. A team like Miami, that's not Big Ten football, that's SEC-style even though they aren't in the SEC, if you know what I mean. Performing, and they have not performed well against the SEC before, but that was as close as they were going to get with that. Jacory Harris shot himself in the foot with turnovers, but Ohio State as a team performed well going up against a team like that, so I don't think you can put your money against a team like Ohio State. They put up the numbers, and I think Terrelle Pryor has matured as a quarterback, and you can see that. Jim Tressel has a ton of confidence in him, especially late in the game. But again, a quarterback in a goal-line situation, red zone decision making is still not as efficient as you'd like it to be, and there are still question marks on the special teams, but I'm sure they'll get ironed out sooner than later with that group.
Q: This question might get you in trouble but what's your favorite stop in the Big Ten? You've been to more places in the league than a lot of people at this point.
CT: I love going to Columbus. Columbus has a big-city feel. I like Ann Arbor because it's quaint and cute and I like going to Madison, Wisconsin, because it's a fun school and it's got that college atmosphere. You have to keep in mind, I went to school in Santa Barbara. The school was amazing, but it was no Madison, Wisconsin, type of environment. That's everything that a college is in terms of what a college is.
In terms of game-time atmospheres, I have yet to be in the new Big House, but the Big House and the Horseshoe are still going to be my clear front-runners because you can't beat that atmosphere.
Q: Following that vein, you've covered a lot of sports, had a lot of experiences. What's been the most interesting thing you've ever covered?
CT: The biggest surprise will always be the first game I did overall for the Big Ten Network, and the first game on the network was the Michigan-Appalachian State game. So the expectations of that year, the conference as a whole and the launch of the Big Ten Network, I'll never forget joking in the car with Thom Brenneman and Charles Davis. They had just come off doing the national championship game and Boise State-Oklahoma and Statue of Liberty and all the trick plays and all of that in those games. Now they are heading into a game on a new network, and we're driving there and it's all about Michigan and all the highly touted players they have, the Chad Hennes and Mike Harts and Jake Longs. Its like OK, it's going to be a huge day for the Wolverines. Then the car ride home was like, 'Wow, what happens now?'
We get in the car and they were like 'Charissa, how was that game for you?' I'm like, 'Well, that was my first-ever sideline gig.' So I'd say it's right up there. I know it's not a fond memory for the Wolverines, but it was interesting in a sense that if the Wolverines had hung on they would have gone to Oregon next week, would have won there. Both LSU and Ohio State, they entered the national championship with one loss. So it's interesting to see how early-season losses are forgettable in the BCS system as opposed to later on.
.. All things considered and not being too far removed from what you're asking, doing a game like that, a huge upset. I look at the NFL and the Chicago-Detroit game a couple weeks ago, the non-Calvin Johnson call - good call, bad rule - and now the Bears are 3-0 and are they the best team in the NFC. It's all these different scenarios, but whose to say that one call does there. I covered Game 7 of the NHL playoffs last year with Montreal and Washington. I did Game 7 last year with Pittsburgh and Montreal there. There's different scenarios for great games.
Michael Rothstein covers University of Michigan basketball for AnnArbor.com. He can be reached at (734) 623-2558, by e-mail at michaelrothstein@annarbor.com or follow along on Twitter @mikerothstein