Posted on
Sat, Oct 22, 2011 : 5:59 a.m.
A fuel check of Michigan's future opponents as the Wolverines sit idle
By Kyle Meinke
With the Michigan football team sitting idle today, it seemed like a good time to take a look at the Wolverines' five remaining regular-season opponents.
PURDUE

Record: 3-3, 1-1 Big Ten

Remaining schedule: vs. No. 23 Illinois, at No. 18 Michigan, at No. 4 Wisconsin, vs. Ohio State, vs. Iowa, at Indiana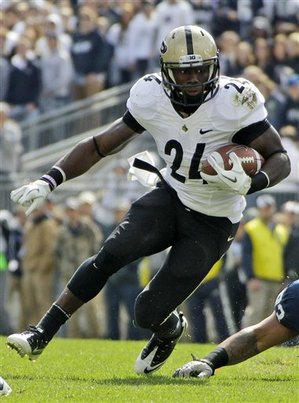 AP Photo
The gist:
The Boilermakers feature the league's most-improved offense this year, averaging 400.8 yards per game, and will try to ride it to their first bowl game under coach Danny Hope. To do so, though, Purdue will have to navigate at tough home stretch this year. It plays at Michigan and Wisconsin, then at home against Ohio State and Iowa before closing at rival Indiana.
Offensive outlook: Purdue features a running game that ranks 24th nationally with 206.5 yards per game. Its tailback tandem of Ralph Bolden and Akeem Shavers has combined for 666 yards, and both average more than 5 yards per carry. Bolden had 97 yards on 13 carries against Penn State last week. ... Junior quarterback Caleb TerBush has completed 61 percent of his passes for 949 yards and six touchdowns in six games.

Defensive outlook: One of the keys to Purdue's improved play is its revamped defense. The Boilermakers gave up 551 yards against Notre Dame, but pared that to 213 against Minnesota and 367 against Penn State. ... The key defensive lineman has been Kawann Short, a junior who leads the team with six tackles for loss and two blocked kicks.

The uptake: Purdue is improving. It also lost to Rice, was blown out by Notre Dame and needed a blocked field goal to beat Middle Tennessee by three points at home, so improvement couldn't have been hard to come by. The Boilermakers run a spread offense much like Northwestern's, and the Wolverines made sound adjustments against the Wildcats (24 points allowed in first half, zero in second). That experience could help them gain edge containment, with which they struggled last week against Michigan State. Expect to see plenty of stock 4-3 and Jake Ryan from Michigan.

Quotable: "We're more aggressive," cornerback Ricardo Allen told the AP of Purdue's improved defense. "We've stopped complaining. People at first were saying they're not too comfortable with the plays, and it's not always the plays because if it's a bad play, a swarm defense will always make a play better. We put that into our heads that we swarm more and make more tackles, we'll be better."

Way-too-early prediction: Denard Robinson completes more than half his passes, runs for more than 150 yards and Michigan makes a statement after its loss to MSU. Michigan 38, Purdue 13


IOWA

Record: 4-2, 1-1 Big Ten

Remaining schedule: vs. Indiana, at Minnesota, vs. No. 18 Michigan, vs. No. 15 Michigan State, at Purdue, at No. 13 Nebraska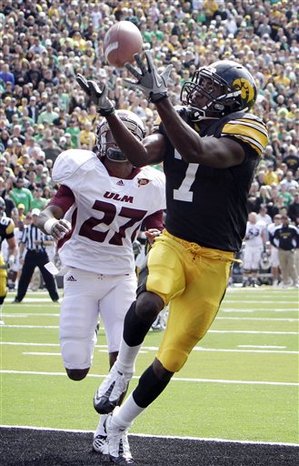 AP Photo
The gist:
This is not your typical Iowa team, as the Hawkeyes have struggled to run the ball and their defense has not gotten off the field (80th in the country in yardage allowed). They've lost to Iowa State and scored only three points in a loss to Penn State. Still, Iowa showed in a 41-31 win last week against Northwestern it still packs enough punch to hang tough in the weak Legends Division.
Offensive outlook: The good: Receiver Marvin McNutt is on pace for his best season yet, leading the Hawkeyes with 35 catches for 573 yards and five touchdowns, and he ranks third in the Big Ten in receiving yards per game. The bad: Iowa ranks last in the Big Ten in rushing offense at 133.5 yards per game.

Defensive outlook: The Hawkeyes are giving up third-down conversions to the opposition at a 51-percent clip, which ranks 11th in the Big Ten and 111th in the country. Overall, they are allowing 23.2 points per game, which is eighth in the conference. ... Iowa's pass defense is one of its biggest weaknesses, allowing 253.2 yards per game, 11th in the conference. ... Sophomore linebacker James Morris is the team's best defender. He leads the Big Ten with 10.6 tackles per game.

The uptake: The Hawkeyes have been erratic, and their defense limpid. Worst of all has been their third-down defense, which plays into Michigan's favor. The Wolverines convert at a 50.6-percent clip, which is 15th in the country despite last week's ghastly performance. Yet, Kinnick Stadium always has been a tough place to play. The last time the Wolverines played there, they lost 30-28 and quarterback Denard Robinson, then a freshman, threw a pick in the final minute to seal their fate.

Quotable: "If we're playing good defense, at least we have a chance to be competitive," coach Kirk Ferentz said. "To try to outscore people all the time, that's a challenge."

Way-too-early prediction: Michigan dominates time of possession, but Robinson makes enough mistakes to keep it close. Michigan 31, Iowa 21


No. 23 ILLINOIS

Record: 6-1, 2-1 Big Ten

Remaining schedule: at Purdue, at Penn State, vs. No. 18 Michigan, vs. No. 4 Wisconsin, at Minnesota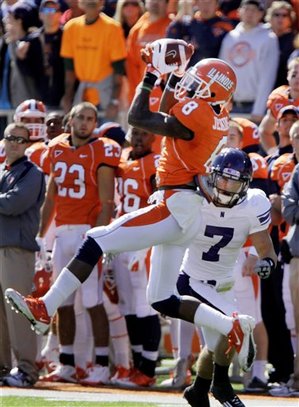 AP Photo
The gist:
Two weeks ago, the Fighting Illini were unbeaten and looked as though they would be a contender that could hang with Wisconsin in the Leaders Division. Then, they lost to Ohio State, despite the Buckeyes attempting only four passes, and completing one. Now, Illinois will need to get back on track today at Purdue, or it will fall out of the race entirely.
Offensive outlook: Wide receiver A.J. Jenkins leads the nation with 895 yards receiving, which should challenge Michigan's improved secondary. ... Dual-threat quarterback Nathan Scheelhaase ranks second in the Big Ten in passing efficiency with a 158.8 rating, and he leads the Fighting Illini with 396 yards rushing. ... Illinois averages 424 yards per game and scores 30.7 points per game.

Defensive outlook: End Whitney Mercilus leads the nation with 10 sacks and five forced fumbles, and he also leads the Big Ten in tackles for loss with 13. ... Illinois ranks 12th nationally in total defense.

The uptake: Conventional theory says a team that lost, despite its opponent attempting four passes, could be handled by the Wolverines, themselves one-dimensional on offense. But, this will be a difficult road matchup for Michigan. It hasn't faced a receiver like Jenkins since it matched up with Notre Dame's Michael Floyd in Week 2 — and that didn't end well. The Wolverines' biggest problem, though, will come when they're on offense. After allowing seven sacks against the Spartans, and rushing for fewer than 100 yards for the first time this year, Michigan's offensive line is in disarray. Illinois, on the other hand, leads the country in sacks. Marcilus (10 sacks) has twice as many sacks as the next closest player in the Big Ten — which happens to be teammate Michael Buchanan.

Quotable: "We're not really content with how we played," Buchanan told the AP of last week's loss to Ohio State. "We let them make some really big running plays and we didn't get a turnover to help the offense out."

Way-too-early prediction: The Wolverines, who had a hard time slowing MSU defensive end William Gholston, can't handle Marcilus and Buchanan. Michigan runs well, but can't get it going in the passing game and lose a close one on the road. Illinois 28, Michigan 24


No. 13 NEBRASKA

Record: 5-1, 1-1 Big Ten

Remaining schedule: at Minnesota, vs. No. 15 Michigan State, vs. Northwestern, at Penn State, at No. 18 Michigan, vs. Iowa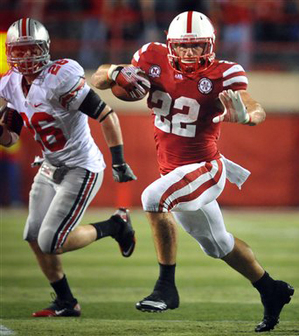 AP Photo
The gist:
The Cornhuskers were believed to feature the Legends Division's best defense, and perhaps the Big Ten's best unit overall, this side of Wisconsin. Instead, it has struggled this season, especially against the run. Nebraska was routed by Wisconsin, then had stage a furious comeback to handle short-handed Ohio State. The Cornhuskers could start to build some momentum this week with a game against bottom-feeder Minnesota.
Offensive outlook: Sophomore quarterback Taylor Martinez already has 584 yards rushing and nine touchdowns, and the sophomore is third in the Big Ten in total offense. He has thrown for another six touchdowns for a run-heavy offense averaging 37 points per game, 22nd in the nation. ... Rex Burkhead is second among Big Ten tailbacks with 105.8 yards rushing per game.

Defensive outlook: The Cornhuskers were expected to have one of the league's toughest defenses this year, but that has not been the case. They have allowed 168 yards rushing per game (10th in the Big Ten and 75th nationally) and have only nine sacks (eighth in the Big Ten and 90th nationally). Now, things actually could get worse after star defensive tackle and three-year starter Jared Crick tore a pectoral muscle. He will miss the rest of the season. His replacement is a redshirt freshman, Chase Rome.

The uptake: When Michigan's on defense, it could struggle against Martinez, who is of the Robinson mold in that he's an acute runner but limited passer. The Wolverines' ability to limit Martinez's ability to get outside will be a key. Another will be Michigan's ability to take advantage of Crick's absence.

Quotable: "We've been our own worst enemy at times," Nebraska coach Bo Pelini said.

Way-too-early prediction: Nebraska has killed itself with mistakes, but appeared to find another gear in the second half last week against Ohio State. This should be a close game, particularly with it being played in Ann Arbor, but Martinez's ability to get to the outside is a big concern, considering what Michigan showed defensively the past two weeks. Nebraska 31, Michigan 30


OHIO STATE

Record: 4-3, 1-2 Big Ten

Remaining schedule: vs. No. 4 Wisconsin, vs. Indiana, at Purdue, vs. Penn State, at No. 18 Michigan

AP Photo
The gist:
The Buckeyes are coming off their best win of the season, a 17-7 victory against No. 16 Illinois, and now have a week to rest up — and work on their wayward passing game. Its been a difficult year for first-year coach Luke Fickell, who has had to deal with waves of suspensions as well as three losses.
Offensive outlook: Ohio State had 55 offensive plays against Illinois last week, and threw the ball on four of them. Quarterback Braxton Miller completed one pass. However, the Buckeyes still were able to pull out the win because of the effectiveness of their running game. Carlos Hyde (408 yards, five touchdowns) and Jordan Hall (321 yards, one touchdown) lead the way, but star Dan Herron now is back from suspension. He had 114 yards on 23 carries last week and will be a force down the stretch.

Defensive outlook: Ohio State played big last week, holding an Illini offense that was averaging almost 450 yards and 34.7 points a game to 285 yards and, until the 6:22 mark of the fourth quarter, no points. The unit has kept the Buckeyes afloat while they sort out their offensive issues. They are allowing just 17.8 points per game.

The uptake: There are two ways to look at Ohio State's win last week: Either this is a very dangerous team, because it can win even when it attempts only four passes, or Illinois is very bad, because it couldn't beat a team that attempted only four passes. It probably is a little both, but the fact remains: Ohio State attempted only four passes. (The more you say it, the easier it becomes to believe). Michigan's ability to improve against the run becomes of paramount importance, then, in this game.

Quotable: "I have heard it a couple times — mostly, it's my friends joking around," Buckeyes point guard Aaron Craft told the AP, referring to people telling him Ohio State could use him at quarterback. "Those guys (on the football team) are doing the best they can."

Way-too-early prediction: Can Michigan finally get over the hump against Ohio State? It won't help the Buckeyes will be at full strength for this game, something it was not for its three losses this year. It also doesn't help that Ohio State features the nation's 12th-best scoring defense. However, after two years of Michigan being the one-dimenional team, it now is Ohio State that is incomplete, as its offense continues to struggle (four pass attempts, anyone?). That means the Wolverines will be able to key on the run, and its offense is good enough to get at least a couple scores against that defense. Michigan 21, Ohio State 17

Kyle Meinke covers Michigan football for AnnArbor.com. He can be reached at 734-623-2588, by email at kylemeinke@annarbor.com and followed on Twitter @kmeinke.