Posted on
Thu, Sep 29, 2011 : 8:22 p.m.
A look at the Big Ten game of the week (Nebraska-Wisconsin) and staff predictions
By Nick Baumgardner
Nebraska football coach Bo Pelini doesn't make schedules. He doesn't want to make schedules and he has really no interest in anyone who does.
So it should come as no surprise that Pelini isn't whining about the fact that his team's Big Ten coronation comes on a Saturday night in Madison against a Wisconsin team that appears to have very few weaknesses.
"You play who they put on your schedule," Pelini said sternly. "We're ready to play."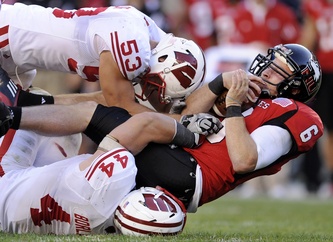 AP file photo
Pelini and No. 8 Nebraska will play their first ever Big Ten Conference game Saturday night at No. 7 Wisconsin (8 p.m., ABC). The Cornhuskers received no favors from the schedule makers this season, as they'll see Ohio State, Michigan State and Iowa at home, and also visit Penn State and Michigan back-to-back in late November.
The bulk of Nebraska's debut conference schedule is brutal, but no game appears to be more daunting than Saturday night's visit to Camp Randall Stadium.
The game will feature a pair of programs that not only look alike in school colors, but also in style of play. Legendary Wisconsin coach Barry Alvarez played at Nebraska from 1966-68, and the parallels between Cornhusker and Badger football remain clear to this day.
"Even before I came to Wisconsin, when coach Alvarez took this place over you could see the similarities between the two," current Wisconsin coach Bret Bielema said. "(We) both believe in running the football, playing great defense, excelling in special teams and conducting ourselves in a first-class manner on and off the field."
It'll be favorite vs. favorite, with Nebraska expected to be the class of the new Legends Division, and Wisconsin standing in front of the Leaders Division.
Neither team has the liberty of easing into conference play, but neither seem to care. This game had to be played sooner or later, and in the Big Ten's new world, it might even have a sequel this December in Indianapolis.
"If you're going to spend that money (for tickets)," Bielema says, "this would be the one that you'd want to see."

B1G PREDICTIONS

Members of the AnnArbor.com sports department are picking the winners of Big Ten football games this season in an attempt to gain bragging rights in our corner of the newsroom. Play along with us by choosing your own winners.
Note: To avoid redundancy, you won't find Michigan's game here. A Michigan-Minnesota poll and prediction will be available Friday.

NORTHWESTERN (2-1) AT No. 24 ILLINOIS (4-0)
Noon, ESPN2
Nick Baumgardner: Illinois is hanging on toward the back of the AP Top 25, but it barely survived Western Michigan and Alex Carder last week. Northwestern should get Dan Persa back, and that's enough for me to pick the upset. Northwestern.
Pete Cunningham: Dan Persa finally makes his triumphant return. Northwestern.
Jim Knight: The Illini are off to their best start since 1951. I can't pick against that. Illinois.
Kyle Meinke: There's some bad blood running between these teams after the Illini proclaimed they were "Chicago's Big Ten team" after beating Northwestern at Wrigley Field last year. It's hard to discount a 'cat in a cat fight. Northwestern.
Rich Rezler: If I knew for sure that Dan Persa will be at 100-percent effectiveness, this pick would be different. Illinois.

PENN STATE (3-1) AT INDIANA (1-3)
Noon, ESPNU
Baumgardner: Penn State hasn't been dominant yet this season, but Indiana's an absolute mess at this point. The Hoosiers should fight harder at home, but Penn State puts it away late. Penn State.
Cunningham: Indiana's still in the Big Ten? Penn State.
Knight: Didn't have to think long about this one. Penn State.
Meinke: Whenever I've been asked about the last time North Texas had beaten a BCS team -- which happened one time, I think -- I didn't have an answer. Now I do. Thanks, Indiana. Penn State.
Rezler: Indiana will beat Penn State … when Gunner Kiel is a junior. Penn State.

MICHIGAN STATE (3-1) AT OHIO STATE (3-1)
3:30 p.m., ABC
Baumgardner: The Braxton Miller era at Ohio State seems to have officially started. His first league test comes against the top-rated defense in the country. The Spartan avoid shooting themselves in the foot, and gets Mark Dantonio his first win over the Buckeyes. Michigan State.
Cunningham: Cousin B.J. is due for a big game against the Buckeyes. Michigan State.
Knight: Good game. Even better if the Spartans win and set up a good Oct. 15 showdown with Michigan. Michigan State.
Meinke: Toughest game of the week to pick, so I'll go with the home team that doesn't annually choke away its biggest Big Ten game. Going out on a limb, I know. Ohio State.
Rezler: I proclaimed to anybody who would listen that Michigan State would beat Notre Dame by two touchdowns. Yes, I'm still kind of bitter about that. Ohio State.

No. 8 NEBRASKA (4-0) AT No. 7 WISCONSIN (4-0)
8 p.m., ABC
Baumgardner: The Badgers will have their hands full with Taylor Martinez and Rex Burkhead on the ground. But 80,000 crazies at Camp Randall want you to know that it won't matter. Wisconsin.
Cunningham: At night at Camp Randall, with a classic Big Ten team against a team we all still associate with the Big 12, gives this a bowl game feel. We all know how the Big Ten fares in bowl games. Nebraska.
Knight: A night game in Madison? What a welcome to the Big Ten for the Cornhuskers. Wisconsin.
Meinke: It's hard to pick against Wisconsin when Badgers coach Brett Bielema has developed such an intricate plan for stopping Nebraska quarterback Taylor Martinez: "We just hope to get in front of him and make him fall down." Wisconsin.
Rezler: The Badgers don't have to worry about Denard Robinson this season, but the conference's second-best running quarterback (Taylor Martinez) will still be too much to handle. Nebraska.

NOTRE DAME (2-2) AT PURDUE (2-1)
8 p.m., ESPN
Baumgardner: Purdue bounced back from a narrow win over Middle Tennessee and a loss to Rice with a 59-0 romp last week. Problem is, that romp came against Southeast Missouri State. Notre Dame has issues, but the Boilermakers have more. Notre Dame.
Cunningham: About time Notre Dame joined the Big Ten! Wait, they haven't? Notre Dame.
Knight: Purdue's 59-0 win against Southeast Missouri State doesn't fool anybody. Notre Dame.
Meinke: As long as the Irish turn over the ball fewer than 17 times, they'll win. Even if they do, they still might. That offense, turnovers aside, is powerful. Notre Dame.
Rezler: The Fighting Irish improve to 2-1 in Big Ten Conference play. (Yes, Pete stole my joke.) Notre Dame.
Nick Baumgardner covers Michigan sports for AnnArbor.com. He can be reached at 734-623-2514, by email at nickbaumgardner@annarbor.com and followed on Twitter @nickbaumgardner.