Posted on
Fri, Apr 13, 2012 : 5:59 a.m.
Still not enough depth for Michigan football team to have a true spring game
By Kyle Meinke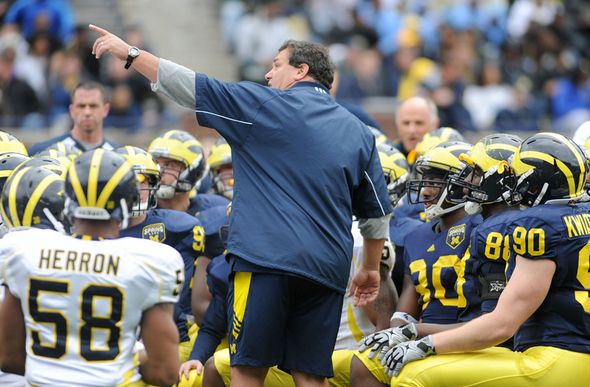 Angela J. Cesere | AnnArbor.com
If Michigan football coach Brady Hoke had his druthers, the Wolverines would play their spring game against another school -- and the public wouldn't see it.
But the NCAA doesn't allow that.
So, he would settle for an intrasquad game.
Except, he can't do that either because of tenuous depth, especially on the offensive and defensive lines.
So, here we are: The Wolverines will close their 15-practice camp Saturday with a spring "game" that kicks off at noon at Michigan Stadium. It will be televised by Big Ten Network.
But it won't be much of a game. Instead, Michigan is expected to do drills and situational work (such as 2-minute drills, red zone reps, etc.). Points will be tallied in some fashion.
The game will be formatted much as it was last year, when the Wolverines were burdened with the same depth issues. Only, they will look a little different now that they're in Year 2 of Hoke's system.
"We really are more physical than we were last year at this time," he said. "We're more physical in the standpoint we play a little faster, the effort down the field, that second or third block, the point of attack.
"And we're playing with better fundamentals than last year at this time."
In other words, Michigan is further along at this point than it was last year. But then Hoke added: "By no means are we where we want to be."
The spring game is the highlight of the weekend, but it's far from the only act. Hoke said he would hold a meeting Friday night with former players, as he did during last year's "Victors Weekend."
About 350 former players are expected to attend the event, with more than 100 of them playing in Saturday's alumni flag football game. That kicks off at 10 a.m. at Michigan Stadium.
The spring game follows at noon, then a lacrosse game against Ohio State at 2:30 p.m.
Later that day, Michigan will honor former coach Gary Moeller during "Victors Night," an event that was created seven years ago by former player James Hall.
A full list of this weekend's events, according to MGoBlue.com:

Saturday
8:30 a.m.: Ice hockey garage sale, Indoor Track Building
9 a.m.: Women's rowing against Oregon State, Belleville Lake
10 a.m.: Alumni flag football game, Michigan Stadium
Noon: Spring football game, Michigan Stadium
Noon: Men's tennis against Nebraska, Varsity Tennis Center
2:30 p.m.: Men's lacrosse against Ohio State, Michigan Stadium

Sunday
9 a.m.: Big House Big Heart Run, Michigan Stadium
Noon: Men's tennis against Iowa, Varsity Tennis Center
1 p.m.: Softball doubleheader against Michigan State, Wilpon Complex