Posted on
Wed, Aug 10, 2011 : 7:05 a.m.
A mistake-free defense is Michigan defensive coordinator Greg Mattison's goal
By Kyle Meinke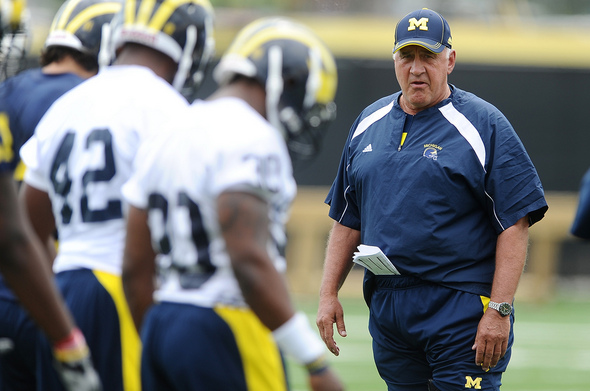 Melanie Maxwell | AnnArbor.com
Greg Mattison has coordinated some of the best defenses of the past couple decades — college or pro.
He's coached for 31 years at the college level, including some of those stout Michigan defenses of the mid-1990s and Florida's national championship unit in 2006, and the past three years in the NFL, where he molded a top-three defense with the Baltimore Ravens.
He has an eye for talent on that side of the ball — and is inheriting a group that posted the worst defensive season in school history last year.
How can the Michigan defense go from laughingstock to championship caliber?
"Our biggest goal and our biggest purpose with this defense is do not give up the really big plays," he said.
How long will it take?
"I wouldn't be coaching here if I didn't think we could get this defense up to the level Michigan expects (this year)," he said. "That's my job."
Mattison made the comments Tuesday after the Wolverines had completed their second practice of the fall. Both workouts were without pads.
During the 20-minute window the media was allowed to watch Tuesday, it was readily apparent that, pads or not, Michigan's camp will be fast-paced and physical. Players swiftly shuffled between several stations. Rarely was there a lull in the routine.
Early in the workout, running backs Thomas Rawls and Michael Shaw each went down on rushes, but got up and kept going, with Rawls dragging four defenders.
No one on either side of the ball stopped working until the whistle was blown — whether or not the ball carrier went to the ground.
"No one — no one! — is going to get a big play on us," Mattison barked to the team.
Mattison said after the workout it is difficult to measure how a defense is performing during padless practices, and Michigan won't add full pads until Friday.
So, he is stressing perfect alignments and techniques on every play.
"The thing we have to correct is any missed assignments, because missed assignments will eventually turn into big plays and that is what will kill us," Mattison said.
"They're going to rush for some yardage. Every team we go up against is going to get a run of 4, 5, 6 yards. We know that. But we can't give up 25 and 30, and the home runs.
"That's hard (to practice) in no pads, because there's no tackling. So, sometimes, the guy might have gotten hit at the line of scrimmage, but you can still see if the defense is still cupping the ball and the secondary is still running to the ball."
Mattison is ditching last year's 3-3-5 defensive scheme in favor of a 4-3 — that is, a four-linemen front with three linebackers and four players in the secondary.
Michigan installed about 65 percent of its new defense in the spring. More has been added this fall, but the coaching staff has said it will be careful not to overwhelm the players.
"As a coach, you have to make sure that you don't slow your players down (by overcoaching)," Mattison said. "We'll have a large script of defenses, but they'll only be called if we can execute them."
To run the system properly, though, Mattison first requires bigger linemen than those employed by former coach Rich Rodriguez. The coaching staff set off-season weight goals for many players — and from the looks of the updated roster released Tuesday, most achieved them.
Craig Roh's weight gain is particularly impressive, going from 251 pounds last year to 269 this year.
"The thing I felt that would help him play the position and do the things we want him to do would be to gain some weight," Mattison said. "In practice, with no pads, I've seen that already."
Ryan Van Bergen now weighs 288 pounds, which is five pounds heavier than last year but about 10 pounds more than his spring weight. He said he was on about a 6,000-7,000-calorie diet to help put on the weight.
Mike Martin is up five pounds to 304.
The biggest success, though, was defensive tackle William Campbell, whom Hoke said was "out of shape" in the spring. He trimmed down from 342 in the spring to 322 this fall.
Mattison loves the dedication to improvement Michigan has shown, but warns that expectations should be tempered. The defense has "miles and miles to go" before it's a championship-caliber unit, he said.
"But we'll get there," he said. "I wouldn't be here if I didn't think we could."
Kyle Meinke covers Michigan football for AnnArbor.com. He can be reached at 734-623-2588, by email at kylemeinke@annarbor.com and followed on Twitter @kmeinke.