Posted on
Wed, Oct 6, 2010 : 1:30 p.m.
Roy Roundtree emerges as Michigan's most consistent receiving threat
By Jeff Arnold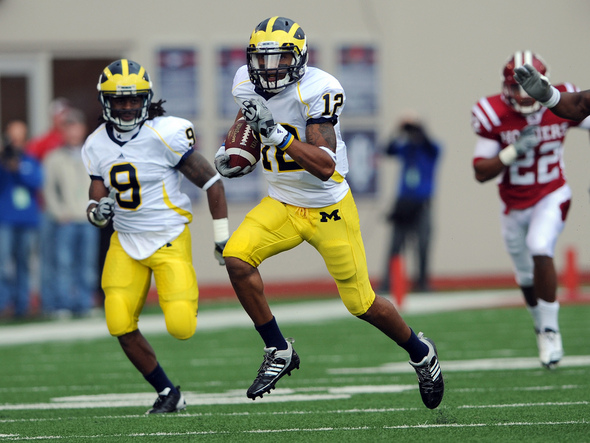 Roy Roundtree
doesn't look like an imposing playmaker.
At 6 foot tall and barely over 175 pounds, the redshirt sophomore makes up for his size in the way he approaches his role in Michigan football team's explosive offense.
And that's when the truly deceptive nature of Roundtree's game really takes shape.
"He's not the biggest or the fastest, but he's got a great feel (for the game)," Michigan coach Rich Rodriguez said. "Not only does he understand our offense, but he's really getting to the point where he really understands defenses as well and where to go with the routes."
By the end of Roundtree's first season on the field, Michigan coaches had pegged the slot receiver as their most consistent pass catcher. Despite not earning the starting job until the eighth game of the year, Roundtree led the Wolverines with 32 catches for 434 yards and three touchdowns.
The more he played, the more he demonstrated the skills Rodriguez saw in Roundtree's senior season at Trotwood (Ohio) Madison High School, when he caught 86 passes for 1,238 yards and 13 touchdowns. But as much as Roundtree established himself as a receiver willing to go across the middle, he wasn't highly recruited mainly due to his lack of size.
Once at Michigan (5-0, 1-0 Big Ten), Roundtree added about 20 pounds of muscle and watched more film to study defensive tendencies.
"I'm just so confident each play I'm out there, I know what my assignment (is) and what I'm supposed to do, and it's really starting to show on Saturday," he said.
Roundtree isn't the only one who sees the improvement.
"With Roy, you just give him the ball, and he's going to make something happen," Michigan quarterback Denard Robinson said. "He'll make guy miss, he's a for-sure (pass) catcher and he's a big-time player."
Through five games, Roundtree is Michigan's leading receiver with 25 catches, two touchdowns and averages 13.5 yards a catch. He's part of a multi-tiered passing attack in which he, Darryl Stonum and Martavious Odoms have formed a dangerous trio heading into Saturday's home game (3:36 p.m., ABC) against Michigan State (5-0, 1-0).
A healthy Junior Hemingway also is part of the talent pool at receiver that takes advantage of quarterback Robinson's improved abilities as an effective and accurate passer.
"I think they're all very, very good, and they all have the potential of (making) big plays," Michigan State coach Mark Dantonio said of Michigan's receiving corps. "The combination of the attack they run and what they do allows receivers to get a lot of one-on-one coverage. They catch the ball very well, they get vertical after the catch, and they all have good run after the catch."
Roundtree and Hemmingway each compiled more than 100 yards receiving in last week's 42-35 victory at Indiana and accounted for 255 of the Wolverines' receiving yardage.
"We're just out there playing now," Roundtree said. "Everyone knows what they have to do. They know their assignments, they're reading the defense. When we're out there, we don't really know the stats - we're just going out there playing Michigan football. We're just having fun."
Jeff Arnold covers sports for AnnArbor.com and can be reached at (734) 623-2554 or by e-mail at jeffarnold@annarbor.com. Follow him on Twitter @jeffreyparnold.