Posted on
Fri, Nov 16, 2012 : 5:45 a.m.
A new Michigan football tradition, 'Pre-Gaming with Pat,' ending Saturday
By Pete Cunningham
Editor's note: Videos embedded and linked to below contain potentially offensive language and situations.
Most University of Michigan students have some form of football pre-gaming tradition. Be it chugging beers at a fraternity house, blaring music and lining the streets to dance, playing games of beer pong on their front lawn, or some sort of combination of the three, those traditions have transformed campus into a new world on fall Saturdays for decades.
A relatively recent phenomenon is the tradition of watching "Pre-Gaming with Pat" on YouTube the day after home games.
"Pat" is local up-and-coming comedian Pat Stansik and the "Pre-Gaming with Pat" series offers a funny snippet of the Michigan party scene.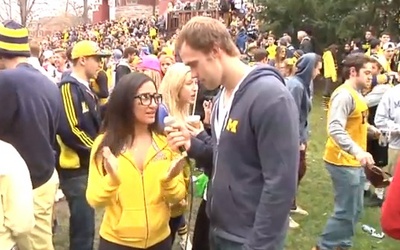 The web series has a seemingly simple concept: A sober Stansik attends parties and interviews students who are anything but, and hilarity ensues.
Stansik came up with the idea of filming students' pre-gaming while he was still a student—and pre-gaming participant—at Michigan three years ago. Stansik joined the Michigan lacrosse team that year and so he only did the one video. But since graduating in 2011, he has put together an episode for every Michigan football home game.
"The original idea just kind of came about because I'm in Ann Arbor, in terms of like visually impressive stuff, there's not like a ton of crazy stuff happening…the whole man on the street idea, like the 'Daily Show' or something, they're usually going where something unique is happening and I was just like 'OK, the biggest thing I can think of here is a football Saturday,'" Stansik said.
While Stansik is probably most well know for his "I Love You Denard" video and outside of the sports realm for his "Bros vs. Hipsters" short film, when he started making "Pre-Gaming with Pat" episodes, he didn't have much video content to speak of and was trying to get his name out there.
"The whole motivation behind making it at first was I didn't have any videos. I had the Michigan lacrosse videos and a few sketches that no one watched. So the whole motivation behind it was to start making more content," Stansik said.
Originally, Stansik said he was trying insert his own material into the interviews. He eventually learned that undergraduate partiers were funny enough.
"(At first) I was like 'I need to be more funny'…Now it's just like, letting people be because that's funny in itself," Stansik said. "I just realized what was funny, to be this sober frustrated person interviewing drunk people about serious topics. When I realized that, I think that was when I was able to get it going where I wanted it to be."
DA'QUAN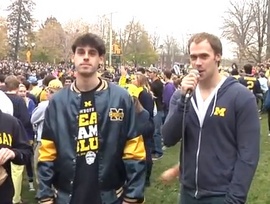 In the first first episode of "Pre-Gaming with Pat" viewers are introduced to "Da'Quan" aka Lucas Brody. Brody is a friend of Stansik's. Stansik randomly ran into Brody on his way home to edit the very first episode of "Pre-Gaming with Pat" and asked him to be in the video.
"We did like two or three takes with him being him and it just wasn't really working and he was just like 'why don't we try like an NBA player after a game?'" Stansik recalls.
The result was the character Da'Quan: a ridiculous self-aggrandizing wanna-be rapper/super athlete/club promoter/ladies man who regularly promotes his fictional album "Killin' Em in the Streets: Volume 2.5" (and of course Volumes 1 and 2) and other such fake accomplishments.
"In terms of improv he's ridiculous and I'm just like trying to keep up with him," Stansik said. "He's probably my favorite part because a lot of the videos I have a pretty good idea how it's going to go, but with him I never know what's going to come next."
"These videos are like, the young crowd really likes them whereas the older crowd is like, 'what is this' and his character just epitomizes that so much," Stansik said. "People either love him or absolutely hate him."
Brody has since made a Da'Quan short film on Michigan's campus that is nothing short of hilarious.
The evolution of the approach is evident in the first three episodes from the first season. While he inserts himself into he first two episodes quite a bit, including a gotcha moment of
catching two people in a drunken make-out
session on the hood of a car, by Episode 3, filmed before Michigan's game with Eastern Michigan, he's mastered the art of letting the partiers be funny.
In that episode some girls didn't know what Eastern Michigan's mascot is (Eagle, they guessed farmer) where Eastern's campus is (Ypsilanti, they guessed somewhere in Michigan's thumb) and said Eastern shouldn't be in the Big Ten (it's not) and suggested it be kicked out of the Big Ten (again, EMU's not in the Big Ten) and join the "Small Ten."

But don't let the "letting people be" line fool you. The filming and production of the videos is a lot of work. Stansik, obviously a Michigan fan, said he hasn't been to a game over the past two seasons because he spends game days editing and scoring the videos so that they're ready by Sunday afternoon.
That is sometimes made more difficult by people contacting him and requesting clips involving them be cut out, an expected casualty of filming drunk college kids.
"The whole concept in itself is a bit sketchy…I know when I'm partying and stuff I don't want someone filming me, so I understand those fears but at the same time, as more people have seen it and know what it is, I think more people know that I'm not out to get people," Stansik said. "These are normal people who have jobs and careers, and I don't want to mess that up."
In addition to promoting himself with the videos, Stansik said he feels like he's promoting the school. Michigan has a reputation of lame parties and ugly girls and Stansik's videos prove otherwise.
While the videos aren't likely to be used by the Michgan's admissions recruiting department, Stansik likes that it bucks the stereotypical view some have of his beloved alma mater.
"I don't know how much I'm 'paying them back' by doing this, but I feel like I owe someone something and this is a way to be like, 'look, Michigan's cooler than you think,'" Stansik said. "There are parties, there are attractive girls. I know I had a great time here. Whenever someone tries to knock it, I hope showing people these videos is a way to be like, 'look we also know how to have fun.'"
A question posed by Stansik in the first episode of the second season is "Am I too old to be doing this?" It was a bit of foreshadowing because Stansik said Saturday will not only be the Michigan football team's final game of the season, but his final episode of "Pre-Gaming with Pat."
"The concept of it, filming drunk kids, I can only keep doing that for so long. I think I can probably find a way to make (another season) happen, but at the same time I can see how two seasons could be enough," Stansik said. "I have the final song picked out and based on the final song, it should be the final episode, if you read into the lyrics, it's a finale type song.
"I'm planning on it being the finale, but based on last year, I can't make any guarantees."
Pete Cunningham covers sports for AnnArbor.com. He can be reached at petercunningham@annarbor.com. Follow him on Twitter @petcunningham.