Posted on
Wed, Nov 9, 2011 : 4:45 p.m.
A scout team star, Michigan football freshman DB Delonte Hollowell now seeing game action
By Nick Baumgardner
Michigan football coach Brady Hoke has shown little hesitation in burning redshirts on freshmen who can help his team.
Through the team's first eight games, the Wolverines played seven true freshmen. After Saturday's loss at Iowa, the number now sits at eight.
Freshman defensive back Delonte Hollowell made his season debut on special teams against the Hawkeyes, a right he'd earned, according to Hoke.
"He's such a pain in the butt all week, to be honest with you, on the look team for the scout team with how he competes," Hoke said of Hollowell. "He does everything we ask him to do, he's got very good quickness, he's athletic, he's not big, but he's very intelligent.
"He's earned the right, believe me."
Hollowell, a 5-foot-9, 164-pound defensive back from Detroit Cass Tech High School, made one assisted tackle in his season debut.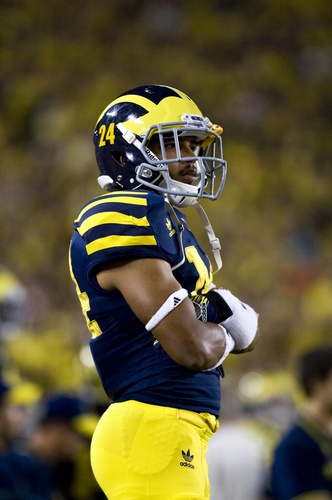 Joseph Tobianski I AnnArbor.com
Hoke said the decision to play Hollowell was made about 10 to 13 days ago, when he approached the freshman with the possibility of burning his redshirt to not only help Michigan now, but also get him some individual game experience under his belt leading into next season.
"Knowing Delonte academically and everything else, he'll be a guy who's graduated in four years and he can help our team," Hoke said. "You negotiate it and ask what's going to be best for the team, and that's usually what's best for that guy. You talk about it a little bit as a staff and you sit down with that young man and tell him what you see, and that's kind of how it goes."
Currently, the seven other freshmen on Michigan's roster who will not redshirt this season are cornerback Blake Countess, defensive lineman Frank Clark, linebacker Desmond Morgan, linebacker Brennen Byer, running back Thomas Rawls, cornerback Raymon Taylor and kicker Matt Wile.
All season, Hoke has maintained a stance on playing his best 11 players, regardless of class. Asked if burning a player's redshirt this late in the season was difficult, Hoke replied in the negative.
"Not as tough as maybe it used to be with limitations in scholarships and all those things," he said. "A lot of freshmen have to play."
THURSDAY LIVE CHAT
Come back to AnnArbor.com at noon Thursday for a live chat with Kyle Meinke. He'll recap the Wolverines' loss at Iowa, discuss news that emerged this week and preview the game against Illinois on Saturday.
Hoke says Barnum will play at Illinois
Injured junior guard Ricky Barnum (ankles) is expected to play Saturday when Michigan visits Illinois on Saturday (3:30 p.m., ABC), according to Hoke.
The amount he'll play, though, is unclear.
"He did some things (Tuesday)," Hoke said. "A lot of individual stuff and some team stuff, so we'll see.
"He'll play, but we'll see how healthy he is."
Barnum returned from a three-game injury absence during a home game against Purdue on Oct. 29, but never finished the game, leaving the contest with a pair of injured ankles. He then went on to miss last week's game at Iowa.

Woolfolk, Gordon still battling at free safety

Fifth-year senior Troy Woolfolk and sophomore Thomas Gordon are still competing for a starting safety spot opposite junior Jordan Kovacs, Hoke said.
Woolfolk, formerly a cornerback, earned the start over Gordon last week at free safety and played the entire game.
Gordon entered last week as the team's second-leading tackler (52 stops), but was beaten out by Woolfolk in practice prior to the Iowa game.
Hoke said Wednesday the battle continues between the two, and added again that whichever player performs better in practice will get the start this weekend at Illinois.
However, unlike last week, Hoke alluded to the possibility of playing both players.
"I think you could play both of them," Hoke said. "And I think that probably is what ends up happening."
File photo
Is Denard close to fixing
his deep pass issues?
Hoke said he's hopeful junior quarterback Denard Robinson is on the verge of becoming a better deep passer.
Whether he's there or not, though, Michigan still intends to keep taking shots down the field.
"We had some opportunities (against Iowa) and we've got to cash in on those," Hoke said. "You're going to take four or five shots a game, depending on the opponent and what they're giving you.
"You've got to try and get some of them connected."
Nick Baumgardner covers Michigan sports for AnnArbor.com. He can be reached at 734-623-2514, by email at nickbaumgardner@annarbor.com and followed on Twitter @nickbaumgardner.